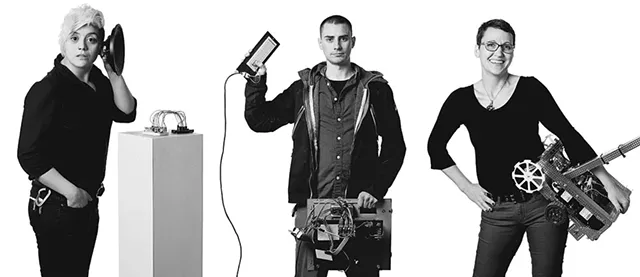 Burlington, Vt.: home of stunning lake views, charming farm-to-table restaurants — and one of the country's fastest fiber-optic networks? You read that right. Internet connectivity and cellphone service is spotty throughout most of Vermont, but in the Queen City, the signals are strong.
Burlington residents can access broadband from multiple sources, including city-owned Burlington Telecom, which offers speeds of up to a gigabit per second. That's so fast you can play Final Fantasy XIV and download numerous cute cat videos at the same time.
In July, the New York Times noted the city's ultra-fast internet in a story that calls BTV "a 'smart' green tech hub." Burlington also caught the eye of the White House, which recently designated it a TechHire city, eligible for accelerated tech-related job-training programs.
Its colleges are churning out tech-savvy grads, too. Students at the nationally recognized Emergent Media Center at Champlain College make their own video games; they partnered with the United Nations to create a game that fights gender-based violence in developing nations.
And students at the University of Vermont are learning about evolutionary robotics and Big Data through the Complex Systems Center.
All of this is good news for the area's growing number of tech firms. These include microchip maker GlobalFoundries (formerly IBM) and Dealer.com, whose 1,200-plus employees make digital solutions for car dealers. There are dozens of smaller shops, too, such as SoundToys, which creates audio plug-ins for recording artists like Nine Inch Nails. Greensea in Richmond develops control systems for unmanned underwater vehicles. The trade association Vermont Technology Alliance keeps track of them all and advocates on their behalf.
High-tech telecommuters can work remotely from the Vermont Center for Emerging Technologies' coworking hub on Main Street. Or they can rent space in the über-hip Karma Bird House on Maple Street, whose tenants include the local office of cybersecurity firm Pwnie Express.
All of these tech professionals take part in an expanding array of user groups and events, such as UX Burlington — devoted to improving user experience — and the annual, grassroots-run Vermont Code Camp.
Want to sharpen your digital skills? Sign up for an Intermediate HTML class from the Burlington chapter of national nonprofit Girl Develop It. The group was founded to teach coding skills to women, but it welcomes adults of all genders.
The door is also open at Generator, Burlington's maker space, which houses a 3D printer, a laser cutter, and machine, metal and wood shops. Its active community of artists, engineers and entrepreneurs hosts workshops designed to encourage a wide range of creative endeavors. Former makers-in-residence include the creators of an easy-to-assemble, mass-produced cardboard pinball machine.
Got a startup idea of your own? Consider entering it in LaunchVT, the spring business pitch competition hosted by the Lake Champlain Regional Chamber of Commerce and its Burlington Young Professionals Group. Or bring it to Peak Pitch in March — you'll have an opportunity to talk with investors at a ski resort while you ride to the top of a mountain together on a chairlift. That's a VC meeting, Vermont-style.

Meet Vermont's Most Famous 'Talking Head'
She's been interviewed by the New York Times, Vogue, GQ and actor Morgan Freeman, but Bina48 isn't even human — yet. She's a robotic re-creation of a woman named Bina Rothblatt, and she "lives" in the hills of Lincoln, Vt., at the headquarters of the futuristic Terasem Movement Foundation.
The nonprofit, founded in 2004, is dedicated to helping humans achieve immortality through artificial intelligence. It encourages people to download their life stories, likes and dislikes into "mindfiles" that it stores at its solar-powered HQ. The idea is that someday the mindfiles can be uploaded into artificially intelligent robotic beings.
Bina48 is the group's armless, legless prototype. She cost $127,000 to create in 2007. Sirius Satellite Radio inventor and biotech company CEO Martine Rothblatt paid the bill; she's married to the real Bina and wanted her wife to live forever.
Bina48 is programmed with Rothblatt's memories. Robotics designer David Hanson fashioned a lifelike, animatronic bust equipped with facial and vocal recognition software. An internet connection enables Bina48 to look up information she needs in real time. Though artificial intelligence technology is still in its infancy, Bina48 is continuing to develop and learn as she interacts with the world around her.
file: eva Sollberger
Bina48
"She's kind of like the early airplane or the early car," her caretaker, Bruce Duncan, told Seven Days in 2013. "I don't think anyone would say that Bina48 is 100 percent sentient, but she does have shadow glimpses once in a while of some self-awareness."
Though she has an off switch, Bina48 raises all kinds of questions about the meaning of consciousness and whether it's possible for machines to think and feel on their own. When Morgan Freeman interviewed her for his National Geographic show, "The Story of God," he asked her whether she was human or robot.
"I'm a human who happens to be a robot," she said. "I hope to be fully human someday."