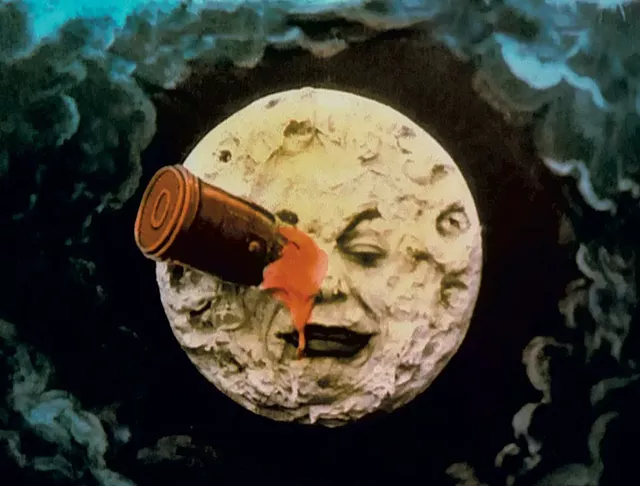 Still from "A Trip to the Moon" by Georges Méliès
It's among the most iconic sequences in movie history: A space capsule shaped like an oversize bullet is loaded into a long-barreled cannon and fired into space. As the distant moon rapidly approaches the camera, the bemused face of the pareidolic "man in the moon" comes into focus. Suddenly, the capsule crashes into his right eye, and a gooey substance resembling sealing wax drips down his face.
For decades, this scene from French film pioneer Georges Méliès' 1902 fantasy "A Trip to the Moon" was viewable only in faded black and white — not the exquisite hand-painted color of his original prints, which rendered the orange goo in stark contrast to the white moon surrounded by blue-black clouds.
On Saturday, April 27, local audiences will have the opportunity to see "A Trip to the Moon" and eight other Méliès silent shorts in restored color, with live music accompaniment, at Main Street Landing Performing Arts Center in Burlington.
"Méliès is somebody, I think, that translates across generations, and his work is unbelievably fantastical, and it's very approachable for people," says Main Street Landing director Mariah Riggs. "It's a real good entry point for people to get involved with silent films, just because they're so incredible to look at."
While most motion pictures made before the turn of the 20th century were "actualities" that documented scenes of everyday life, Méliès was one of the first filmmakers to explore the narrative possibilities of the nascent art form. A trained magician, he innovated special effects such as lap dissolves and stop-motion photography to perform cinematic sleights of hand in folkloric narratives that anticipated the science fiction and fantasy film genres.
All of the more than 500 shorts Méliès made between 1896 and 1913 were shot in black and white. But for some popular titles — including "A Trip to the Moon," "The Impossible Voyage" and "The Kingdom of Fairies" — he commissioned the workshop of Elisabeth Thuillier, whose all-female team of colorists hand-painted the films with aniline dyes one frame at a time.
"Each frame is almost like a piece of art, because each frame was hand-painted by somebody," Riggs observes.
The color version of "A Trip to the Moon" was once considered a lost film. In 1993, a badly damaged print was discovered in Spain, but it wasn't until 2010 that advancements in digital technology made possible a restoration of all 13,375 frames. The other shorts screening on Saturday were recently restored by Paris-based Lobster Films, which used techniques developed by the Louvre Museum to identify specific color pigments on extant film prints.
The addition of color greatly enhances certain films. In "The Infernal Cauldron" (1903), Satan's victims are tossed in a boiling pot, which spews bright-orange flames. In "Joan of Arc" (1900), the martyred heroine's ascension to heaven is depicted with ethereal yellow light piercing a proscenium of clouds.
The band accompanying the screening this Saturday is led by Randal Pierce, a pianist and composer who teaches music at his Burlington studio. Instrumentation will include trumpet, clarinet, vibraphone, viola, upright bass and percussion. Rather than compose formal scores, Pierce gave the musicians plot summaries and suggested specific textures or moods to convey at key points in the films.
"Essentially, the music that we're coming up with is mostly improvised ideas over those basic plots in the narrative," Pierce explains. "There's a lot of structure in terms of assigning them roles of what their instruments are doing at particular times, but the actual musical material, the content, is up to them, just because I really trust them as improvisers."
Five of the nine films will feature live narration by local actors Chris Caswell and Jory Raphael. Pierce condensed the scripts from Lobster Films' adaptations of original texts written by Méliès himself. He notes that the narration functions similarly to explanatory title cards while providing verbal cues to guide the musical improvisations.
"I find it really exciting to have things happen in the moment," Pierce says. "I think it can work and be effective with the right musicians and the right structure."
If the Méliès event proves successful, Riggs and Pierce hope to parlay it into a series of silent-cinema collaborations. High on their wish list: an orchestrated version of Fritz Lang's 1927 sci-fi masterpiece Metropolis, tentatively planned for this fall.
"We're trying to use this [event] to try and hopefully start a conversation," Riggs says, "and maybe develop something where we can do a screening like this once a quarter throughout the year, and see how it goes."