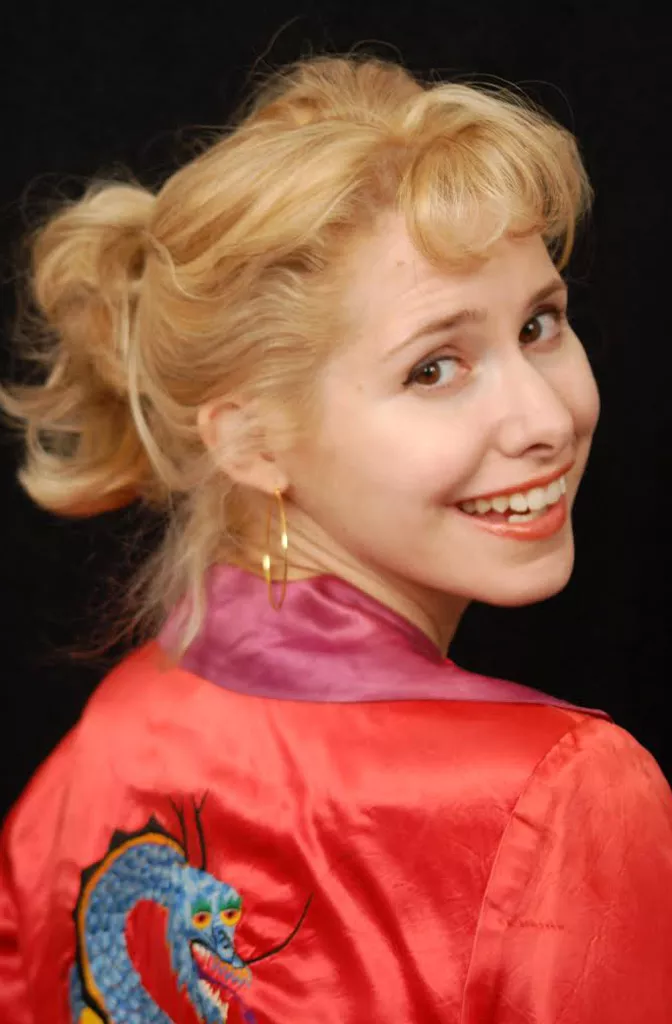 Even more striking than Nellie McKay's ability to play nearly any instrument and tap into nearly any genre is her astounding confidence. McKay is a musician who is just as comfortable belting a show tune as she is rapping, and just as convincing with social satire as she is with a slinky love song. There's no one quite like her in American music today.
It's now 10 years since McKay — whose last name rhymes with "rye" — released her highly accomplished debut album Get Away From Me, which wound up on many best-of lists. Since then, she's released four more albums, each of which showcases her fierce wit, outspokenness and bold musical talents.
One of those albums is Normal as Blueberry Pie: A Tribute to Doris Day, named for an artist with whom McKay has a particular affinity. Not only do both singers draw inspiration from the Great American Songbook, but both are vocal advocates for animal rights. In 2005, McKay, a vegan, even won the Humane Society of the United States' Doris Day Music Award.
McKay's lyrics are both playful and stinging. She reserves her sharpest barbs for regressive politicians, sexists and anyone who would impinge on the civil rights of another. Any stridency is mitigated by her charm.
Though she hasn't released a studio album since 2010's Home Sweet Mobile Home, McKay has been active in other media. She has composed two "musical biographies": one of pioneering environmentalist Rachel Carson and another of Barbara Graham, the convicted murderer executed in San Quentin in 1955. McKay has also appeared on Broadway in The Threepenny Opera and in a number of films and off-Broadway shows.
This Friday, April 4, McKay will perform two shows at the FlynnSpace in Burlington. In advance of those performances, McKay spoke with Seven Days by phone about her music, her politics and her ukulele.
SEVEN DAYS: I'm a fan of Doris Day's, too. Can we take a moment to geek out about her?
NELLIE MCKAY: Sure! For a "retro" figure, she was awfully ahead of her time, where animals are concerned.
[Her music] got me through high school. I was on an animal-rights protest. I had taken a bus to downtown Baltimore to protest the aquarium. I had some time, so I went to a record store. I liked the cover [of a record I found], so I bought it. It was Doris.
SD: What was it, specifically, about Doris Day's music that spoke to you?
NM: Nowadays, everything's so explicit. It wasn't back then. Who wants everything spelled out? Everything became blunt and stayed blunt.
SD: You play a whole lot of instruments. Is there one you especially enjoy playing? Which instrument do you compose on?
NM: Well, I love the marimba. I've been fortunate enough to be playing it with the [progressive chamber music group] Turtle Island Quartet. I compose on it a little bit. The uke is the most democratic instrument. You pick it up and you can play it. It lends itself to feeling good.
SD: How did you get started on the uke?
NM: It was given to me by Jim Dale, who was in The Threepenny Opera with me. He wanted me to leave him alone, so he gave me the ukulele, hoping it would keep me occupied. It didn't work. I would just go knock on his door each day and play him a new song that I'd learned. It became even more of a bother.
SD: You clearly have pretty diverse musical taste. Is there anything you don't listen to?
NM: I try not to buy successful artists, because someone needs to teach them a lesson.
SD: Your albums seem to me to be particularly well arranged. What's your method?
NM: I think dog walks are helpful. Writing with a pen or pencil, as opposed to a computer — we all need to get off the machines. Having a drink now and then doesn't hurt. It's more about those things than about anything concrete. I have a friend who's an observational comedian. He says he can't just sit at a desk and come up with observations. You have to go live your life.
SD: Your songs often demonstrate your strong political convictions, but it's sort of like a sneak attack, since your music can be so upbeat.
NM: Who is it who said they didn't want a revolution unless there would be dancing? You want to make a joyful noise. I guess it's music first.
Look at how many great works of art are antiwar, yet we still have John Kerry saying, "Reporting for duty" at the Democratic National Convention, and Obama with the drones. There are flags everywhere. I'm inclined to think it hasn't stuck.
SD: Is there anyone you'd really like to collaborate with?
NM: I'd like to work with Taj Mahal again. We recorded a duet of "Baby, You've Got What It Takes." We were doing it by ISDN — he was in London. I was very groggy, but he woke me right up.
Also Elaine Stritch. She seems like a lot of fun.
SD: It's been about four years since your last album. Are you working on a new one?
NM: Kind of. Isn't there enough to listen to? As Van Morrison said, it's all been done. It depends on how much caffeine I've had. I dunno — where does all this ambition get us? There's a part in [Kurt Vonnegut's novel] Cat's Cradle where there's a lady who wishes everyone would just stop thinking.
SD: So that's your great hope?
NM: Yes, bar none.
The original print version of this article was headlined "Whoa, Nellie!"