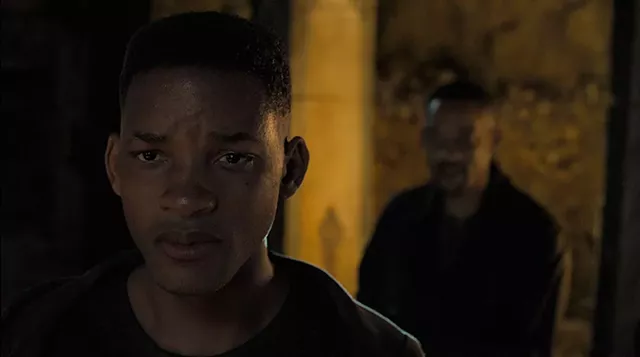 TWIN KILLERS Smith and computer-generated Smith star in Lee's disappointing action flick.
Stop me if you've heard this one: A seasoned pro who's weary of "the life" decides to call it a career after one last job. The plan quickly goes awry, forcing the hero to return to his old ways to make things right.
The plot device that launched a thousand crime movies is the starting point of Gemini Man, a bland action thriller directed by Ang Lee (Life of Pi, Brokeback Mountain). Will Smith stars as Henry Brogan, a 51-year-old sharpshooter and elite government assassin. In the film's first — and best — sequence, Henry and his sniper rifle are positioned high in the Belgian countryside. A high-speed train approaches. Henry gets the all-clear through an earpiece from an agent on the train, takes a breath, and hits his mark through the train window from two kilometers away.
There's one catch: The guy he shot was a harmless molecular biologist, not a bioterrorist. Determined to get to the bottom of the deception, Henry finds himself the target of government agents and the nefarious Clay Verris (Clive Owen), the head of a secret black ops unit, who dispatches "Junior," a 23-year-old assassin Verris created by cloning Henry's DNA.
The concept of a person battling a younger version of himself has intriguing possibilities. It's the action-movie equivalent of the age-old baseball question: whether the aging 1930s version of Babe Ruth could hit the 21-year-old Ruth's fastball, circa 1916.
Unfortunately, the screenplay by David Benioff, Billy Ray and Darren Lemke just isn't up to the task. The existential face-off between Henry and Junior (also played by Smith, using sophisticated motion-capture technology) is muddled by an overwrought Oedipal plot strand involving Verris, who acted as a surrogate father to Henry and now considers Junior his adopted son. The ethical debate over cloning is likewise given short shrift in a few stilted dialogue scenes.
Elsewhere, a romantic attraction between Henry and a fellow agent (Mary Elizabeth Winstead) goes nowhere. And while the dialogue makes some desperate attempts at comic relief, it simply isn't funny.
Lee's direction is surprisingly lackluster, though he has his moments. A motorcycle chase features a pair of well-executed tracking shots (though it could have done without the cliché shot of pigeons in a plaza scattering into the sky). The services of action choreographer Yuen Woo-ping — who oversaw the gloriously staged fight sequences in Lee's Crouching Tiger, Hidden Dragon — could have been used in a sloppy hand-to-hand combat scene between Henry and Junior. It's a hot mess of flailing limbs and slow-motion grimacing.
One area where the film excels is shameless product placement. Coca-Cola is written into the script on a couple of occasions. OxiClean and Gorilla Wood Glue are unsubtly displayed during the climatic shoot-'em-up. I counted at least five visual plugs for beer brands sold by Anheuser-Busch InBev.
Then there's the unimaginative casting of Smith, who gives passable but often wooden performances in the dual roles. I get it: He's a bankable action star with a proven track record, and the film had a $138 million budget. But imagine for a moment if the producers had taken a chance and cast someone like Mickey Rourke — an actor with greater range and emotional depth, whose career has seen better days. It would be fascinating to see the craggy Rourke of 2019 confronting the fresh-faced Mickey of his 1980s leading-man heyday.
That would be a movie well worth watching, bad script and all.