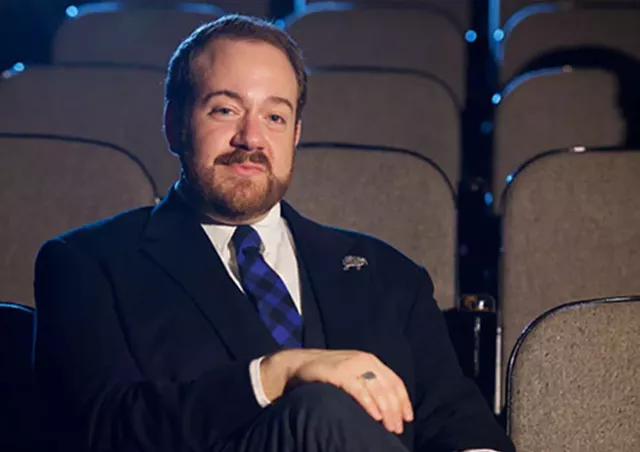 Courtesy of Gatherwool Theatre Company
Jonathan Verge
The Briggs Opera House lost its resident thespians when Northern Stage moved into its new facility just around the corner, the Barrette Center for the Arts, last October. But the Briggs stage is set for action once again. This weekend, White River Junction, population 2,286, will welcome its second professional performing group: the Gatherwool Theatre Company.
Gatherwool's founding artistic director, Jonathan Verge, is practically a native son — he grew up in nearby Lebanon, N.H., and graduated from high school in 2000. Four years later, with a degree in musical theater from Syracuse University in hand, Verge embarked on a decade-long career that took him to stages in London, New York City and Chicago. Then, after a brief detour "in the advertising world," he says, "I decided it was time to come back to New England."
Knowing that Northern Stage had left the 19th-century opera house, Verge talked to owner Dave Briggs and hatched a plan for a long-held dream. "I wanted to do musical theater in the community that gave it to me in the first place," he says. The company will debut on Sunday, February 14, with an adaptation of playwright Mark Campbell's Songs From an Unmade Bed. Preview nights are Friday and Saturday, February 12 and 13; performances continue through March 6.
Campbell wrote the lyrics and story for Songs From an Unmade Bed in 2005. The piece, originally a one-man show, is unusual in that a different person composed the music for each of its 18 songs. Verge got permission from the playwright to adapt it for four characters: two single gay men and a heterosexual couple. "I've been thinking about this play for 10 years," he says. "I thought there was another way to tell the story by breaking it into four stories. It follows the lives of four people."
Verge notes that the "very sweet love story" is apropos for a Valentine's Day weekend. "There will be dinner at the [next-door Hotel] Coolidge and dancing afterward," he says. Could be a serious date night in the Upper Valley.
Verge says the Northern Stage staff, including artistic director Carol Dunne, has been "really supportive" in helping Gatherwool get started. The two theater companies are sufficiently different not to be competitors.
For one thing, Gatherwool's mission is to produce "provocative, intimate musical theater," says Verge. "Our stuff is smaller, a little grittier, appropriate to what we really love about the Briggs Opera House." Northern Stage includes larger musicals in its repertoire (it recently wrapped Mary Poppins), but it's best known for its ensemble work, says assistant artistic director Eric Love. The current production, for example, is a world premiere of the four-character Mad Love (reviewed in Seven Days last week).
Another difference, one that might be lost on most theatergoers, is that Gatherwool was established as a for-profit company, while Northern Stage is nonprofit — a more typical structure for a performing arts organization.
Both Verge and Love suggest that a second theater company in town will bring more attention to the area and help cultivate new generations of theater patrons and supporters. "I hope it will help White River Junction become identified as a theater town," says Love. "It might even define it a little bit. It also increases the number of actors and creative artists who are running around town."
Northern Stage, a professional regional theater company, has not only survived but thrived for nearly 20 years in WRJ. The Center for Cartoon Studies founded its school in the town 10 years ago. Other indicators, too, suggest that creative-economy endeavors have injected life into the erstwhile sleepy railroad town. Love admits it was "shocking" when another theater company moved in essentially across the street from Northern Stage, but he says that "everyone is giving their blessings." Cross-pollination between the companies is likely.
Love himself is the first example: He plays the husband in the married couple in Songs From an Unmade Bed — and the cello in the show's musical ensemble. "With Eric taking a starring role, we've got a relationship [with Northern Stage] right off the bat," says Verge.
The musical lineup also includes piano and percussion. The performers are all onstage for the duration of the play. "When the audience comes in, the four characters are in their beds, fast asleep," Verge explains. "The span of time is about a year in the lives of these folks. As one sings, you see the [other] actors prepare for their songs."
He notes that each of the songs exemplifies a different style, ranging from ballads to more uptempo tunes. Besides Love, the performers are Gatherwool's founding executive director, Clint Carter, Stuart Williams and Erin Kukla. Verge notes that the last two actors were his classmates at Syracuse University. Carter, he adds, is moving to Vermont and will appear in all five plays in Gatherwool's first season. Verge, who arrived last November, clearly has not been idle.
And about the company's curious name ... At one time in the town's past, says Verge, "this was a big sheepherding community. The term 'wool gatherer' refers to a daydream, but it also referred to the bits and pieces of wool you could gather and spin. The term really related to me — I'm bringing people together from places and eras of my life."
Verge discussed this with a lyricist friend, he recalls, who suggested transposing the phrase "wool gathering" into the more forthright Gatherwool. "I loved it," says Verge. "And what else is theater but a wonderful daydream?"