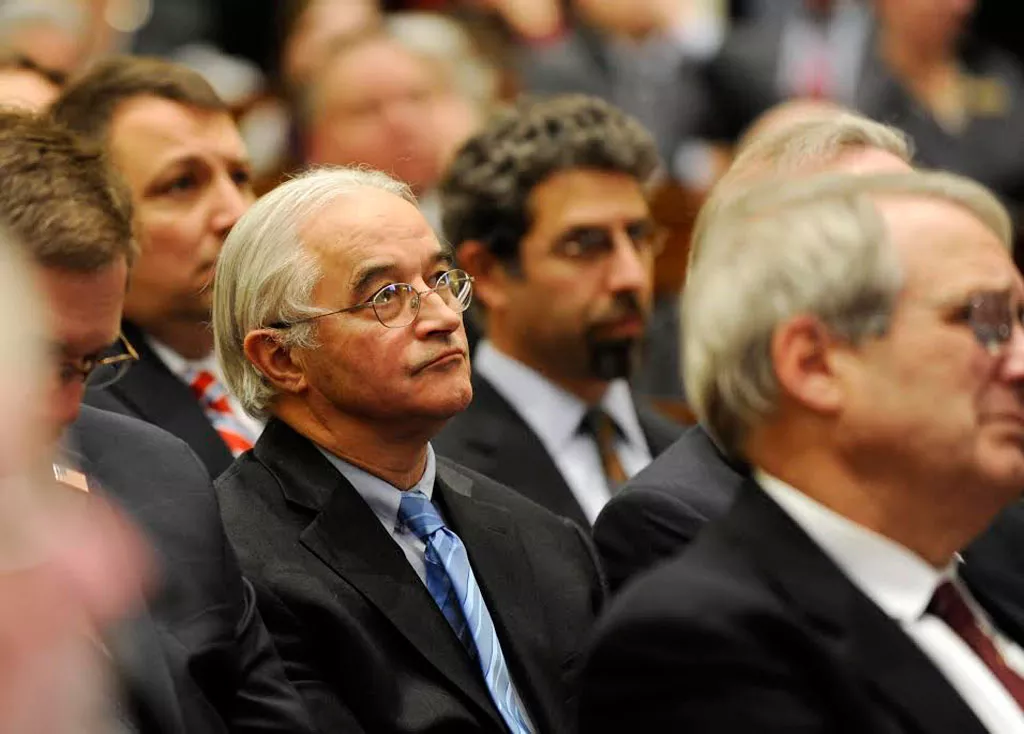 File: Jeb Wallace-Brodeur
Bill Sorrel
When Attorney General Bill Sorrell filed suit against 29 oil and gas companies last June, he cast himself as a crusader against those who would pollute Vermont's groundwater.
For years, he alleged in Vermont Superior Court, the refiners blended methyl tertiary-butyl ether (MTBE) into the gasoline they sold in the state, despite knowing the "unprecedented" risk the performance-boosting additive posed to the environment.
"This lawsuit is about holding them accountable and ensuring that they — and not Vermonters — pay to clean up our groundwater," Sorrell said in a June 2014 press release.
But the idea to take on the nation's largest energy companies came not from environmental regulators in Vermont, nor even the state's own lawyers. Rather, it came from a meeting at the New Orleans Ritz-Carlton with a pair of rainmakers who stand to make millions if Vermont prevails.
According to an itinerary obtained through a public records request, Sorrell met with former New Mexico attorney general Patricia Madrid and her husband, Mike Messina, on December 3, 2013, during a National Association of Attorneys General conference in the Big Easy.
Madrid and Messina, who had both previously donated to Sorrell's reelection campaigns, were acting as brokers for Baron & Budd, a Dallas plaintiffs' firm that claims to have recovered more than a billion a dollars for states and municipalities that have filed MTBE lawsuits against oil companies in the past two decades.
Sorrell's schedule reads: "after luncheon 15 min. w/ Lisa Madrid & Mike Masena – she will find you, Re: MTBE (chemical gas additive)."
In an interview with the New York Times last December, Messina explained his and Madrid's role connecting AGs with firms looking to sue: "It just gives credibility when you are dealing with someone that you know," he said. "It gets you past a lot of difficult questions."
A week after the New Orleans meeting, Sorrell found himself in Washington, D.C., for the Democratic Attorneys General Association's holiday party. While there, he collected $10,000 for his reelection campaign from Baron & Budd and those associated with it. The firm itself contributed $2,000, as did president Russell Budd, his wife Dorothy Budd, chief MTBE litigator Scott Summy and Messina himself.
In an interview two weeks ago, Sorrell said the topic of MTBE came up at the holiday party.
Within months, Messina, Madrid and representatives of Baron & Budd were traveling to Vermont to discuss the potential litigation. In May 2014, Sorrell's office signed a contract with the firm and several others to represent the state.
Messina, Madrid and Summy did not return calls for comment.
In the interview, Sorrell defended his decision to hire a company that contributed so much to his campaign, arguing that "the two other firms didn't offer me a dime, and they have the same contract as the Baron & Budd folks." He was referring to Weitz & Luxenberg and the Pawa Law Group, which also serve as outside counsel.
Sorrell did not mention that a fourth firm was included the state's contract: the Law Office of L. Michael Messina.
According to the terms of the contract, the four firms stand to collect 25 percent of any money Vermont makes off its MTBE lawsuit. Of that, 40 percent would go to Baron, 40 percent to Weitz, 12 percent to Pawa and 8 percent to Messina.
Eight percent of 25 percent may sound pretty small, but it's not in the world of MTBE litigation. Just two years ago, Pawa helped win an eye-popping $236 million verdict in a similar suit New Hampshire brought against Exxon Mobil. It's currently being appealed. The Granite State previously settled with other refiners for $136 million, of which $35 million went to outside counsel.
Asked Tuesday why he'd neglected to mention that Messina was getting a slice of the pie, Sorrell said via email, "I was unaware Mike Messina is mentioned in the contract." As for what the broker was contributing to the lawsuit other than connecting Sorrell to the plaintiffs, the AG said, "I do not know which of the private counsel are responsible for what."
Like most state contracts, this one bars the contractors from giving "any thing of substantial value ... to any officer or employee of the State during the term of this Agreement." Of course, Messina and his friends at Baron & Budd got that out of the way months before they signed the contract.
As arrangements like these have proliferated throughout the country, the U.S. Chamber of Commerce Institute for Legal Reform has sounded the alarm.
"Situations like these can enrich lawyers at the expense of taxpayers and raise concerns about 'pay-to-play,' conflicts of interest, the use of a public entity for personal gain and fairness in prosecutions," said ILR spokesman Justin Hakes. "That's why a growing number of states have recently taken action to limit outside contingency fee counsel arrangements by state attorneys general."
Whether Vermont's outside firms will make a dime in this particular case remains an open question.
In a January decision that went unnoticed in the press, Judge Mary Miles Teachout dismissed a major argument set forth by the state, imperiling its case.
Exxon, one of the 29 defendants, argued that the state was well aware of the harm caused by MTBE outside of the state's six-year statute of limitations. After all, Vermont passed a law banning the stuff in 2005 — and New Hampshire filed its suit, which was well publicized, in 2003. Vermont didn't get around to suing until July 2014.
Teachout largely agreed, writing that the state "indisputably discovered this generalized injury more than six years ago." Therefore, she ruled, Vermont would have to come up with specific instances in which it discovered MTBE contamination within the past six years.
"We respectfully disagree with the decision," said assistant attorney general Scot Kline. The state has filed a motion requesting permission to immediately appeal to the Vermont Supreme Court.
David Cleary, a Rutland attorney who is not involved with the case but who has followed it closely, said he was surprised when Sorrell filed suit last summer, given "the significant statute-of-limitations issue."
"Why the heck didn't you file this suit a long time ago?" Cleary wonders.
One answer, according to a report issued by the Institute for Legal Reform, is that the "jackpot verdict" Pawa reached in the New Hampshire case has led to "the newest trend" in plaintiffs' firm litigation: MTBE copycat suits.
"Did somebody meet him at one of those cocktail parties and say, 'This is the time to bring it'?" Cleary asks.
Whether anybody will answer that question — and determine whether Sorrell's campaign contributions played a role — remains to be seen. So far, his fellow Democrats are keeping their distance.
Asked last week who is in charge of enforcing the laws against Vermont's chief law-enforcement officer, Gov. Peter Shumlin dodged the question several times, concluding with, "You research it and get back to me."
Secretary of State Jim Condos, meanwhile, said he did not plan to investigate whether Sorrell committed unrelated campaign finance infractions, which Seven Days documented last week.
"Our office serves as a filing cabinet for campaign finance reports and does not have any investigatory or prosecutorial powers," Condos wrote in an email. "Given this, when individual instances of possible noncompliance are brought to our Office's attention we recommend that anyone who suspects a violation report it to the Attorney General's Office directly."
We'll get right on that.
Captains Courageous
Gov. Shumlin is one courageous dude, he'd like you to know.
Three months ago, he proposed raising $90 million through a new, 0.7 percent payroll tax. Much of that, plus another $100 million in federal matching funds, would go to undercompensated medical providers who treat Medicaid patients. Since those docs would no longer have to shift costs to the privately insured, Shumlin argued, everyone's premiums would become more affordable.
"What I was trying to do was solve this problem that no politicians have yet had the courage to solve," Shumlin proclaimed last week with characteristic modesty. "And I think we should solve it."
But as he's noted several times in the past few weeks, his Democratic colleagues in the legislature aren't nearly as courageous as he sees himself.
In March, the House Health Care Committee cut Shummy's plan to $47 million and proposed paying for it with a smaller payroll tax and a new tax on sugar-sweetened beverages. Weeks later, the House Ways and Means Committee cut it to $22 million and got rid of the payroll tax altogether.
The resulting legislation, Shumlin told Vermont Press Bureau chief Neal Goswami, is "really miniscule, and it does nothing to address the cost-shift."
"Their bill will not make a dent in the problem we're trying to solve together. Everyone agrees we've got to fix the cost-shift," he said, before pulling out the C-word again. "Well, let's have the courage to fix it."
Translation: If you don't do what I say, you're a wuss.
House Speaker Shap Smith (D-Morristown) didn't much like Shummy's courageous rhetoric. In an interview last week, he said the governor's inability to pass the centerpiece of his legislative agenda was nobody's fault but his own.
"I think that the proposal the administration put on the table in the first instance did not hold together," the speaker said. "And as a result of that, it was dead almost before it started."
The problem, Smith argued, was that not all the money Shumlin proposed raising through the payroll tax would have gone toward addressing the cost-shift. Some of it was earmarked for other health care expenses that Smith thought should've been in the base budget.
"It didn't add up to the rhetoric that was used around it," Smith said. "The notion that the dollars raised were going to go back into Vermonters' pockets didn't end up bearing out."
Shumlin, who opposes taxing sugar-sweetened beverages, hasn't explicitly said he would veto the House bill if it reaches his desk, but he might not need to. Since it limped out of Ways and Means two weeks ago by a six to five vote, the measure has been stuck in purgatory — better known as the House Appropriations Committee.
"I think we're still working to make it the right bill," said Rep. Mitzi Johnson (D-Grand Isle), the committee's chair. "It's no big secret that it has struggled."
House leaders are reluctant to bring even the smaller health care bill to the floor, where Republicans and Connecticut River Democrats opposed to the sugar-sweetened beverage tax might vote it down.
"It's on pause," Ways and Means chair Janet Ancel (D-Calais) said diplomatically.
Even if the bill cleared the House, it wouldn't stand a chance in the Senate in its current form.
"I don't think the Senate will pass the sugar-sweetened beverage tax, nor do I believe it will pass the payroll tax," said Sen. Tim Ashe (D/P-Chittenden), who chairs the Senate Finance Committee. "Unless or until a majority of the Senate appears interested in them, they don't appear to be moving."
Asked at a Statehouse press conference last week whether a single member of the Senate supported his payroll tax proposal, Shumlin said, "You'd have to ask them."
But did the governor know of any?
"I'm going to let them speak for themselves," he responded. "But, listen ... I mean, if you're asking the question, 'Is it easy in public life not to take on tough challenges?' the answer is yes."
Ah, right. Courage.
Sounds kind of like the governor who spent five years promising to pass the nation's first single-payer health care system, only to lose his courage last December when its financing plan came due.
As he said three months earlier at his reelection campaign kickoff, "I was elected to get tough things done, and this may well be the toughest, but I will not rest until it is done."
My, how fleeting this courage is.