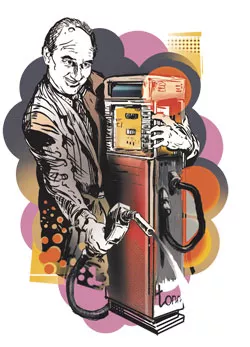 On May 16, gas-station owner Skip Vallee paid $405,000 at foreclosure auction for a filling station along Route 2 in Plainfield. Many locals expected the Red Store convenience store to become another outpost in Vallee's empire of Maplefields mini-marts.
But just weeks later, Vallee put the property up for sale with an asking price of $299,000 — far below what he paid for it. There was just one catch: A deed restriction prohibits the new owners from using the property to run a gas station, grocery store or convenience store. Vallee owns another gas station/convenience store just a half mile away in Marshfield — and ostensibly doesn't want a rival station cutting into his business.
With nearly 40 Mobil stations around Vermont — many under the Maplefields name — St. Albans-based R.L. Vallee Inc. is one of the state's largest fuel dealers. Vallee has used shrewd, some say anti-competitive business tactics to grow his company's market share.
But some Plainfield residents say Vallee is hurting their town by restricting future uses of the property.
"It's difficult enough to get businesses to move into a small town, and when you saddle them with this kind of restriction, it might really discourage anyone from making that kind of investment," says Sarah Albert, who previously served as Plainfield's zoning administrator and as a member of the planning commission.
It's just business, Vallee says of his purchase and subsequent sale of the Red Store gas station. "If somebody wanted to be there, they could have outbid us," he says matter-of-factly.
The controversy in Plainfield is unfolding just three weeks after U.S. Sen. Bernie Sanders (I-VT) asked the Federal Trade Commission to investigate unusually high gas prices in northwestern Vermont. Throughout the month of June, Burlington-area gas stations charged more for fuel than anywhere else in New England — about 27 cents more per gallon than in New Hampshire, for example.
Sanders pointed out that four Vermont companies — including R.L. Vallee — control 58 percent of the gas stations in Chittenden County. While he stopped short of accusing the stations of price-fixing, Sanders said in a press release last week he believes high gas prices have "a lot to do with the non-competitive market in which a few companies are able to dictate prices."
Today, a "closed" sign hangs on the door at the former Red Store in Plainfield. R.L. Vallee has already removed the two gas pumps and canopy — valuable equipment that helps account for the lower asking price. The underground gasoline tank remains. Vallee says if the store doesn't sell, he may put in unattended diesel pumps as a complement to Tim's Convenience Center, a Vallee-owned gas station in neighboring Marshfield that cannot accommodate large diesel vehicles.
Vallee purchased Tim's 11 months ago from owners Tim and Valarie Roberts, who spent 17 years building the business from a small store and auto- repair garage into a much larger convenience store with a full deli.
"We weren't looking to sell, but R.L. Vallee came and made us an offer we couldn't refuse," says Valarie Roberts, who still owns the Marshfield Village Store with her husband. She says that operating a gas station and managing so many employees was exhausting. She describes "drive-offs" when customers left without paying for their gas, and the headache of dealing with state and federal regulations applying to gas stations.
Roberts defends R.L. Vallee, saying that while the company may not be a mom-and-pop operation, it's a Vermont business operating on a relatively small scale.
"They're not a big corporation," says Roberts, who declined to say what Vallee paid for Tim's. "They've worked hard to get where they are."
Though Vallee kept the Tim's name, some customers bemoan what they see as the loss of a beloved local business. Plainfield resident Mary Lane complains that the new Tim's feels like "a corporate, anyplace-in-America convenience store" since Vallee purchased it.
Plainfield resident Ben Graham is more blunt in his assessment. "He's not interested in being a part of the community," says Graham. "All he's interested in is sucking money out of it."
Adding to some residents' distrust of R.L. Vallee is the company's involvement in fighting another potential competitor — Costco, which wants to build a large self-serve gas station at its Colchester warehouse, about a half mile from a Maplefields. Costco first sought approval for the station in 2007, but abandoned the petition after local gas station owners put up a fight. The company reapplied in May.
R.L. Vallee and the owners of a nearby Shell station have requested party status in the latest Act 250 hearing. Vallee argues that Costco's gas pumps would be built on sensitive wetlands and that increased traffic at Costco — where congestion is already a problem, according to Vallee — would negatively affect his gas station. Costco, on the other hand, accuses the gas-station owners of using the land-use process to stifle competition.
R.L. Vallee was also a party in the nearly two-decade battle to build a Walmart in St. Albans. Under pressure from Vallee and other local merchants, Walmart pledged not to put in a gas station or grocery store. Vallee is quick to point out, however, that he takes what he dishes: His company has faced its own share of battles, and Vallee says local zoning makes it tough to permit new gas stations in some towns.
Nicknamed "Gasoline Vallee" by the late Seven Days columnist Peter Freyne, Vallee is a political player in GOP circles. He served as Vermont's Republican National Committeeman between 1999 and 2004 and fundraised extensively for George W. Bush; his loyalty earned Vallee a two-year stint as the U.S. ambassador to Slovakia.
Vallee believes that Sanders' crusade against high gas prices amounts to political pandering. He accuses Sanders of misrepresenting the issue by looking at a snapshot of gas prices in Burlington rather than the price fluctuations that occur over a period of many months.
"If you're Bernie Sanders, how is this not politically helpful?" says Vallee. "This is a fight that he wants to pick."
Last week, the Sanders office put out a press release saying that officials at Costco told Sanders the company would have sold gasoline at an average of 19 cents less per gallon than other area companies. Asked about that, Vallee quipped in an email to Seven Days, "With Costco, I am glad Bernie has finally found a multinational he likes."
Sanders says in an interview that he's not for or against Costco, but that his job "is to make sure that people are not paying a higher price for a basic necessity like gas than they should be paying.
"What Skip Vallee and his friends are supposed to believe in is the value of competition," Sanders says.
Sanders notes he's been working on the gas-price issue for years. In a state like Vermont, where people drive great distances, prices at the pump have an immediate effect on Vermonters' pocketbooks. "If they're getting ripped off ... it's a significant economic issue," Sanders says.
Since Sanders took up the drumbeat on gas pricing earlier this month, he says two things have happened: Wholesale prices have shot up all over the country, meaning gas-station dealers are now paying more for their product. At the same time, the difference between gas prices in Burlington and Middlebury has all but disappeared.
"Maybe it's just a coincidence," says Sanders, "or maybe it's by shining a light on the fact that there is something very, very wrong."
Vallee insists his company is competitive in every market in which it sells gasoline. Every morning, his employees scope out competitors' prices. After learning from a Seven Days article that a Middlebury gas station was undercutting a Vallee Mobil station, Vallee dropped his prices more than 10 cents.
"Ultimately, markets work," Vallee says.
Back in Plainfield, frustrated residents are trying to figure out what, if anything, they can do to prevent Vallee's power play at the Red Store, described by some residents as an "institution" in Plainfield. A few locals put offers in on the property but were outbid by Vallee.
Restrictions on deeds — also known as covenants — are not uncommon, according to Liam Murphy, a Burlington real estate attorney who is not involved in the Plainfield transaction; subdivisions have used similar techniques to limit what homeowners can do with their property. The courts have struck down covenants that restrict ethnic groups from holding property, but those rulings wouldn't likely extend to the Red Store.
Calling the move "a fairly creative way" to protect one's business, Murphy guesses that the Red Store deed restrictions — if well written — would likely hold up in court.
"Is that good or bad for the community?" Murphy asks. "That's a difficult question to answer."