Molly Walsh
Intersection of Routes 2 and 314 in South Hero
A steady stream of trucks and cars rolled through the intersection of Routes 2 and 314 in South Hero last week, many of which were coming from the year-round ferry that connects Vermont and New York.
Vermont gasoline mogul Skip Vallee wants to capitalize on the traffic by building his 51st Maplefields gas station and convenience store at the busy spot. But his plan to plop a chain store in the small, rural Champlain Islands town, and his crush-the-competition business style, are drawing complaints.
Critics contend the new Maplefields would threaten similar operations that pump gas and sell food within a mile of the site: Keeler's Bay Variety just to the south and Island Beverage & Redemption, adjacent to the proposed Maplefields site. South Hero is known for its seasonal lakeshore homes, apple orchards and small farms, as well as its commuter castles. Part of the resistance stems from fear that even a Vermont chain could erode the local character.
"Why do we need three convenience shops right in a row?" asked Nancy Wood, co-owner of the Green Frog gift shop, just around the corner from the proposed Maplefields. She also dislikes the idea that "someone like Vallee" will "take business away" from a locally owned store such as Island Beverage.
Vallee has built a reputation as a combative and litigious businessman. He has waged a long, unresolved battle against Costco Wholesale's bid to start pumping gas at its retail operation in Colchester. Ostensibly, he objects on environmental grounds — but Costco would bring cheaper fuel to the region.
Just last Thursday, Vallee and three other fuel distributors agreed to settle a 2015 class action lawsuit alleging that they conspired to keep gas prices artificially high in northern Vermont. In court documents and a written statement, Vallee vehemently denied any price fixing but agreed to help pay a $1.5 million settlement.
The proposed South Hero Maplefields would be attached to the building that houses McKee's Island Pub & Pizza. Vallee said he has an agreement for a long-term lease of the land. Owner Lance McKee did not return calls for comment.
Just next door and also on Vallee's radar is Island Beverage, owned by Tim and Kelly Cota. The couple was negotiating to sell their property to Vallee, but the deal fell apart, Tim Cota told the Islander newspaper last month. The paper reported that the Cotas, who had purchased gas wholesale from Vallee's company, were planning to end their relationship with him and, as part of that break, arrange for the removal of his company's fuel tanks.
The Cotas did not respond to messages from Seven Days, and no one answered the door at their home on Lake Champlain's Keeler Bay on October 16. The station and the tired-looking convenience store were temporarily closed and marked off with yellow tape for the tank removal project, which was near completion.
Vallee's hardball tactics are well documented.
In 2010, he opposed the construction of a Walmart in St. Albans until the permit guaranteed that no gas would be sold there. In 2012, he purchased a gas station in Plainfield near one he owned. He took out the pumps and put the property back on the market — with a new deed restriction to prevent a competing gas station or convenience store from operating there. He resorted to similar strategies in St. Johnsbury in 2014, according to the class action lawsuit, which alleged that Vallee used land covenants, zoning and the state environmental permit process to "suppress" competition.
In an interview with Seven Days, Vallee said he's not trying to squash the competition in South Hero — or put the Cotas out of business.
"The Cotas, who are very fine people, were customers of ours, and they've decided, at least as of now, to go another route," Vallee said. "And we wish them the best of luck."
It's Vallee's company policy to remove fuel tanks when a contract ends, "given prospective underground pollution liability," he added.
Vallee has not given up on a deal, though. He said he still wants to buy the Island Beverage property and incorporate it with the McKee parcel for the new Maplefields.
"The smartest thing to do is to combine those lots on that corner," Vallee said. He added that he's still negotiating with the Cotas but declined to discuss the details. His current proposal does not include their Island Beverage parcel and, according to Vallee, he could go forward without acquiring it.
In any event, Vallee emphasized, the law does not say a new business can't compete with an existing one. "I don't think that's part of the zoning analysis," Vallee asserted.
Under his proposal, McKee's restaurant would stay. Last week a handful of locals and leaf peepers noshed on meatball subs, chicken Parm and pizza under an oversize hunting rifle replica suspended from the ceiling. Traffic whizzed by outside.
Vallee would build a 2,000-square-foot addition to the building for a convenience store with two gas pumps and new bathrooms. Existing small apartments would be converted to office space for the Maplefields, he said.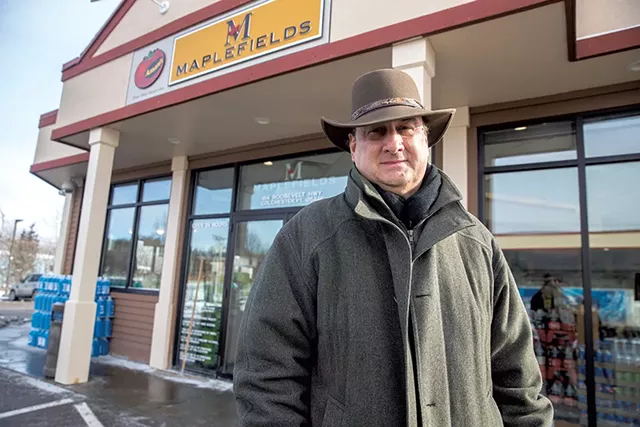 Skip Vallee at Maplefields in Colchester in 2018
"We believe that what we're doing with that historic building creates a destination that, in the end, South Hero will be proud of," Vallee said. The company has revamped other historic properties in Stowe and Middlebury, creating a sort of Ye Olde Gas Station architectural style. The McKee's makeover would resemble those, Vallee said: "This is something we're used to doing, and we'll try to address all of the legitimate concerns of the town."
Still, he took some arrows during an August 28 South Hero Development Review Board session, according to meeting minutes and Islander coverage. About 45 people attended the meeting, which was moved to a larger space at the town's new Worthen Library in anticipation of a large crowd.
Buzz about the gas station "brought a lot of people out," said Martha Taylor-Varney, South Hero's zoning administrator.
Board chair Tim Maxham told speakers to stick to the facts of the proposal when they attempted to raise questions about Costco and Vallee's general business practices, according to the minutes.
As Taylor-Varney explained, those subjects are not germane to the application. Without mentioning Island Beverage, she acknowledged that some attended "because they feel like a local business was being bullied."
During the meeting, Vallee said one benefit of the Maplefields would be clean customer restrooms decorated with fresh flowers. It's one of his favorite Maplefields selling points; clean commodes, he contends, have helped the Maplefields chain grow to 50 outlets in Vermont and neighboring states.
That didn't pass the sniff test with Wood, the Green Frog gift shop owner. Fresh daisies and a tidy bathroom are nice, but she's worried about the "clutter" of another gas station in the area known locally as Keeler Bay.
It would be a shame to let poorly planned development sprout while the town has otherwise managed growth well, she said. A few miles away, in the area around Route 2 and South Street, the Worthen Library opened in July. There's a new South Hero Fire and Rescue Station next to it.
"It looks nice," Wood commented. A 50-seat restaurant and brewery has been proposed nearby.
Vallee, a GOP donor and organizer, said that some of the plan's opponents at the South Hero meeting seemed to be robotically aligned with his political nemesis, U.S. Sen. Bernie Sanders (I-Vt.). "It seemed clear to me that there was a bunch of Bernie bots there that had been recruited and, in classic Bernie-bot way, they were nasty," Vallee commented.
Asked if he felt he was treated fairly during the DRB meeting, however, Vallee responded, "Yes, absolutely."
The South Hero proposal is in a preliminary phase. Vallee is scheduled to return to the board on November 13 with a more refined plan. He's also busy with other Maplefields projects. There's one under construction in Orleans, where people "love" it, he said.
The jury's out on another, proposed in South Burlington on Route 7. That plan, not yet approved, involves demolishing the extended-stay Maple Leaf Motel and a neighboring Gulf station to make way for a 12-pump Maplefields.
Vallee intends to lease the property from its owner, Ernest Hoechner. Last week, he repeated earlier statements that Hoechner — and not Vallee — is responsible for potentially displacing the low-income people at the motel, some of whom have said they might become homeless.
"The landlord is dealing with those people," Vallee said.
Vallee said he's hoping to soon announce another Maplefields project that will involve the reuse of a historic building in Vermont, but he wouldn't say where.
There might not be many more Maplefields opening in historic or modern buildings in Chittenden and Franklin counties. Few spots remain in those areas that meet the criteria he generally seeks for Maplefields: big lots close to an interstate. The company's future expansion could take place in other parts of Vermont and in neighboring states, he suggested.
As for the opposition in South Hero, Vallee said he's undeterred: "You know, I've done this for 40 years, and I've got a pretty thick skin."