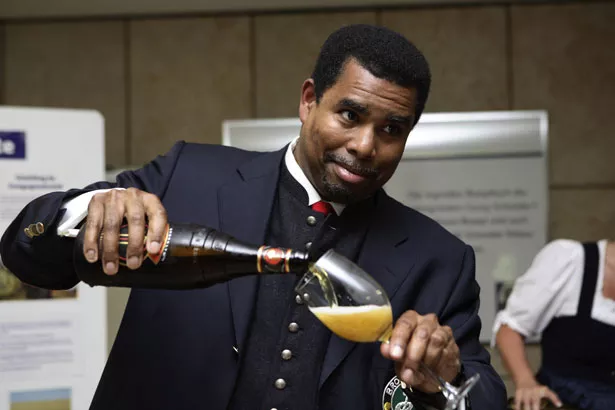 Beer whiz Garrett Oliver, author of The Brewmaster's Table: Discovering the Pleasures of Real Beer with Real Food, may work in New York City - he's brewmaster and vice president of the highly touted Brooklyn Brewery - but he's got some deep Vermont connections.
Last year Oliver helped usher in the next generation at the American Brewers Guild CraftBrewers Apprenticeship program in Salisbury. At his side were old friends Paul Saylor of American Flatbread and Greg Noonan of the Vermont Pub & Brewery.
More recently, he made a night of it in Burlington, pairing cheese with beer at Flatbread and then moving on to a dinner at the Daily Planet, where chicken quesadillas with gazpacho and a chocolate chili cake met their matches.
Seven Days checked in with Oliver to learn more about his views on the current beer scene and where Vermont fits in.
SEVEN DAYS: Your degree is in filmmaking, but you traded props for hops. Why?
GARRETT OLIVER: I started making beer after I got back from a year in England and discovered that the beers available here didn't have any flavor at all. Interestingly, brewing and film production are mentally similar. They are both perfect blends of art and science, "left brain" and "right brain." In brewing, art without science will yield inconsistency and poor quality. Science without art will yield industrial beer - technically impressive but completely empty of any value. It's the same in film - if you don't understand your equipment, you can't put your vision on the screen. But if you have no real story to tell and can't direct actors, it's all just pretty pictures.
SD: Your book talks about pairing "real beer" and "real food." How do you define those terms? What kinds of food and beer aren't "real"?
GO: I'd say that much of the "food" we eat is not real. Take a loaf of standard white bread from the supermarket. We all know that real bread is only fresh for a day or two. Bread does not stay fresh in a bag for two weeks. Bread doesn't have 40 ingredients. The thing in the bag is a steamed chemical sponge with food coloring painted on to simulate a crust. It doesn't look, act, taste or smell like bread, and it's not made from what bread is made from. The stuff we often melt on burgers is not cheese and cannot be called cheese by law. We eat a lot of "food facsimiles." The labels are scary, so we don't read them. There's no need to eat chemicals or to drink a beer facsimile when we can easily get real food and real beer.
SD: Where does wine fit into the equation? Are there certain kinds of food that are just naturally better with beer?
GO: I love wine, but wine doesn't tend to work well with a lot of food that Americans actually eat today. Sushi, Thai food, Chinese food, Mexican food, Indian food, barbecue, Cajun - so many things. And beer is often superior with many wine-friendly foods as well.
SD: Can you narrow that down to beer and cheese specifically?
GO: Absolutely. Beer is markedly superior with cheese. I've "battled" many sommeliers in front of audiences - more than a dozen "cheese wars" in four countries. These are some of the top sommeliers in the world, but I've yet to lose a cheese-pairing competition. Beer has far more complementary flavors, and the carbonation gives it a big advantage. Besides this, it also has a much wider range of flavor than wine does. Wine pretty much doesn't stand a chance versus beer when it comes to cheese, and you see a lot of wine writers starting to admit that in public.
SD: Right now, Vermont is a hotbed of craft breweries and artisan cheesemakers. As a New Yorker who was involved in the artisan movement early on, what is your perception of Vermont's role?
GO: Vermont has a wonderful concentration of people dedicated to real food in all its forms, whether it's properly raising pigs or making artisanal cheese. I think the word "Vermont" is gaining a cachet that implies purity, both of purpose and practice. The cheesemaking is particularly good, and brewers are right behind them. I think that Vermont has a great future as a leader of the overall green movement, both in the food culture and hopefully also in the general culture.
SD: Since you wrote the book on pairing beer and food, I imagine that when you're creating a new brew, you think about how it will match up with a meal. Can you talk about that process?
GO: I do think about what sort of flavors the new beer might bring to a meal and how the levels of sweetness, bitterness, roast, and other attributes might work with various dishes. I don't design the beer specifically for particular dishes, but it's always in the back of my mind. Brewing is a form of cooking at the end of the day, and beer is certainly food.
SD: Are restaurants catching on, or do they persist in clinging to wine snobbery? Does beer's lower price point have an impact on how restaurateurs think of beer?
GO: Restaurants are slowly catching on, but they're mostly pitifully behind the general public. You can still walk into a lot of restaurants and see that old-fashioned "gas station" beer selection. They don't seem to realize how much they're losing. Smarter restaurateurs are doing very well with beer. Some restaurateurs are afraid that beer will challenge their wine sales and therefore cut into profits. In reality, that never, ever happens. It actually increases the check average and produces a happier customer. Better restaurants know this. Gramercy Tavern, often cited as New York City's best fine-dining restaurant, has an extensive beer list and even a vintage beer list. They match their beers with cheeses too. And their wine program has won many national awards, so they understand that a great restaurant needs great beer and great wine.
SD: Do you think that someday restaurants will hire a sommelier-like person to help customers pair beer with food?
GO: They already have one - the sommelier. The sommelier is not supposed to be a "wine waiter" - the sommelier is supposed to advise guests about drinks. A proper sommelier is equally conversant in wine, beer, sake and cocktails. I've been doing more and more teaching for sommelier accreditation courses, which is a good sign of things to come.
SD: Can you offer a couple of hints to beer-pairing newbies?
GO: Remember to balance the overall impact of the beer with the food - bigger beers with bolder food, lighter beers with lighter dishes. Beyond this, look for parts of the beer's flavor that echo flavors in the food. And remember that even great beers often cost less than a modern cup of coffee, so people should feel free to experiment.
SD: How have consumers of beer changed over the past couple of decades? What are today's beer drinkers like?
GO: Research shows that craft beer drinkers are also drinkers of good wine and are interested in food and cooking. The future of craft beer isn't only at the bar - it's also at the dinner table. Your food life should be like a symphony of flavors - why would you want to leave out half the instruments and half the notes?
SD: Do you drink beer every day?
GO: I taste beer every day and drink beer most days. But there are days I might have wine or sake with dinner - it depends on what mood I'm in and what I'm eating.
SD: Can you estimate how many different beers you've tried?
GO: Given that I've traveled pretty extensively and that I've been judging the Great American Beer Festival for 16 years, the number is certainly in the thousands. But there are 1300 breweries now just in the U.S., and I'm sure I haven't had even 30 percent of their beers. So I've got plenty left to drink!