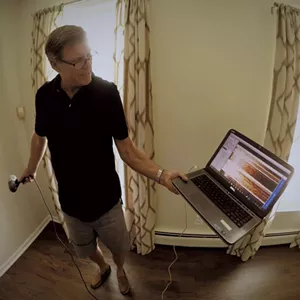 Garret Harkawik, Doom Vibrations (Original Motion Picture Soundtrack)
(Index Drift, digital)
Under certain conditions, I can hear a strange hum emanating as if from nowhere. And it's loud. Everything needs to be perfectly still for me to be able to hear it. The slightest movement or motion instantly causes it to cease. The best description is that it's like sitting on the bridge of an alien spacecraft, all of its advanced tech whirring and fluxing around me. Or maybe I'm somehow hearing the giant supercomputers powering the Matrix outside my power-generating pod.
Since my phantom sound moves around the world with me (it's likely I'm just hearing my own inner ear or something), I can be relieved that what I experience is not the same phenomenon investigated in Vermont filmmaker and composer Garret Harkawik's 2019 documentary Doom Vibrations. The doc was released as part of The Atlantic Selects film series, and it screened at the 2019 Vermont International Film Festival. The 25-minute short delves into the source of a low-frequency sound plaguing a Connecticut-based man named Steve Kohlhase.
Throughout the film, Kohlhase digs deeper and deeper into what could be causing the low-frequency noise. He eventually links it to gas pipelines yet isn't able to prove anything. He even goes as far as to purport that the noise, which allegedly only 2 percent of people can hear, could be connected to the rise in Alzheimer's disease, autism, the disappearing bee populations and even the Sandy Hook massacre.
Whether or not Kohlhase's "gas pipeline syndrome" is real, the dread and curiosity that Harkawik's score inspires is palpable. The album version contains slightly remixed and expanded selections heard in the film, strung together as an unnerving and perplexing sequence of instrumental pieces.
For instance, a juxtaposition of square synth bass, cello and steel pan create a pressurized panic on "Repeatability." It drifts into a fog of eroding synths before descending back into the mechanized din with which the track begins.
"Binders Full of Data" swells with overlapping synths, each trembling as they fold into one another. Fluttering waves peel back until only a bass pulse remains.
Traversing the other end of the sonic spectrum, the precious "I Ended Up Taking a Bat With Me" twinkles with manipulated, toylike bells and eerie whistles.
The soundtrack concludes with the aptly titled "A Collection of Works." Essentially a stand-alone 13-minute journey through bits of the film's various pieces, the ambient work is pure trepidation. Like dark clouds spreading across an azure sky, the inscrutable blob of sound slowly unfurls, spreading thinner until it ultimately evaporates into nothing.
Harkawik's music interprets an all-too-real unease. Though the soundtrack itself will likely only appeal to ambient music enthusiasts, the film is a worthy excursion that reveals yet another thing to fear in 2020.
Doom Vibrations (Original Motion Picture Soundtrack) is available to stream on Spotify. View the film on YouTube.