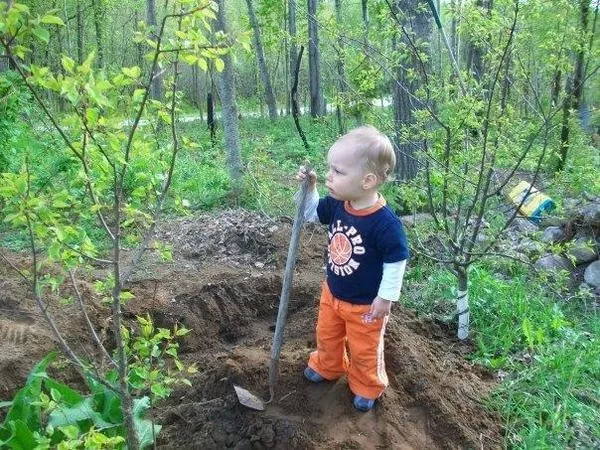 If you're gardening with kids, get ready to get messy. And I mean that both literally and figuratively. Kids love to get dirty and so introducing them to directed dirt digging will thrill the little worm-seekers. But, kids also go at their own pace, along their own path. So … your expectations might get messed up.
The key, I think, is to let go a little. And have fun.
I have a hard time with this, and so when I offer this advice, I do it gently. I know how hard it is to achieve the zen-like serenity that will enable you to smile when your son tears up the entire tulip bulb to bring you a flower. Or to laugh when your neat rows of seedlings are broken up by barren spots where a toddler marched through.
But, if you can let go and accept that things will go awry, bringing kids into your garden is a great learning opportunity. It's a chance for kids to connect with the earth in a real and meaningful way. They'll learn respect for the forces of nature when birds eat the seedlings, see how life cycles through the seasons, and they'll actually eat the vegetables that they grow.
My son loves to prove that point: He doesn't like asparagus … except when it's fresh up in our garden. I often think he picks the young shoots just because he knows I value them so much … but I have to grin when I realize I'm upset because he's eating a vegetable that I wanted. Darn.
Here are some ideas for garden fun that kids will enjoy. Spark their imagination and get them hooked on a healthy hobby. If things get too messy, just remind yourself that there's always next year.
1) Grow a sunflower house: Plant a circle of sunflowers and when the flowers form, tie the tops together to make a roof. This living play-structure is awesome — we put ours near the blackberry bushes, so the house comes complete with snacks. Bonus feature: Leave this up all winter for the birds to enjoy. Also, it makes the basis of a great snow fort.
2) Plant a name garden: Sow fast-growing seeds in a pattern spelling out your child's name. (If you named your kid Maximillian, I'm gonna recommend you just use his initials.) When the radishes or lettuce come up, seeing their name in greens is going to seem as cool as seeing it in lights.
3) Personalize your pumpkin: Growing pumpkins is great, but it takes a while to get to the enjoyment phase of that vegetable. A fun way to spice things up is to etch your name or initials onto a gourd when it first forms. As it grows, the marks you make with a knife will stretch and shift in pretty neat ways. This is a good way to keep kids interested in repeat visits to the pumpkin patch after planting.
4) Cuke in a Jar?!?: Here's a trick that will amaze your friends, and older kids will love the wow-factor. Slip a clear plastic bottle over a cucumber when it's still small. Allow it to grow to full size inside the container, and then pick when ripe. You can tell friends and neighbors that you magicked it inside.
5) Plant berries: There's no magic involved in this recommendation. It's just a matter of appealing to a kids' tastes. Kids love the sweet stuff and there is simply nothing better than going into your own back yard and eating strawberries, blueberries or raspberries right off the bush. Strawberries are probably easiest and there are now many containers that give you a chance to grow them in tight quarters — even on your porch or stoop. You won't regret it.