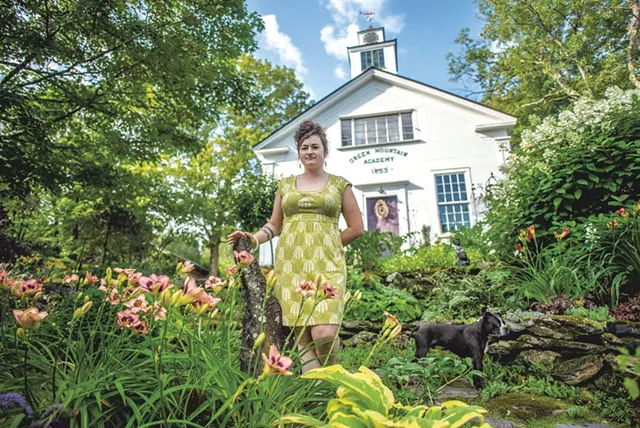 Glenn Russell
Gardener Jen Kennedy with her dog, Tobias, at home in Underhill
Gardening has been described as an act of faith. In Vermont — with its short growing season, uncertain weather and rocky soil — the activity requires a special kind of fortitude, as well. And it helps to have the guidance of someone who's as hardy as the native plants. Someone like Jen Kennedy.
The Underhill resident, 37, has worked as a professional gardener in Chittenden County for almost 20 years. From designing new perennial beds to helping maintain established gardens, Kennedy does it all.
"There are definitely unique challenges when it comes to locations, what people like and what's going to look good in their garden," she said, "but I really enjoy that."
When she's not working on other people's gardens in season, Kennedy is busy tending her own. And although her white clapboard home and perennial-filled grounds may seem like a quintessential Vermont idyll, it wasn't always this way.
Twelve years ago, when Kennedy inherited her grandparents' homestead — built in 1852 as a local school — the property was in a state of disrepair. Her grandmother's flower beds were overgrown and neglected, while the backyard was littered with old cars, rusted fences, dismantled sheds and even an old forge. (Her grandfather, Roy Kennedy, was an artist and sculptor who had a thing for scrap metal.)
Kennedy has spent the last decade transforming her grandparents' eclectic artists' den into her own private paradise.
"It took a long time, but I had a vision and I just kept with it," she said.
Kennedy's work, in both her clients' gardens and her own, is equal parts restoration and creation. Consider the terraced perennial beds in front of her house, originally planted by her grandmother. Kennedy has diligently saved many of the plants, including the Dictamnus albus (gas plant), Pulmonaria (lungwort) and Mertensia virginica (Virginia bluebells). But she's also added new varieties such as Nepeta sibirica (catmint) and Astilboides tabularis (shield leaf) to give the beds her personal touch.
Glenn Russell
Stokes aster
Kennedy grew up just down the road and credits her grandmother with teaching her about plants. "I learned a lot from my grandmother, but mostly I learned to love gardening," she said.
Her grandparents didn't own a TV or a phone, so when Kennedy visited, they spent their time outside. "There was an emphasis on edible landscaping and foraging for wild foods," she remembered. "It was just part of life back then, but we've gotten away from it."
Tucked behind the house is a private pastoral landscape fringed with old-growth apple trees. The vegetable garden, a large circle in the center of the backyard, is looped with a thin electric fence to keep out the deer (who love Kennedy's hydrangeas and daylilies but leave the hyssop and thyme alone). A wooden pergola frames the entrance, and pea-stone paths separate the raised beds, which are hip-high to make planting and weeding easier.
This is not a garden of straight lines but rather a cheerful jumble of flowers, herbs and vegetables — sweet peas, tomatoes, peppers, Brussels sprouts, rhubarb and garlic — growing together in verdant harmony.
"It's not intentional," said Kennedy with a laugh. "I plant mostly by height and shading. I like to grow small amounts of several different things. There is a science to plant companions, but I haven't used it."
Kennedy is a proponent of creating outside "rooms" to extend indoor living space, and a walk around her property reveals delightful hidden nooks. A wooden arbor laden with leafy vines shades a large table and chairs on her backyard patio. Alongside a babbling brook, two Adirondack chairs and a small fire pit offer a perfect setting for making s'mores. Just beyond the vegetable garden, a hammock sways between two old maple trees.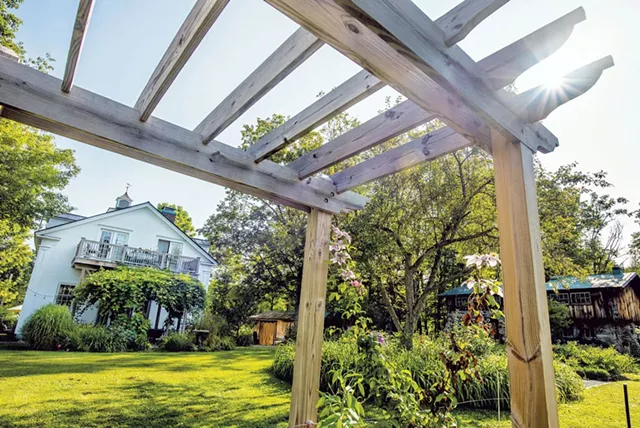 Glenn Russell
Jen Kennedy's pergola
Although a visitor might imagine whiling away summer afternoons reading a book and sipping iced tea in such outdoor spaces, Kennedy rarely slows down; she's a woman with a vision and a strong work ethic.
Kennedy first worked as a gardener during summers while she studied art at what was then called Johnson College, and it's been her main job ever since. It's clear that the principles of art, such as complementary colors, textures and contrast, inform her botanical philosophy. In particular, she thinks about the interplay of light and shade.
For example, Kennedy often plants the bright chartreuse foliage of Hakone (Japanese forest grass) to contrast with the deep purple foliage of Cimicifuga (snakeroot).
"It's art with plants. It's my sculpture," she explained.
Making art from growing things can take a long time, though. "I once heard that gardening is the slowest form of performance art, and I totally agree with that!" Kennedy said.
Every year, she becomes enamored of a different plant. Last summer, it was Eryngium yuccifolium (rattlesnake master), a tall, white wildflower with blossoms the size of golf balls. The year before, it was hostas. "They can do dry shade and look amazing. There aren't many plants that can do that," she said.
Using her deep knowledge of native plants, as well as her yearly plant passions, Kennedy approaches her clients' gardens like a sculptor approaches a slab of marble: with a keen eye for what needs to be moved, removed or added. Many of her clients work side by side with her, and she often gives them "homework" to do between her visits.
Kennedy said she especially enjoys working in "gardeners' gardens," because "they know it's hard work, so they really appreciate what I do."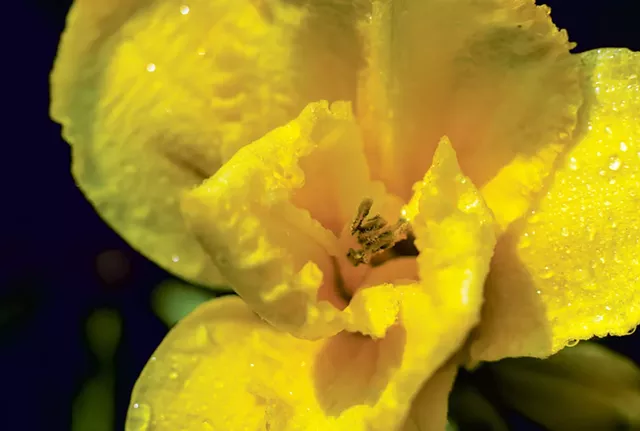 Glenn Russell
Daylilies at Jen Kennedy's home in Underhill
Charlotte Wheater and Mary Jane Dickerson, both from Jericho, are two such gardeners who have weeded, shoveled and planted with Kennedy for almost two decades.
"I only have one other person who works as hard as I do, and that's Jen," said Wheater. "I think of her as Mother Earth. She has a love for the land and for what it provides. She's a marvel."
Dickerson credits Kennedy with helping her see her garden in a whole new way. "She sees the contours of the land and knows how to make the most of them," Dickerson said. "Gardening with Jen is nurturing for the body and the soul."
Ask this veteran artist gardener for advice, and she'll tell you to resist the temptation to buy all your plants at once. Instead, Kennedy suggests visiting multiple nurseries throughout the growing season to collect a variety of plants that will bloom at different times.
"A lot of the creativity happens at the nursery, because you get to see what's available and what looks good together," she said. She also advises growing something edible. "That's very rewarding, because anything you grow yourself just tastes better!"
Thanks to Kennedy's counsel, Dickerson now has "a riot of nasturtiums and all kinds of mint" for summer cooking, she said.
Full-time gardening doesn't leave a lot of time for other projects, such as home restoration. So, in the winter, Kennedy turns her attention to the interior of her unique home. Here, too, she continues to patiently clear out and clean up. Where there once was a warren of small, dark rooms piled high with her grandfather's art, there's now a bright and open space. Her grandfather's sculptures hang above the hearth of the massive stone fireplace, and his large paintings are stacked neatly on wooden shelves in the corner.
Next, Kennedy plans to paint the walls and whitewash the tongue-and-groove pine ceiling. For now, she's happy to sit on the floor and sort through paint samples in palettes that echo her lush gardens outside. Making a custom home, like creating a beautiful garden, takes time.
"This is the fun part," Kennedy said. "I'm not there yet — not on the inside — but I can't wait!"