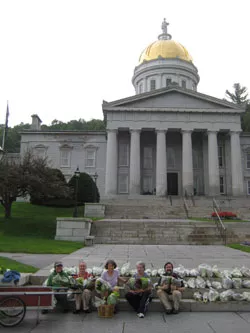 Left to right: APPLE Corps volunteer Carrie Abels, Statehouse gardener Joann Darling, and volunteers Wendy Blakeman, Karen Johnston and Glenn Scherer
Montpelier, Vt., and Havana, Cuba, couldn't be more different. But they do have one thing in common — public gardens that aren't just for decoration.
With the collapse of the Soviet Union went the subsidies on which Cuba relied to feed its people. In response to the country's food insecurity, a de facto organic urban gardening system arose to feed its citizenry. These organopónicos, as the public gardens are called, have sustained Cuba's population through the U.S. trade embargo and desperate economic times. Today, nearly 90 percent of Havana's fruits and vegetables are produced within the city limits.
No Vermont town has yet achieved that level of self-sufficiency, but it's possible, say gardeners who are part of Montpelier-based APPLE Corps — the Association for the Planting of edible Public Landscapes for Everyone. For them, the Cuban model is a dream. The more food a community can produce, the less it has to rely on the wider world to sustain itself. Here, it could all start with a garden on the Statehouse lawn.
APPLE Corps is a working group of Transition Town Montpelier, an informal network of people aimed at tackling the challenges posed to Vermonters by peak oil, climate change and economic instability. Transition Town, explains APPLE Corps cofounder Carl Etnier, is about making communities more resilient and "able to withstand shock to our social and economic systems." Hence APPLE Corps' specific mission — to create edible gardens on private and public open spaces to feed the community. In the two years since the program's inception, it's well on its way.
At the organization's flagship vegetable garden on the Vermont Statehouse lawn, volunteers harvested close to 800 pounds of produce over two growing seasons. All of that food was donated to Vermonters in need through area food shelves. This summer, APPLE Corps is poised to expand its garden work substantially, and has big plans for future food production in the state.
The Corps grew out of a gripe, says founding member Glenn Scherer of Montpelier. "I was walking by the Statehouse lawn, and I was just tired of all that grass," he recalls. He pitched the idea of an edible garden in front of the Golden Dome to some gardener friends. In the spring of 2009, seven volunteers hammered out a proposal to submit to state curator David Schütz.
As it happened, the state was also tired of its stately lawn — or rather, of scraping up funds to landscape and maintain it. When those luxuries became casualties of the recession, APPLE Corps volunteered to tend the property for free. Schütz accepted the proposal, stipulating only that the group respect the formality and symmetry of the grounds. He also requested the gardeners not plant tomatoes, lest rowdy citizens pluck the fruits from the vine and use them as projectiles.
"We need to preserve what's left of formality in Vermont, but do it in a 21st-century way, which they are," Schütz says of APPLE Corps' gardeners.
So, in late spring 2009, the Capitol Complex Commission allowed APPLE Corps the use of 420 square feet of garden. Volunteers planted lettuce, Swiss chard, collards, kale, peas, cabbage and beets, all of which would go to the Montpelier Food Pantry and the Bethany Church Soup Kitchen. The group planted only what the food pantry could use — easily recognizable produce that would fill the donation gaps, says APPLE Corps volunteer Karen Johnston.
"There's no kohlrabi," she quips.
While the White House vegetable garden predates Vermont's Statehouse garden by a couple of months, the APPLE Corps project is the first edible landscape to be installed on the lawn of any statehouse in modern times. It harks back to the victory gardens of World War II, when private citizens grew produce in backyards, parks and vacant lots to aid the war effort by relieving pressure on the public food supply. Shortly after Vermont's Statehouse garden was planted, other states, including California and Wisconsin, followed suit.
The success of the garden is undeniable. The crescent-shaped plots have been lovingly tended by APPLE Corps' growing legion of volunteers, and visitors to the Statehouse lawn have admired the gardens without helping themselves to the bounty. The only theft anyone can remember is a single pilfered cabbage, Scherer says.
While the Statehouse garden was APPLE Corps' first effort, it was never meant to be its sole project, says Etnier. He and his fellow Transition Town organizers see growing your own food, or at least buying food that was locally produced, as a hedge against escalating food costs and the uncertainties brought on by environmental and economic decline. It's part of a mission that includes creating an energy plan for the future, enhancing homesteading skills and developing sustainable living systems. Movements with similar goals, such as Burlington Permaculture, promote urban gardening around the state, but APPLE Corps' Statehouse garden is unique — and highly visible.
"We're living in a state that has tremendous agricultural potential, but right now we're importing 95 percent of the food we eat," Etnier says. "We want to demonstrate ways to use more spaces to grow food, and also to inspire people to grow food more on their own."
Building on what Etnier calls the corps' "small but symbolically significant achievement" with the Statehouse garden, the group is broadening its reach. APPLE Corps plans on bolstering the Statehouse array by planting apples, blueberries, elderberries and currants. It's finalizing permission for an orchard project in Hubbard Park and working with Montpelier churches to grow produce for their own soup kitchens. But the group's big upcoming summer project is a 625-square-foot community garden on the campus of National Life Group's Montpelier headquarters.
Last year, the Fortune 1000 company installed a garden to supply its cafeteria, which is run by the New England Culinary Institute. Buoyed by the success of that initiative, National Life is making more of its property available this year for gardening.
In addition to the community garden run by APPLE Corps, 15 5-by-5-foot plots will be available to employees for their personal use. National Life will provide seeds and tools and offer workshops led by Corps volunteers to get the gardens established, says company spokesperson Ann Zuccardy.
A large, corporate entity like National Life and a grassroots gardening group like APPLE Corps may seem like strange bedfellows, but their collaboration was a "no-brainer," insists Zuccardy.
"We have the space and lots of beautiful land, so why not?" she says. "It's a way to give back to the community. There will be a need for this as food prices go up this summer."
Like that of the Statehouse garden, the harvest from the National Life community garden will go to the food pantry in Montpelier. Employees can help weed and water the garden on the clock, thanks to the company's community service policy, which allows them to volunteer 40 hours a year on company time.
True, a handful of public community gardens does not a Havana make. But APPLE Corps members see their work as a step in the direction of food independence. We may not have thousands of organopónicos growing fruits and vegetables for the entire state, but we can get there in time.
"If our public land here was intensively, organically farmed, there's no reason why we couldn't produce most of our own food," Scherer says. "It's time for this."