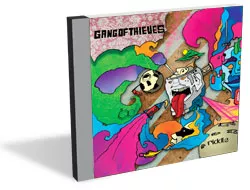 (Self-released, digital download)
Gang of Thieves' latest EP, Riddle, is a short affair. Composed of four standard-length tracks and clocking in at little more than 16 minutes, it's a minimal offering even by EP criteria. And thank God for that, because, as I sit down to write this review, I find myself fresh out of funny cigarettes. I don't mean this as crass or dismissive, but Gang of Thieves have got to be a weed-fueled outfit, as lyrics like these suggest: "Super skunk in your trunk / Right on time, taking your troubles away."
"Mighty Monk," Riddle's first track, serves as an appropriate introduction to both the Gang and this EP. The sound, which remains immaculately consistent throughout, is something like Sublime-meets-Rage Against the Machine-meets Red Hot Chili Peppers at a hazy University of Vermont kegger. That's a lot of 1997 pop-culture referencing, but you probably get the idea. In fact, for those of us born before 1990, there's little chance we'll ever completely escape this once-omnipresent sound.
That said, Gang of Thieves bring a fresh sort of energy to this dated amalgamation. There is not a single downbeat on Riddle, and you'd have a hell of a time interpreting any of the EP's stoner lyrics as less than optimistic ("Show me funk, Mighty Monk / Lead the way with positive action").
The EP's funky bass lines — totally capable of oscillating a pair of nice headphones — usher the tunes along. The Gang's rhythm section, if sometimes lacking originality, never lacks energy. Sharp snare hits and slap-pop bass lines provide Riddle's pulsating backbone, while jam-centric guitar work — more than a little wah-wah — fleshes out the EP's four songs.
Lyrically, these tracks are inspired by everything from Stephen King's Dark Tower series ("Gunslinger") to one of Batman's signature weapons ("Batarang"). Instrumental breaks and solos provide just enough time to roll a fresh one before a far-out Star Wars reference comes along to blow your mind. You'll actually have to listen for this one; it would make even less sense on paper.
Gang of Thieves neither look nor sound like a band that would have any love for a place like Oakland, Calif., where this latest effort was recorded. The product sounds like the antithesis of everything I know about the Oakland music scene — acts such as Hunx and His Punx or Kreayshawn come to mind. But it is apparent that the Gang were inspired by at least one aspect of Bay Area culture: potent, no-bullshit herb.
Riddle by Gang of Thieves is available for download at thegangofthieves.com.