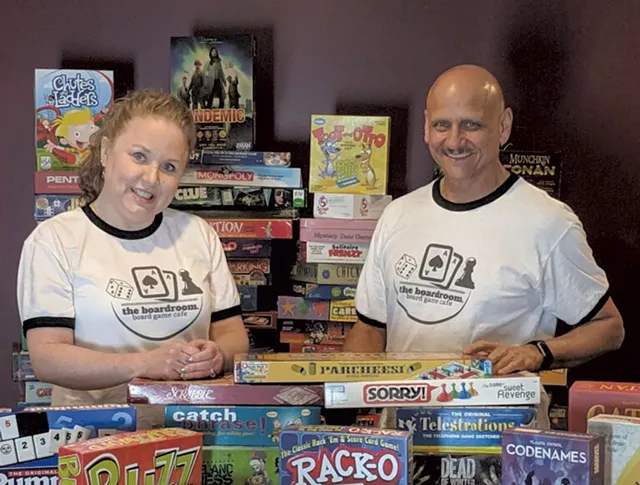 Courtesy Of Kerry Winger
Kerry and Mark Winger of the Boardroom
Parcheesi, anyone? Perhaps with a side of Risk and a helping of Claustrophobia?
These games — and more than 500 others — will be available to play at the Boardroom, a game room/café expected to open this summer at 3 Mill Street in Burlington (near the Winooski Bridge). The Boardroom will offer snacks that presumably pair well with rolling dice and strategizing.
Kerry and Mark Winger, a married couple who live in Colchester, are starting the business. Kerry is a division administrator at the Vermont Department of Health. She plans to leave her state job to run the Boardroom when it opens, after renovations are complete, she told Seven Days. Mark is a senior master sergeant with the Vermont Air National Guard.
"We're hoping to eventually have 1,000 games," Kerry said. "Not only vintage and classic, but newer ones as well."
The food menu also will include some classics: grilled cheese sandwiches, peanut butter and jelly — or marshmallow crème — sandwiches, cookies, candy, and popcorn. A variety of add-ons will be available for the grilled cheese; bread choices will include Wonder Bread. Beer, wine and coffee will be on the menu, too.
Servers at the Boardroom will be able to recommend games to patrons and teach them how to play new ones, Kerry noted: "This gives people the opportunity to play games before they buy them." The Boardroom will have a limited number of games for sale, including some made by local developers.
The Boardroom will occupy two floors of the building, with tables and chairs on the first floor and more informal couches and coffee tables on the second. A cover charge of $6 or $7 will allow all-day entry, according to Kerry. The Boardroom will be open seven days a week.