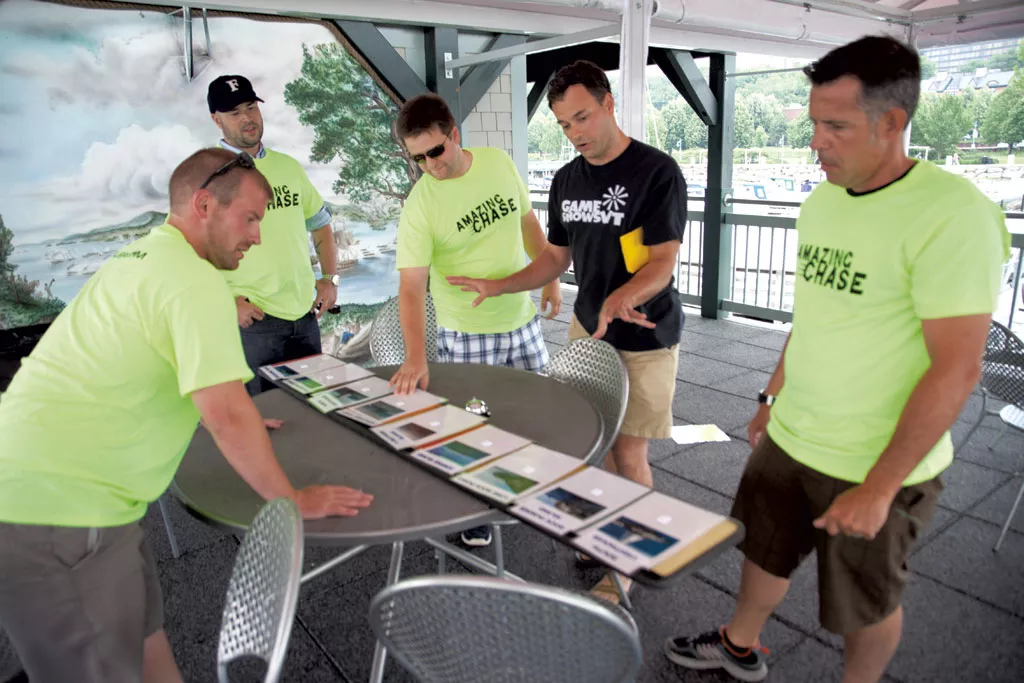 Matthew Thorsen
Jamie Polli (black shirt) looks at the Lake Champlain landmark challenge with Dealer.com employees
Business etiquette these days dictates that employees shut down their smartphones at most meetings, or at least look at them discreetly on their laps. But at 5 p.m. on a recent Tuesday at Burlington's Dealer.com headquarters, smartphones are not only allowed, they're de rigueur for a most unusual meeting that is about to unfold.
"Does every member of each team have a smartphone?" Jamie Polli asks the group of 40-some employees who are gathered in a small auditorium, sipping Pellegrino and noshing on organic pistachios and dried mango. "OK, the purpose of the game tonight is teamwork ... you are working as a team to get seven challenges done in two hours. That sounds like a lot of time, but it ain't!"
Tim Kavanagh takes over. "The course route is two and a half miles, traveling around downtown Burlington."
"You guys are going on ... an Amazing Chase!" says Polli to hoots and claps.
Yep, it's "The Amazing Race," Green Mountain-style. Polli and Kavanagh are the hosts of a new team-building entertainment company called GameShowsVT that travels to companies to stage the stuff of employees' TV dreams, from "Survey Says!" and "The Cost Is Correct" to "BuzzWordz" and "Seconds 2 Spare."
Tonight, it's a CBS-reality-show-inspired scramble around the Queen City, during which groups of four must snap photos of their completed challenges and email them to GameShowsVT's "Cowboy." That's Bill Moller, who's waiting at home base — aka the Skinny Pancake — to keep electronic tabs on the teams. Already scattered around town are 14 fellow Dealer.com employees to serve as judges at each of the seven stations.
For those who were expecting a humdrum dinner session, it's a happy surprise. "It's very invigorating, a good change of pace," says Dealer's Allan Morton, who's busy wrestling into the required neon-yellow T-shirt and signing a waiver.
Another competitor who calls himself "Joe from Dallas" wears boots, black pants and a black T-shirt: not exactly the outfit for running around in humid, sticky weather. Still another worries about the waiver's mention of water: If he gets dunked, will his jeans sink him?
Trepidations aside, the employees have a nice prize purse as motivation: $500 for each member of the winning team, plus $100 for the best photo. "Get really creative!" says Kavanagh. "Let's say you might be eating an ice cream cone — have fun with that."
As an entertainment reporter for FOX 44 and a producer at Northern Exposure Films, Kavanagh is a natural at connecting with his audience, even if the ice cream comment gets some guffaws from Dealer employees.
Polli, for his part, proclaims that he began watching game shows such as "Family Feud" and "Match Game" from his crib; in 1999, he worked at CBS' "The Price Is Right" in Los Angeles. He and his friend Kavanagh created GameShowsVT in 2011. This is just their second time staging the Amazing Chase, and the first in Burlington.
"We wanted to do a fun, team-building activity," says Alison von Puschendorf, Dealer.com's director of corporate communications, of the company's decision to go with the show.
The game begins slightly inauspiciously, with competitors excitedly boarding a yellow school bus, only to hit traffic on the corner of Pine and Maple streets. But the neon-yellow T-shirts soon swarm downtown. On the second floor of the Boathouse, one team is challenged to label nine photos of Lake Champlain landmarks and put them in north-to-south order.
Michael, a Dealer.com employee who lives in Manhattan, has no clue, but his Vermont teammates eventually manage to sort out Rock Dunder from Shelburne Point. They hit the buzzer, snap a photo and get the green light to advance.
Over at Local Motion, another team is riding a relay race along the Burlington Bike Path to Perkins Pier. And at the Community Sailing Center, judges Nathan and Allan oversee a standup-paddleboard challenge, heckling the members of Team 1 about the lack of hustle that leaves them paddling on their knees in the waves.
"I keep asking where the dance clubs are around here, and nobody gives me answers," says Dallas-based Joe, who opts to watch teammates Ben and Evan take up the paddleboard challenge. "I'm enjoying this, though. Wow, this is not Texas."
"We use only local businesses and landmarks, to help promote them within our game," says Polli, who charges between $1,000 and $3,000 to stage a game show.
Does the investment pay off in true team building? If you count instant camaraderie, sure. Though thunderstorms threaten to rain on the Amazing Chase's parade, all seven squads make it back to the Skinny Pancake by the cut-off time of 7:45 p.m. for the after-party and awards ceremony. Two teams tie for first place by finishing within one minute of each other. The best photo prize goes to contestants who took Kavanagh's advice to get creative with ice cream — by placing a Burlington Bay creemee upside down on a bobble-head doll they brought along on the Chase.
Following up a week later, von Puschendorf reports that pretty much everyone won at this game show. "Aside from continued amusement at the memories of the event," she says, "the group has a renewed sense of energy, collaboration and motivation toward supporting each other and achieving their goals."
So if there's a lackluster spirit at any Vermont venture, maybe employers should ask employees to charge up their smartphones and practice their best buzzer speed. Kavanagh's advice is succinct: "Wear comfortable shoes and plan on having fun with coworkers."
INFO
The original print version of this article was headlined "Game On: New Burlington-Based Company Puts Play in Team-Building Events"