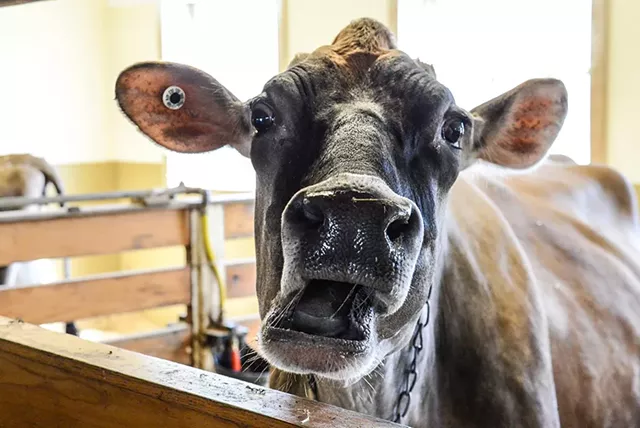 What if gamers and farmers went toe-to-toe — or teat-to-teat — on an old-fashioned milk-off? Apparently, the idea isn't as outrageous as it sounds. This Wednesday, March 29, workers from Nintendo will visit Billings Farm & Museum in Woodstock, where they'll see who (farmer or gamer) can coax the most milk from a cow in a set amount of time.
What the — huh?
Nintendo's highly anticipated new Switch console hit the market earlier this month. Along with snazzy updated versions of The Legend of Zelda and Super Mario, new games included a collection of simple mini-games in which players challenge each other to menial tasks such as ... a virtual milking contest.
Using a handheld controller, players mock-milk by caressing controller buttons in a smooth, wavelike movement. An on-screen udder rewards correct caresses with a gush of virtual milk as the game's clock runs down to zero. Whoever's "cup" runneth with the most milk at the end of the trial wins!
At Billings Farm, a historic landmark and working Jersey-cow dairy, farmers caught wind of the game, which has been an unexpected hit. In a stroke of marketing brilliance, farm manager Alayna Perkins and marketing manager Tom Remp challenged Nintendo to a real, live, teat-tugging duel. "We have 30 adorable Jersey milking cows that we milk twice a day, and it is never that easy," they wrote in a letter to Nintendo earlier this month. "We also think that you guys look pretty slow."
Turns out, team Nintendo was game for battle — reps from the company arrived in Vermont on Tuesday morning and will face off with farmers midday on Wednesday. "It's taken us totally by surprise," Remp told Seven Days on Monday. "We're talking of nothing else."
And will the game go both ways? Will the farmers sit for a game of virtual milking against the gamers? "Oh, yeah," said Remp. "It's happening."
What's more, dozens of national media and gaming outlets have picked up the story in a surprise press bonanza for the farm — and for Nintendo.
No doubt, everyone likes a break from the political news juggernaut once in a while.