Matthew Thorsen
Vermont Lake Monsters
We'll be honest: Vermont isn't exactly a hub for spectator sports. Sure, we're a sporty bunch, and options for being active abound. However, when it comes to actually watching local sports, the pickings are slim.
What follows are some of your best bets for taking in the old ballgame — or roller derby bout, etc. — in person. If this doesn't satisfy your craving for competition, there's a list of sports bars.
Vermont Lake Monsters
An affiliate of Major League Baseball's Oakland Athletics, the Vermont Lake Monsters are the state's only professional sports franchise. The club plays in the short season single-A New York-Penn League, which is the second-lowest level of baseball's minor leagues. But that doesn't mean the team suffers a lack of star power at cozy Centennial Field — the oldest active ballpark in the country.
Dating back to the 1980s — and including stints as the Vermont Reds, Mariners and Expos — the Burlington nine has sent dozens of players to major leagues. Those currently active include Addison Russell (Cubs), Jordan Zimmerman (Tigers), Ian Desmond (Rangers) and Marco Estrada (Blue Jays). Past stars include Jason Bay, Jamey Carroll, Orlando Cabrera and Hall of Famer Ken Griffey Jr.
The Lake Monsters' season runs from mid-June to early September. And the wallet-friendly admission runs less than a night at the movies, making game day a hit with locals. Don't forget to keep an eye out for the Monsters' beloved mascot, Champ.
Vermont Catamounts
The University of Vermont is the state's only NCAA Division 1 college. Historically, UVM has been viewed as an ice hockey power — the hockey Cats have turned out NHL stars such as Tim Thomas, Martin St. Louis and Vermont native John LeClair. But, in recent years, basketball has blossomed. The men's team is a perennial contender to make the NCCA tourney — they shocked heavily favored Syracuse in 2005. And after some down years, the Lady Cats are on the rebound.
Middlebury Panthers
The Middlebury College Panthers are competitive across athletic programs, from soccer and football to skiing and track and field. But the real draw here is the women's ice hockey team. The Lady Panthers are a Division III powerhouse, making the NCAA tournament every season but one since 2001 and winning the big dance in three consecutive seasons from 2004 to 2006.
Green Mountain Roller Derby
The national roller derby craze is alive and well in Vermont. Green Mountain Roller Derby is the state's first women's flat-track roller derby league, with three clubs competing against opponents from around the Northeast. The action is fast and furious — which you might expect from players with nicknames such as "Folsom Prison Bruise" and "Savage Patch Kid."
Vermont Open Snowboard and Music Festival
Courtesy Of Hubert Schriebl
Vermont Open Snowboard and Music Festival
For 27 years, the Burton U.S. Open was held at Stratton Mountain in southern Vermont. It only makes sense that one of the world's premier snowboarding events would happen in the state where the sport — and Burton — was born. Sadly, the U.S. Open moved to Vail, Colo., in 2013. But Vermont retains a killer tournament. The Vermont Open Snowboard and Music Festival attracts some of the biggest names in the sport competing against local shredders.
Lake Champlain Pond Hockey Classic
Courtesy Of Joe Anger Photography
Lake Champlain Pond Hockey Classic
Nope, those aren't ice-fishing shanties dotting Colchester's Malletts Bay in February — OK, there are probably a few of those, too. But we're more interested in the dozens of hockey goals out there. Every year in the absolute dead of winter, 100-plus teams descend on the bay from all over New England to compete in the Lake Champlain Pond Hockey Classic, which is equal parts tournament and weekend-long beer bash.
Thunder Road International SpeedBowl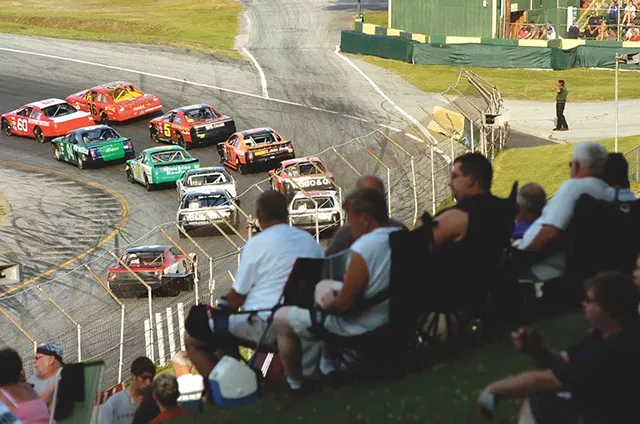 Jeb Wallace-Brodeur
Thunder Road International SpeedBowl
Vermont doesn't have a NASCAR track. But Thunder Road in Barre has been known to attract a NASCAR driver or two, not to mention thousands of race fans since it opened in 1960. From May until October, the weekly Thursday races at the quarter-mile speedway are a Green Mountain State institution. Ditto the season-ending Vermont Milk Bowl race, the winner of which is required to kiss a cow in Victory Circle. Because Vermont.