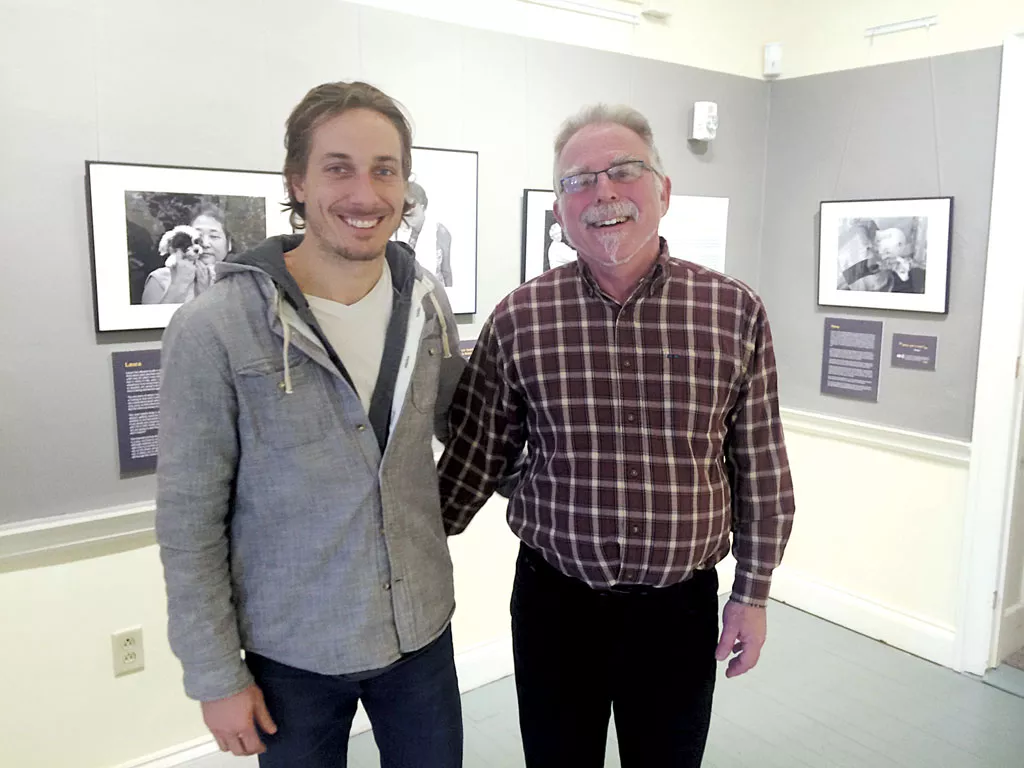 courtesy of Susan Alancraig
Ned Castle and Greg Sharrow
Provocative and topical images of migrant workers, semiprofessional wrestlers and cancer patients are not the first things you'd expect to find on the walls of a rural gallery. Vermont Folklife Center's development coordinator, Ned Castle, concedes that the Middlebury nonprofit's very name "evokes a certain old-timeyness." And yet, he adds, "fundamentally, folklife is about the knowledge of everyday life." Undocumented farmhands, athletes and women with metastatic cancer included.
Castle and Gregory Sharrow, VFC's codirector and director of education, manage programming for the center's Vision & Voice Documentary Workspace. Since 2007, its two airy, high-ceilinged rooms have been dedicated to exhibitions of documentary photography, often paired with audio, video or other mediums.
Motivated by VFC's mission of "preserving and presenting the cultural traditions of Vermont and the surrounding region," Castle and Sharrow seek out documentary artists who are "inherently curious" about their subjects and who exhibit a willingness to "get from behind the lens and into a person's shoes," as Castle puts it.
Though the photography must be visually compelling, and the photographers chosen tend to be highly skilled, the ethnographic aim of the organization means that aesthetic merits alone don't qualify work for the Vision & Voice space. VFC isn't sales-driven — though works do occasionally sell. To Castle and Sharrow, the artists' methods of approaching their subjects matter. "There's an inherent power dynamic in storytelling and in photography in particular," Castle says. "Truth in photography, or in any type of storytelling, is a really tricky, gradual thing ... You just don't know how someone interacted with a subject in order to take a picture."
The directors also look for nontraditional stories; besides the aforementioned groups, past exhibits have focused on rural drag queens, back-to-the-landers and other subcultures. Those all jibe with VFC's aim to give a more complete picture of life in Vermont and the nearby region, past and present, according to Castle.
"A lot of the structures that exist in our society are built in such a way, or function in such a way, that the voices of the majority experience are the things that become truth," he says. But "there are other experiences and other truths out there, and a lot of our work ends up being about finding those truths and letting those experiences come forward."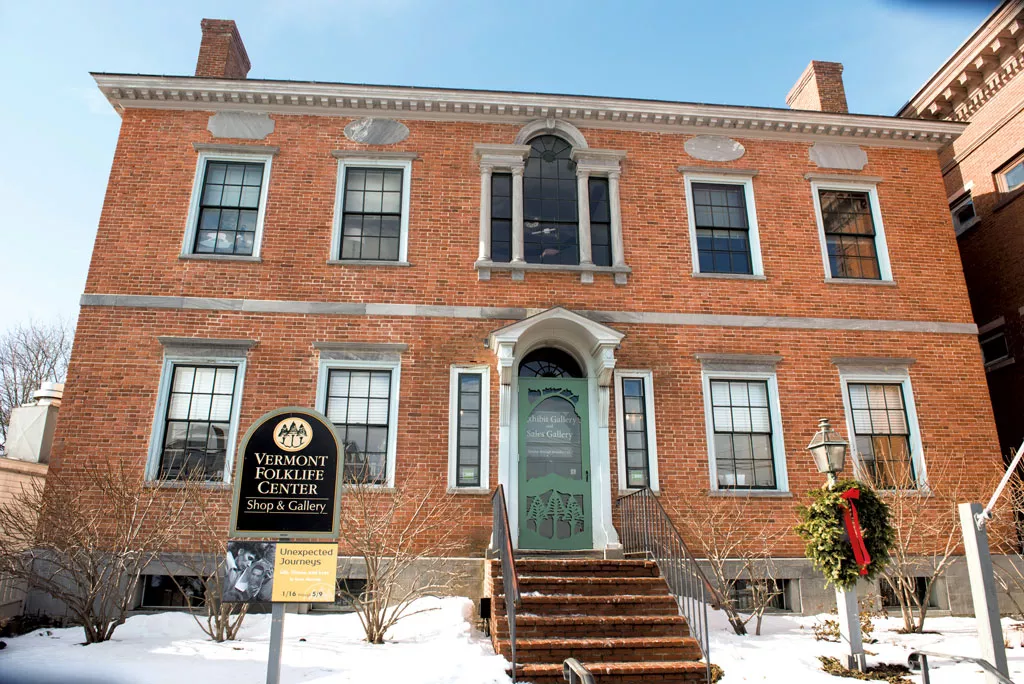 In addition to ethnography, VFC gives traditional Vermont folk art its due: It displays quilts, baskets and other locally made crafts, such as Russell Snow's fanciful wooden whirligigs, in its Sales Gallery. And, to be sure, the Vision & Voice gallery has hosted some documentary photography exhibits on familiar local subjects, including a series on one-room schoolhouses by photojournalist Diana Mara Henry; and iconic images of rural Vermont people and places by Peter Miller, John Miller and Richard Brown.
More often than not, however, Castle and Sharrow choose exhibits for the Vision & Voice gallery that focus on marginal Vermont populations. "We think of this space as a way for people to become visible to each other," Castle says.
Those exhibits have sometimes spilled over into other spaces at the center. For example, a 2013 multimedia show about the effects of Tropical Storm Irene on Vermont's waterways made use of just about every room in the building.
The pairing of images with recorded interviews — written and oral — dates back to the center's origins in 1984. Castle's 2008 exhibit "In Their Own Words" featured portraits of and written excerpts from interviews with members of Vermont's refugee population. Later that year, "The Golden Cage" paired audio interviews by Chris Urban and photography by Caleb Kenna to tell the stories of migrant farmworkers and dairy farmers in Addison County. Like many VFC exhibits, both traveled to other venues around the state.
The Vision & Voice gallery's current exhibit, "Unexpected Journeys: Life, Illness and Loss" by Cambridge, N.Y.-based photographer Susan Alancraig, focuses on terminal illness and caregiving. For Alancraig, the subject is personal: She was the primary caregiver for both her parents. "To become a caregiver for someone you love is to step into another world," she writes in her artist statement. "It means learning to live with impending death, losing a sense of your own life, and experiencing the intensity of emotions — sadness, joy, anger, pleasure, resentment and consequent guilt — that can occur while caring for someone whose life is ending."
The result of Alancraig's unexpected journeys is a collection of haunting, exquisite portraits, accompanied by snippets from hours of conversations between the artist and her subjects. Images of women from Vermont or upstate New York with metastatic cancer and their family caregivers adorn the walls, alongside interview transcriptions. Visitors can dial a toll-free number to hear a clip of the women speaking.
"It just brings you right there," Castle says of the auditory addition.
Though Castle allows that visual mediums can speak for themselves, VFC makes a point of commingling audio, video and written interviews with images on the walls. That practice gives marginal populations a chance to be heard as well as seen, and enhances the viewer's experience.
"Think about the power of a person's voice," Castle says. "Someone's accent, the inflection they use, the way they pause. The energy or the excitement in their voice or the sadness or, you know, the way that they are searching for their words. It brings you closer to who they are."