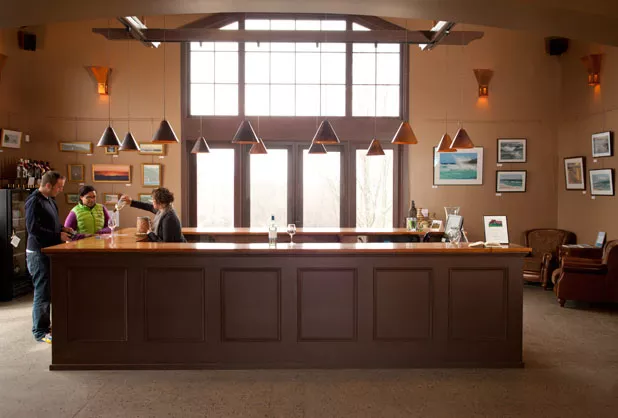 Everyone knows you can pair wine with food. But can you pair it with art? Could gazing at a lushly colored pastel bring out the stone-fruit notes of a Gewürztraminer? Or might the cool atmosphere of a seascape make the minerality in a Chardonnay sing?
Shelburne Vineyard tasting-room manager Rhiannon Johnson has been matchmaking local art with local wine since she began curating the venue's quarterly art shows in 2009. After leaving a career in architecture to pursue her passion for wine, Johnson soon found herself adorning the walls of the spacious, sunny tasting room with works by Vermont artists.
The Shelburne Road facility was still relatively new when Johnson put together the first art exhibit, for Vermont's Quadricentennial. "There were these pristine, clean walls," she recalls. The show was intended to be a one-time thing, but, Johnson says, "When the pieces started to come down, I felt this huge loss."
So she asked vineyard staff members, many of whom make art in their free time — Johnson herself does "edgy" black-and-white photography — to display their pieces in the tasting room. It wasn't long before area artists started asking about showing their work, and the curating took off from there.
The vineyard now presents exhibits in three-month cycles, and the shows are usually seasonal in theme. "One thing I've learned is that hanging black-and-white photography in the winter is a really bad idea," Johnson says. The venue is booked through summer 2014.
"Waterscapes," Shelburne Vineyard's current show, is up through May and features ocean, river and lake paintings by Charlotte artist Judith Tuttle, who works in pastels; and Winooski artist Robert Huntoon, who paints in oils. Huntoon's relationship with the vineyard goes way back: He designed the wine's label, a bucolic painting of the vineyard, its rows running toward Lake Champlain under a big, blue sky.
The original painting hangs in the tasting room. "It's a little bit of artistic license," admits Gail Albert, who started the vineyard with her husband, Ken, in 1998. "The vines actually run north to south."
For the past year or so, the tasting room has also shown pottery by Waterbury artist Jeremy Ayers. "Jeremy tells me he's sold more here than he does at Frog Hollow [State Craft Center]," Johnson says.
Could it be the wine? It's common for galleries to serve wine at opening receptions. But the stuff is constantly flowing at Shelburne Vineyard; Johnson says she does 10 to 20 tastings a day. Every day.
So can you find the perfect pairing of art and wine?
"I think you can," says Johnson. "Luckily, the [artworks] aren't as boring as the root vegetables you get this time of year." To prove it, she pulls out a glass, some crackers and a spittoon, and starts pouring.
She begins with the driest white wine, Louise Swenson, offering tips for optimal tasting as she pours. "When you smell the wine, you want to really not be shy about it," Johnson says. And, she adds, it's best not to sip but to slurp.
"Louise is a little louder," says Johnson. "She's a Judith Tuttle." The wine tastes floral and stony. Johnson and Albert agree it pairs well with Tuttle's "After the Storm," a foam-spraying, wave-crashing, turquoise-water ocean scene.
Next up: Cayuga White, with its big, citrusy flavor. "I keep thinking of this one," Johnson says, pointing to Huntoon's "Summer's End," a panorama of Five Island Bay in Maine. The painting, full of pine-tree-covered islands and cool, blue water, captures the heightened glory of summer as it draws to a close.
Lake View White, the next wine on the tasting list, is the easiest to drink. "I've lovingly nicknamed this the 'porch pounder' of the group," says Johnson. She and Albert are divided on the perfect art pairing for this one. Albert settles on Huntoon's soothing "Adirondack Sunset." Johnson picks Tuttle's "Nocturne," a melancholy depiction of trees reflected on calm water beneath a single strip of pink in a muted sky.
On to the Riesling. Shelburne Vineyard's version tastes distinctly of honeysuckle and pairs well with Tuttle's "Sunglow," in which a warm, honeyed light falls on a sandy beach.
The most intriguing pairing, however, comes with a slurp of Artesano mead, which is also in stock at the tasting room — along with East Shore Vineyard Cabernet Franc, Eden Ice Cider and Shelburne Vineyard's ice wine. The honey liquor has an unshakeable earthy flavor beneath all that sweetness. "I think it tastes like straw," Johnson says.
Sip the stuff beside Huntoon's "River Mist," a swampy summer scene of heavy trees hanging over still water, and the musky flavors come to life.
Shelburne Vineyard, 6308 Shelburne Road, Shelburne, 985-8222. shelburnevineyard.com
This article was headlined "Perfect Pairs" in print.