In a brick-and-stucco building on Bridge Street in Plattsburgh, one vacant lot away from the banks of the Saranac River, an arts-and-music collective is in the throes of establishing a permanent base. Passersby may well wander right past the ROTA Gallery and Studios, which is marked only by a multicolored, sculptural sign behind the glass of the storefront's narrow front window. Those who peer in, though, can catch a glimpse of a group of young artists' efforts to open up creative spaces downtown.
"We used to have art parties and [music] shows in houses, and we just kind of kept getting in trouble for it," says Catie Wurster, a 27-year-old Plattsburgh native and ROTA's vice president. "Eventually we were like, Oh, my God, we have to find a place where we're not going to get into so much trouble."
The ROTA Gallery is a nonprofit cooperative that's hosted art shows and music events in downtown Plattsburgh for the past several years. (Its name is half of the word "alligator" spelled backward; some members recently suggested the acronym Reaching Out Through Art.) Run by a fluctuating group of 15 to 30 mostly young visual artists and musicians, the organization aims to foster a strong do-it-yourself ethos, and to "utilize recycled resources and volunteer time to maintain and develop our downtown gallery and studios into a healthy, constructive art space," according its mission statement.
Members pay $5 a year and work five hours a month in the gallery or studio space; in exchange, they get an equal vote in ROTA's decision-making process, space to hang work and other benefits.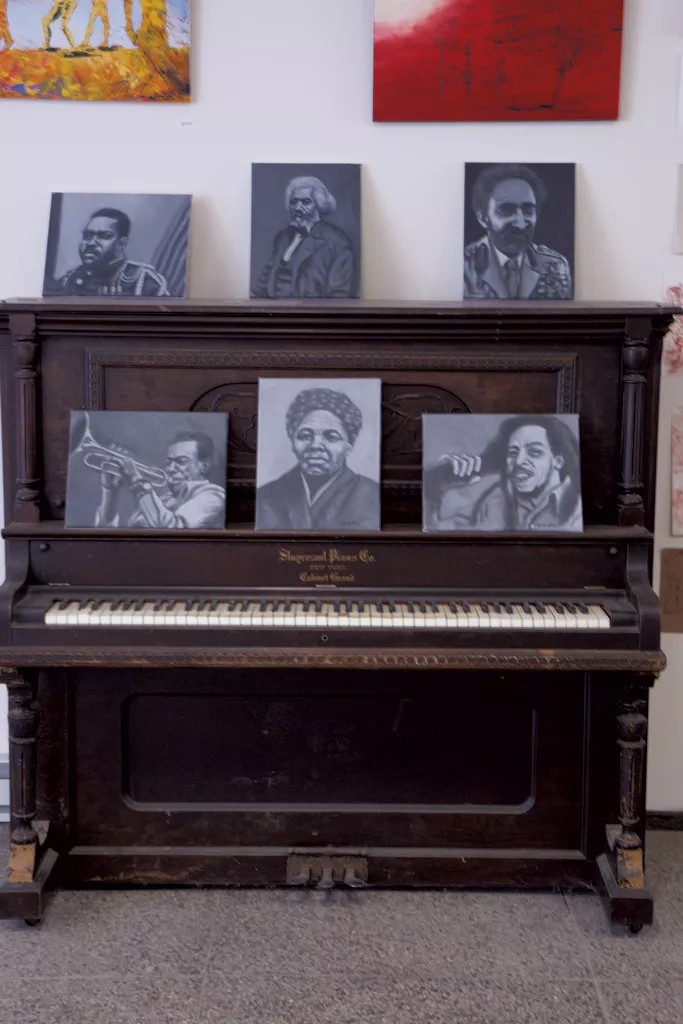 ROTA moved into its new quarters on Bridge Street on July 1, taking over a storefront that had long been home to a discount joint called Bargaineer Antiques. The move came after a months-long campaign to find a new location and raise funds for the transition.
"Overnight," in the word of current president Jenn Allen, ROTA's members (and some friends) carted over music equipment, a Steinway piano, a sofa, chairs and a front desk from their former Margaret Street location. Within days, the group had hung its first Bridge Street show, an exhibit of paintings in four styles by member Gharan Burton.
The ROTA Gallery reopened in time for Plattsburgh's monthly First Weekend art-and-music fest, which this month coincided with July 4. "There was no break," says Allen, 34. "On June 30, we were out of the old space, and on July 1 we were in here."
On a recent afternoon, about a half dozen members were gathered in the gallery, lounging on the sofa and chatting at the front desk. One played a few tunes on the donated Steinway. Burton's eclectic paintings adorned the whitewashed walls. Grouped by style, these ranged from representational landscapes to impressionistic, tiled figure paintings in blue tones.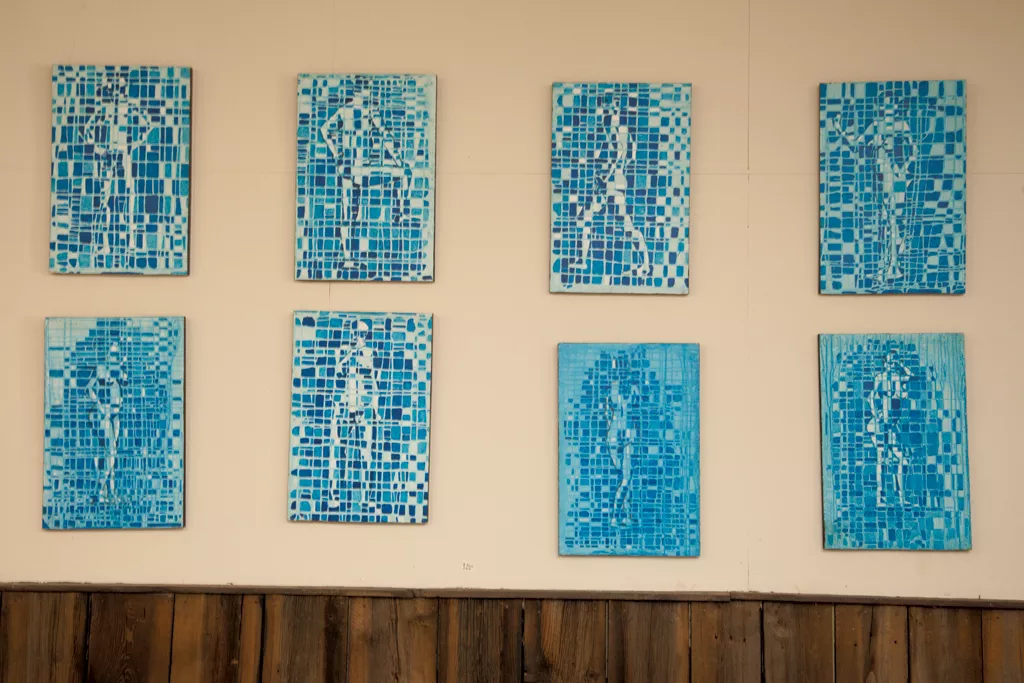 In coming months, members will convert the back room — currently storing music equipment and unpacked boxes from the move — into three studio spaces. Plans to update the gallery end of the space include ripping out worn siding, sheetrocking and repainting the walls, and reinstalling some 1950s-era light fixtures that were found in the space. Members and any community volunteers they can muster will do the work.
"The only way that the ROTA survives is through the collective efforts of all the members, artists and community members," Allen says. "There's no way that we could've survived this long without all of these people bringing their different talents."
Current members credit 32-year-old Plattsburgh stonemason Tavish Costello (who was unavailable for comment) with spearheading ROTA three years ago. In 2011, as Wurster recalls, Costello threw his savings into a rented space on Clinton Street where his friends would be able to gather, create work and host events — and not get in trouble for the aforementioned house parties.
"He was the dude who put on the shows," Wurster says. "He did everything. And people just started hanging out and going, Wow, this is really great. There's somewhere we can hang out that's not a bar. It just felt like we had a purpose, as silly as that is."
That Clinton Street space became ROTA's first gallery. The group incorporated as a nonprofit in 2012 under the umbrella of the Massachusetts-based Cooperative Development Institute, which provides resources and serves as a parent organization for cooperatives throughout New England and New York. The same year, ROTA moved to a unit on Margaret Street, a main drag in downtown Plattsburgh.
The gallery's third location is at 39 Bridge Street. Three years in, the group is looking to the future with a more mature perspective, building from the foundation laid by Costello and initial members. At the beginning, Wurster admits, "It was all heart. There weren't people with business sense at that point in time."
ROTA's shoestring budget comes from community donations, modest gallery sales and funds raised from benefit shows played by its members. (Wurster also regularly books nationally and internationally touring musicians looking for places to play between New York and Montréal.) But those fundraising efforts tend to arise only in times of need. "People who are interested in art and music get involved and are all volunteers," Allen explains. "We don't have a lot of people who come and say, 'Hey, I wanna help you guys file your taxes.'"
This year, Allen says, the group will spawn a second nonprofit — tentatively named the Phoenix — under CDI's umbrella. It will handle bookings, events and the fundraising arm of the organization. Some members of the cooperative will remain with ROTA, focusing on the gallery and arts and education programming in the community. ROTA has already partnered with the Strand Center for the Arts and the National Alliance on Mental Illness for workshops and events, and community groups regularly use its spaces. In particular, members say, they'd like to amp up their youth programming.
"There's really nothing to do [in Plattsburgh] when you're a teenager," Wurster explains. "There's a lot to do when you're a very little kid here; there's a lot to do when you're an older person here, but in between, it's just lost. People have to go to Burlington or Montréal, or just leave here forever."
The dust from the move has barely settled, but in the new ROTA Gallery space, members are eagerly settling in for the long haul in a unit that can be renovated and adapted to fit their needs. Allen says their Bridge Street landlords want tenants who can actively contribute to the downtown area. "They're working with us to succeed in the space long-term," she says.
And the ROTA crew is optimistic about what it can bring to the city and region. "It's a big, empty area that we could make into a much bigger arts place," says member Emily Stajic.
"I feel like we've already come so far," Wurster adds.
INFO
ROTA Gallery and Studios, 39 Bridge Street, Plattsburgh, N.Y. rotagallery.org
The original print version of this article was headlined "Making Spaces"