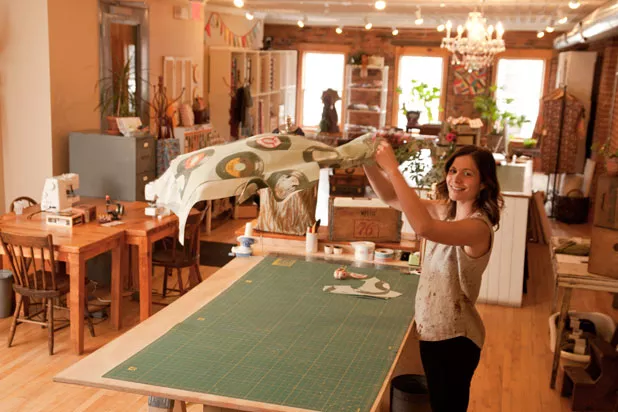 Matthew Thorsen
Phiona Milano
In both Spanish and Italian, nido means nest. So it's a fitting name for the cozy Burlington shop where Phiona Milano has sold hand-spun yarn and colorful fabrics to knitters and sewers, the ultimate nesters, for the last four years.
Before opening the place, Milano, 34, worked as a media coordinator for area nonprofits and sewed in her free time. Then she got pregnant with her son, Franco, and the instinct to sew grew stronger. She started following sewing blogs and beginning new projects. But she was frustrated when she couldn't find in Burlington any of the hip, contemporary fabrics she'd seen online.
"When I walk into a place like Jo-Ann [Fabric and Craft Store], I get really overwhelmed," she says. "It's hard to find that perfect, hidden gem."
So Milano decided to fill the niche herself. "I turned my addiction into a job," she says. "I started settling down and nesting, and then, bam! It just took off."
Tucked on the second floor of a College Street building, nido is a hidden gem in its own right. But Milano says the upstairs location has never presented a problem when it comes to attracting customers. Most crafters look for their materials online these days, so she targets her audience there. Many customers are tourists from out of town. "When you sew and knit, [fabrics and yarns] are what you seek out when you travel," Milano says. "People want to check out what's local."
In nido's case, that means naturally dyed, local yarn from Green Mountain Spinnery, Vermont Alpaca Company and Jamie's Rainbow Yarn, among other area producers. Milano piles the colorful balls into antique suitcases and wooden apple crates scattered throughout the shop — design decisions that make nido seem clipped from the pretty pages of Pinterest.
Adorable frosted-doughnut pincushions adorn rustic wooden worktables. Hand-sewn songbirds sit perched on a branch near the shop's entrance. Old-timey bunting hangs above shelves stacked with fabric. Vintage sewing machines abound. A pair of chandeliers illuminates Milano's main worktable, which is adorned with fresh-cut flowers artfully arranged in — you guessed it — a Mason jar.
In the back of the shop, Milano teaches classes at tables made from wood reclaimed from the building when it was renovated several years ago. Her regular schedule includes learn-to-sew workshops for children and adults, project-based classes (such as learning to make a wrap skirt, a dress or a shawl), and more informal "snack and sew" and "knit and nibble" sessions.
Milano learned to sew growing up in Seattle, and she's been hooked ever since. "I just love fabric; I'm a total fabric junkie," she says. She's thrilled to be helping a new generation get into the craft.
The last few years have seen a shift in people's attitudes toward sewing, Milano says. It used to be you had to follow certain patterns, and only certain fabrics could be used for certain projects. Those fabrics could be stodgy and often, well, look like your grandma's curtains.
By contrast, Milano's shop is a riot of color and savvy design. Fabrics feature graphic prints of safari animals, elegant trees or pop-art telephones. One roll of upholstery fabric from designer Melody Miller is covered in images of vinyl records. One of Milano's customers is making a quilt from that fabric; Milano herself is making a dress. "That's what's fun right now: There are no rules," she says.
This spring, Milano has added a new dimension to her shop: She's hosting pop-up art shows. "Nido sells the fiber and patterns and books," she says. "You can get inspired here, but we don't sell anything ready-made. So I decided to highlight some of my favorite artists in the area."
The first was potter Jeremy Ayers, whose work Milano has been collecting for years since discovering him at the Burlington Farmers Market. Ditto the next artist, Jennifer Kahn, who will pop up at nido with her jewelry on Friday, May 10, and stay through Sunday, May 12. The last scheduled pop-up show, at the end of June, features a Vermont quilter and photographer who goes by the name Film in the Fridge.
Milano is hoping to make the pop-up shows regular events. And, eventually, to carve out more time to do some sewing for herself.
"I still really love to make things for my home and my son," she says, noting that her in-progress projects currently include a fishing vest for Franco and a new shower curtain. "My focus has really stayed the same," she says.
nido, 209 College Street, Suite 2E, Burlington. Info, 881-0068.
The print version of this article was headlined "Sew and Show"