New galleries and other creative venues are generally considered a sign of health in an art scene, so Burlington has cause to celebrate: Newcomer Encounterworks Productions Salon will officially open its doors on Friday, February 12. The space at 180 Flynn Avenue is a gallery and creative headquarters dreamed up by Vermont artist, curator and entrepreneur Maya Urbanowicz.
EP Salon occupies approximately 1,000 square feet in the former industrial building. The stairway from the first floor gives way to an open floor plan surrounded by exposed brick. One corner of the room emulates a cozy living room with a velvet love seat and other furniture arranged in a circle, inviting conversation. Another area holds a long worktable.
Branches are artfully tangled around low crossbeams, which are big enough to, say, be used as unconventional reading spots. On one beam, a thin line of blue LED lights spells out "You are alive" in cursive text. Urbanowicz, 36, told Seven Days the slogan is adapted from graffiti she used to see on the campus of her art school in Boston.
At EP Salon's grand opening, visitors can expect a group exhibition of Vermont artists including Kevin Donegan, Emily Eastridge, Alissa Faber, Estefania Puerta, Michael Nordstrom, Don Ramey and Eric Roy. Urbanowicz said her mission is "bridging creative communities across discipline and locality, working with artists in Burlington, as well as those in the regional, national and international spheres."
Future plans include a collaborative installation in May by Puerta and Nora Valdez. Echoing the organizers of the emerging curatorial initiative Overnight Projects, Urbanowicz remarked, "There isn't really a venue [here] that focuses on installation art." She plans to help fill that niche, offering visitors the opportunity to "walk through an art piece." She noted, "The space will be different for every event."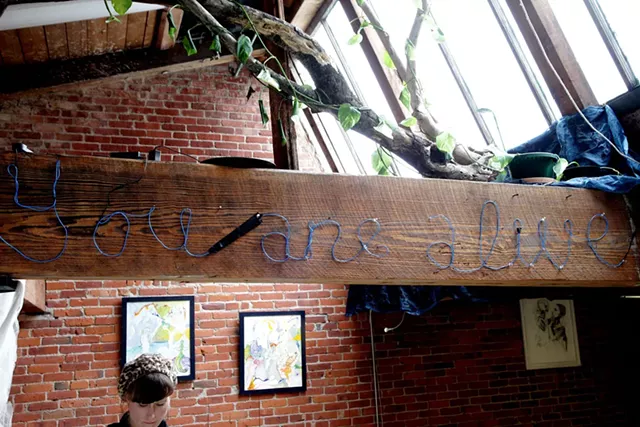 With Roy, Urbanowicz plans to cohost New York's the Poetry Brothel, an immersive event in which performers emulate characters in a turn-of-the-century bordello. Instead of sex acts, they offer poetry readings.
The cultural legacy of 180 Flynn goes back further than many residents may know, according to documents in the possession of the building's owner. (Those include a 1996 conservation assessment by a University of Vermont student, as well as photocopied maps from the university's Special Collections.) Currently home to a handful of businesses, the imposing structure was built in 1902 by the Lumière North American Company, the U.S. branch of the French film company owned by Antoine Lumière — half of the sibling pair widely recognized as the inventors of motion pictures.
From 1902 to 1911, 180 Flynn was a factory for photographic dry plates, an early innovation that greatly reduced the cost of developing film. Creating the plates required darkness, so the building had no windows. Now it has a massive skylight.
Urbanowicz is in good company in Vermont, where the trend of converting forlorn or neglected infrastructure into art spaces is going strong — examples include Studio Place Arts in Barre and the Compass Music and Arts Center in Brandon. Still in visionary phases are renovations to the Moran Plant in Burlington and the Brattleboro Museum & Art Center's recently purchased Arch Street building.
Similar to the Lumières, Urbanowicz situates herself at the crossroads of creative expression and commerce. Encounterworks Productions is a two-pronged venture: In addition to EP Salon, there is Encounterworks Productions, LLC, the business Urbanowicz founded in April 2014 after completing the Women's Small Business Program through Burlington-based Mercy Connections. Represented in the salon by a small, curtained-off office, the company offers "technical services in creative presentation."
"There is no lack of creative fire in Vermont," Urbanowicz wrote in an email. "My goal is to help people refine what they are doing and bring their vision into actuality."
For her, this means putting her extensive background in the often-dizzying logistics of art — including handling, prep, production design and event planning — to work for emerging and established artists and venues in Vermont. "There's a raw creative energy in Burlington," she added. "What I want to do is help hone that energy and take the production level up a notch."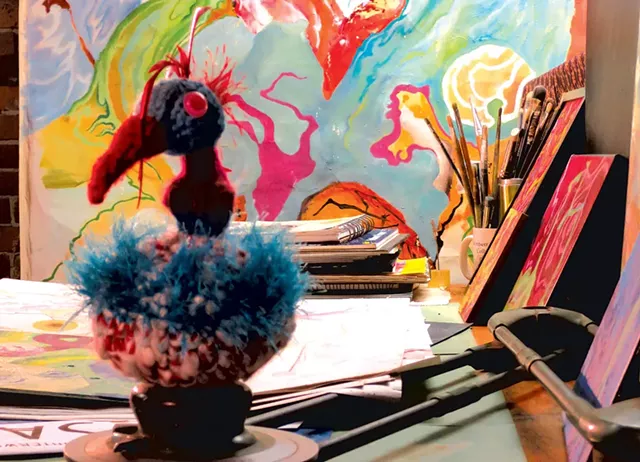 Urbanowicz traces her qualifications for this line of work back to her teenage years in Vermont, when she would assist her mother, a professional interior designer. She went on to join the Addison Repertory Theater at Middlebury's Patricia A. Hannaford Career Center — working primarily in set design and construction — and then enrolled at the School of the Museum of Fine Arts in Boston.
Urbanowicz's jobs during and after college included scenic carpentry at Boston's Huntington Theatre Company, and art handling at institutions including the Harvard Graduate School of Design and the Institute of Contemporary Art in Boston. In 2004, she took part in a collaborative exhibition in an abandoned police station. The following year, Urbanowicz produced "Pulse Point I," a group exhibit of performance, installation and visual art in her own house. In 2011, she landed a gig as museum technician for the Yale University Art Gallery, packing and installing thousands of works of art.
Upon returning to Vermont in 2013, Urbanowicz found few formal work opportunities within her skill set — and decided to go into business for herself. Her clients have included a photographer, a ceramic and glass artisan, and a sculptor. Last fall, she curated the sculpture show "Excerpts From the West Side" at the South Gallery in RLPhoto on Sears Lane. Currently, she's working with Vermont art collector Mark Waskow in a registrar capacity to help catalog the thousands of works in his "Waskowmium."
Urbanowicz noted that her services are not limited to artists; she has also collaborated with small businesses, applying her design and facilitation skills to help develop a particular facet of the company.
"I don't know of anyone specifically [here] that does this kind of thing," Urbanowicz said. No one can accuse her of lacking vision or chutzpah — two requirements for establishing an arts venue or small business. Or both.
"In a way," Urbanowicz said of EP Salon, "it's kind of a blank canvas."
Urbanowicz is in good company in Vermont, where the trend of converting forlorn or neglected infrastructure into art spaces is going strong.