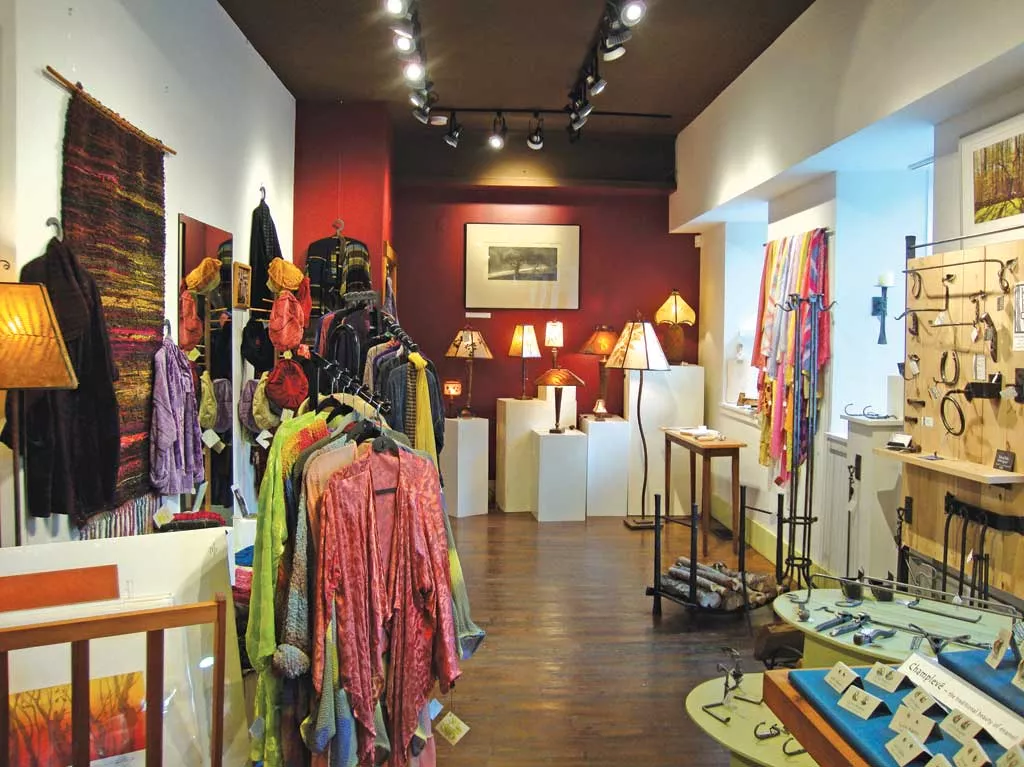 Meg Brazill
Collective — the art of craft in Woodstock
If artists agree on one thing, it's that making a living as an artist isn't easy. But they may differ on how to go about it. One artisan relies heavily on juried shows around the country; another hopes that regional fairs and open studio weekends will add up. Others go the gallery-consignment route, or bank on internet sales.
Then there's the strategy of a small group of artists in Woodstock who, nine years ago, decided to join forces and open their own gallery. For each of them, the venue has become an important part of the solution to an artist's financial conundrum.
Collective – the art of craft is a cooperatively run gallery in Woodstock, owned and operated by a dozen artisans. In its current configuration, the group consists of six managing members and six general members, all of whom live in the area, working in various art forms. The managing members are metalsmith Lynn Adams, jeweler Deirdre Donnelly, wearable-art maker Marcia Hammond, glassblower Nicholas Kekic, and potters Kathryn Myers and Nicholas Seidner. The general members are woodworker Scott Duffy, Chris Eaton of Kingfisher Forge, felter Deborah Ellis, photographer Nobu Fuji'i, fiber artist Rachel Kahn, and (together) Trenny Robb and Bob Michaud of High Beams Lighting.
Operating a gallery takes planning and imagination, along with skills in design, display, sales, marketing, bookkeeping and a host of other activities. Perhaps most of all, it requires commitment. Collective's members all contribute time to working in the shop, and each managing member has additional responsibilities.
In 2006, Collective set up a 900-square-foot retail shop in an old stone mill building on the Kedron Brook in downtown Woodstock. It's believed to be the town's first industrial building, originally used to mill flax into linseed oil.
The beautiful, historic structure itself attracts visitors. People strolling along Central Street often stop at the stone bridge to look out over the brook or sit at a picnic table in nearby Teago Park. From either vantage point, the gallery is directly in front of them. Visitors who wander inside immediately perceive the quality of the work. Collective's members are seasoned professional artists who have honed their skills over decades. Many have won awards and been juried into highly competitive and prestigious shows, including those produced by the American Craft Council.
Hammond, a fourth-generation clothing designer, initiated the artist collective in 2004. "It wasn't hard to put it together, because I had worked in a few co-ops," she says. "I understood how they worked and how good the dynamic of that structure is."
One of those co-ops, the Christmas Store in Cambridge, Mass., was a pop-up Christmas shop that lasted for 20 seasons. In Quechee, Hammond was involved in Minerva: A Guild of Artisans for about five years. "I probably had 15 years of experience working with other artisans and making a store," she says.
Hammond's area of expertise is hand-woven wearables — mostly in rayon, chenille and cotton — and dyed-silk garments and scarves. She often refers to her weaving as "painting with fibers," and to the garments she creates as "handwoven comfort." "I became a single mother 30 years ago, and I had to make a living," explains Hammond, who's been selling her work at national shows for decades. After trying some Vermont shows, she was juried into larger exhibits and "subsequently got to know really fine craft," she says.
In 2004, Hammond's eye for sophisticated design and quality workmanship drew her to other artists, and she began planning a new cooperative. It took two years to gather the original members and find a space.
"I think part of our success is the structure," offers Donnelly. "We don't have a huge membership. We do spend a lot of time trying to figure it all out. There's a lot that goes into running the gallery."
Kekic, a third-generation glass artist, agrees. "I think the strength of our group may be our size, having a common vision and putting the artist first," he says. "We're trying to retain as much as we can for the artist. To be able to split the rent 12 ways is a business model that's more sustainable."
The co-op's financial model is complicated, but the idea is simple: Invest more time, take on more individual responsibility and retain a greater percentage of the sales of your work. At commercial galleries, artists typically earn 50 to 55 percent of a sale. At Collective, they earn 72.5 to 82.5 percent.
"It's a unique space," Kekic says. "It's a bit of a different retail experience than a typical craft gallery. You can meet a different maker every day."
Because all Collective members work in the shop, they all get a feel for running the gallery. Collective has inspired at least one other craft outlet in Vermont: Donnelly says that EPOCH: 18 Vermont Artisans Gallery in Manchester Center is based on the model of the Woodstock gallery.
At Collective, managing members meet monthly to make decisions together and discuss ways to keep the gallery fresh and exciting. Each person has a specific role: Adams was a CFO at a previous business, so she focuses on the financials and does the bookkeeping; Kekic is secretary and handles the minutes; Donnelly manages window displays and scheduling; Seidner handles publicity and advertising. Myers, who owned Woodstock Artisans (a gallery and pottery workshop) for 25 years, is the shop manager. Hammond does graphic design for ads and rack cards.
"And there's selling, of course," Donnelly adds. "We all do selling."
Hammond estimates that last year's annual revenue was about $250,000. "We've been together nine years, and some of us are natural-born salespeople," she says, while acknowledging that not everyone is.
Every month, general members are required to work in the store two days; managing members work three. "We have really structured the store so well," Hammond says, to meet participants' needs. "For example, I'm older and my kids are grown up, so I have more time. And I enjoy it, so I work in the store one day a week.
"Some of the members are younger with children, and they work one day less," Hammond continues. "We had strict boundaries in the beginning, but we've made adjustments to accommodate. We're sort of bending and shifting."
Rather than provide specific sales training, the members learn from one another. "At the annual meeting, in particular, we each talk to the group about our own work so they'll have some selling points," Hammond says. "If I watch someone selling their work, then I understand how to sell it."
Members are encouraged to stop in at the store occasionally when they're not working and watch how another member sells. It's a great way to pick up tips and techniques.
Donnelly says she does "detective work" around town to assess the retail market. "It's important to know what's going on," she says. "I'm always networking with people."
Collective also features guest artists, usually four per year, who are chosen through a jury process. It's another way to ensure the gallery always has something new. Current guest artists are intaglio print maker William Raymond Darling; jewelry maker Lochlin Smith; and Prima K. Cristofalo (Ranunculus Market), who creates what she describes as "old-fangled garmentry."
Kekic sees Collective as an important piece of the evolving market for makers. "I can sell things there that I might not elsewhere. It's kind of liberating," he says. "It's also great to interact directly with the public, as I'm in a rural area." (His glass-blowing studio is in Chester.) He's happy "to have this group of colleagues," he adds, "some who are older and more experienced, and bring so much to the work."