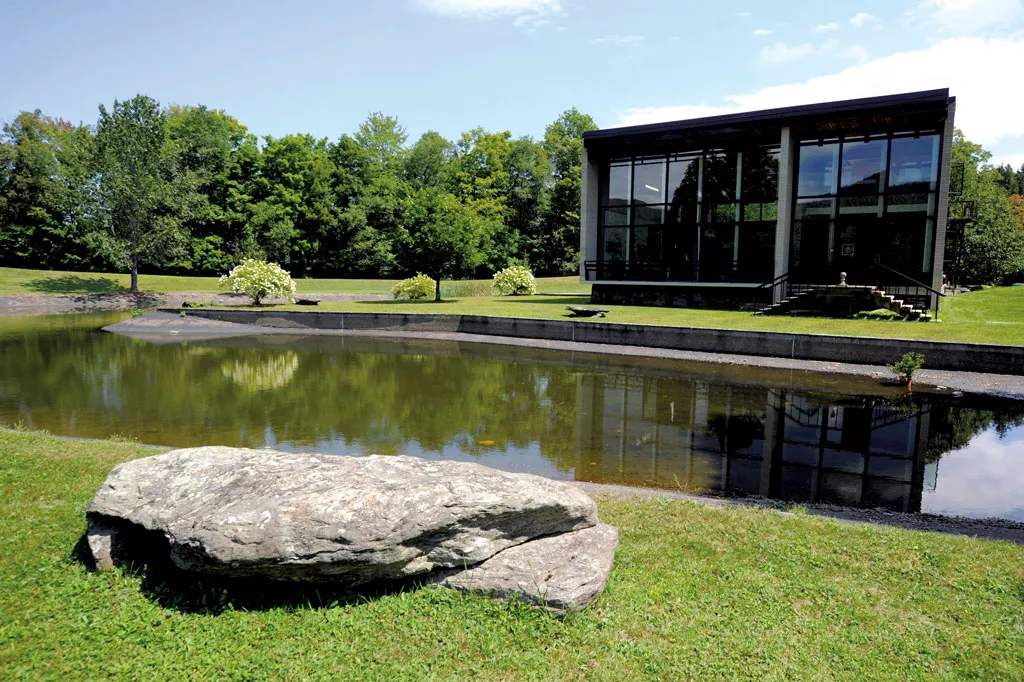 Jeb Wallace-Brodeur
The Bundy Modern
In the 1960s, when Waitsfield was a haven for New York City transplants keen on fox hunts and polo matches, an architect and resident named Harlow Carpenter decided the area needed contemporary art. Armed with a master's in architecture from Harvard's Graduate School of Design and family money — his mother was heir to the Bundy Time Recording Company fortune, a precursor to IBM — Carpenter bought 80 hillside acres with a single, steep access road off Route 100. There he designed a gallery for the clearing at the top.
When it was completed in 1962, the Bundy Center for the Arts, as Carpenter called it, was a rare example of high modernism in Vermont. The gallery was flat-roofed and roughly cubic in shape, with a front and back of glass-curtain walls. The buff-colored brick frame of the building seemed to float over a smaller fieldstone base.
A row of 24-foot-high vertical louvers on the exterior shaded a double-height gallery, which displayed huge paintings by the likes of Antoni Tàpies and Milton Resnick, according to a 1969 brochure. Smaller works hung in upstairs rooms that also contained a modern-art library outfitted with now-iconic furniture by Eero Saarinen. Sculpture by Louise Nevelson and others filled the grounds, some of it reflected in the pond in front. Admission was free.
As the decades passed, neglect took its toll on the Bundy. Carpenter died in 2009, and by the time June and Wendell Anderson bought the building in 2014, it looked to some like a teardown. But Wendell, a builder who has constructed numerous high-end houses in Connecticut, and June, a residential real-estate agent for 23 years, recognized the "innate quality" of the building. "Harlow didn't spare any expense," June notes.
The couple has restored the architectural gem, returning the main gallery to its original function and remaking the rest into their home. They opened the Bundy Modern, as they have rechristened it, to the public on July 30 with a reception for a summer show of paintings by Warren artist Julia Purinton.
The Andersons don't have a particular interest in midcentury structures; they tend to buy and renovate them for their homes because they're usually "the worst house on the best block," says June. In Connecticut, they lived in a 1948 bungalow that they meticulously restored according to plans found in the attic. And they spent years restoring their first home in Vermont, a 1962 ski house at Sugarbush Resort, before moving into it in 2010.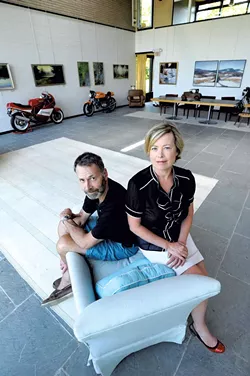 Jeb Wallace-Brodeur
Wendell and June Anderson
The Bundy has perhaps the most prestigious modernist pedigree of any of the Andersons' home renovations. Carpenter completed his graduate degree in 1956, when Spanish architect Josep Lluís Sert was dean of the Harvard design school (1953-1969), and German Bauhaus cofounder Walter Gropius had recently retired from chairing the architecture department (1938-1952).
Even if Carpenter didn't take classes with Gropius, he would have absorbed the German's influence from the curriculum, which Gropius and his Bauhaus protégé Marcel Breuer remade on their arrival. That curriculum leaned heavily on what architect Philip Johnson and others dubbed the International Style, which called for architecture to shed all historical reference and decoration in the service of functionality and form.
That training explains why Carpenter, in 1958, persuaded his parents, Alfred St. Vrain and Helen Bundy Carpenter, to fully fund Harvard's first arts center. At Sert's invitation, the building was to be designed by the era's god: the Swiss-French architect Le Corbusier. Completed in 1963, a year after the Bundy went up, the Carpenter Center for the Visual Arts would become the only building in North America designed by Le Corbusier.
Carpenter's son, Sebastian Carpenter, now a fine furniture maker in Boston, recalls his father talking about Gropius and Le Corbusier. "He was a big fan of all those guys," says the 50-year-old. The elder Carpenter saw Le Corbusier's plans for the Harvard center as they were developing, says his son.
Examining photos of the Bundy, Boston-based preservation architect David Fixler was struck precisely by its Corbusian look, he says. Fixler is cofounder and president of the New England chapter of Docomomo, an advocacy organization for the preservation of the modern era's buildings.
As a principal in EYP Architecture & Engineering, Fixler has worked on a number of iconic modern buildings, including the United Nations headquarters. For him, the Bundy's glazing is reminiscent of Sert's work; the flat roof, minimalist detailing and buff brick recall Johnson's early houses. And the "levitation" of the building over its fieldstone base resembles Breuer's work of the same period.
"It's a handsome structure," Fixler declares. "He's thought through the proportions."
The Bundy's high modernism, Fixler adds, sets it apart from Vermont's other modernist experiment, the Prickly Mountain design-build movement begun by David Sellers and other Yale architects. That group was working precisely in opposition to the kind of architectural training Carpenter received. (Sellers, who attended the Bundy opening, says he and Carpenter knew each other.)
The Bundy is also unique within Carpenter's sparse oeuvre. The architect designed an American Red Cross building in Oregon, where he was born, and a few more in Vermont that were far less modern than the Bundy, his son recalls. These were the family house, barn and pool house on Cold Springs Farm Road, on 300 acres Carpenter owned abutting the gallery property; his studio in downtown Waitsfield; and the Moretown firehouse.
After the Bundy, Carpenter would design only one more building, his New Hampshire house. He became a sculptor who worked with antique farm tools. "I think he didn't want to work for anybody," Sebastian explains. Deeply interested in art, the architect had a significant collection, some of it displayed at the Bundy. Sebastian recalls accompanying his father on road trips to artists' studios to pick up works loaned to the gallery.
Burlington artist Bill Davison appreciated Carpenter's enthusiasm for art. Now retired from teaching printmaking at the University of Vermont for 37 years, in the 1960s, Davison was a painter influenced by Ad Reinhardt and Barnett Newman. He and his artist friends used to drive to the Bundy "almost every weekend" to peruse the art and the library, he says. Davison's own work was included in a 20-artist show at the Bundy in 1967.
"At that time in Vermont, there was not much regard for what was called modern art," Davison recalls. "I was an unknown artist from Vermont doing 4-by-6-foot, solid black canvases. For Harlow to show these things was remarkable."
Younger generations, including Carpenter's own children, remember the Bundy as their school. Starting in 1970, the architect operated it as an alternative K-6 school and opened it to the public each summer. Warren resident Camilla Behn, 40, remembers gathering on the green slate floor of the lofty gallery for daily yoga.
In 1981, Carpenter moved his family to Massachusetts and gave the gallery to local painter David Millstone, who also bought Carpenter's Cold Springs property and turned it into an inn. When Millstone died in 1999, he left the Bundy to a nonprofit. David's son, Michael Millstone, purchased it in 2001, lived in it for two years, then rented it to the Mad River Chorale, among other tenants, for the next decade. When the Andersons first saw it, Millstone had just put on a new roof — a major investment — but interior water damage had already taken its toll.
Working with builders Matt Groom and Whitney Phillips of Warren Pieces, the Andersons launched numerous renovations. More than halfway through the process, a local plumber located Carpenter's original plans in a friend's attic. But that discovery didn't disrupt the restoration, says Groom. "[The Andersons] were up at night thinking about this stuff," the builder says. "They really understood the era."
They kept the building's bones intact. The Bundy's original builder was Warren Ketcham, whom Carpenter declared the area's finest. The brick he laid is marred only by an indelible layer of interior white paint that reaches halfway up the main gallery walls. The sculptural steel light fixtures are original, as are the slate floor and built-in bookshelves.
The Andersons, who eventually want to render the building net-zero using solar power, also restored the original radiators to working order and now power them with a high-efficiency propane heater. They plan next to revamp the pond and replace the louvers, some of which they found in a pit out back.
"Our MO was to enhance what already existed," June says. In any case, she adds, "You really can't do much to alter it. You just have to get out of its way."
For preservationists such as Fixler and Devin Colman, the Vermont state architectural historian, the Andersons' home-cum-public-space renovation is an ideal example of adaptive reuse.
"It's great to save a building, but if there's no use, eventually it will fall apart again," Colman notes. And the Bundy was worth saving. "That rural approach, the winding access road, and then you come upon this modernist cube floating in the landscape — it's such an unexpected sight," he says.