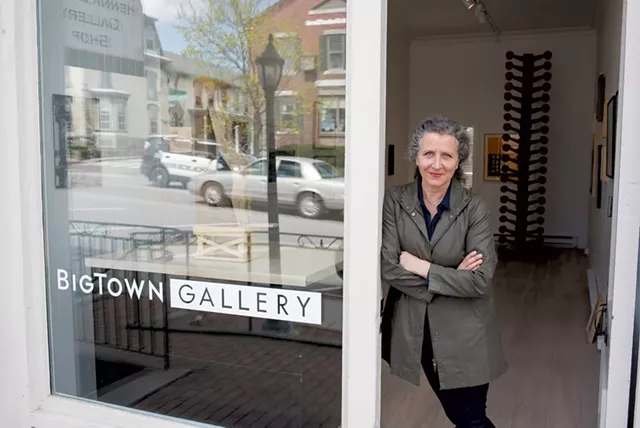 Caleb Kenna
Anni Mackay
British transplant Anni Mackay opened BigTown Gallery in Rochester in 2003, several years after trading New York's hustle and bustle for Vermont's slower rhythms.* Over the past decade, Mackay has smoothed and polished her gem of a gallery. She's built a quietly impressive roster of more than 30 artists from around the region and beyond. One of them — Port Townsend, Wash., glass artist April Surgent — was a 2016 United States Artists Fellow, an honor that comes with an unrestricted grant of $50,000.
In addition to representing visual artists, Mackay has embraced the literary and performing arts. She's produced multiple installments of the BigTown BigTent summer festival of poetry, music and performing arts, as well as the Joan Hutton Landis Summer Reading Series.
Now, adding to her list of accomplishments, Mackay has signed a lease to open a second BigTown in the country's smallest city: Vergennes.
Caleb kenna
"Dixon Hills" by Celia Reisman
BigTown Vergennes will officially open on Saturday, May 13. It occupies the former studio space of painter Peter Fried, whom Mackay exhibited in Rochester in 2016. Light-filled and modest in size, the gallery is next door to Vergennes Laundry and a few doors down from another art newcomer, the Northern Daughters gallery.
"I wasn't looking to open a second gallery," Mackay said during a recent visit. "Rochester has never really felt like a bad place to me."
Still, having a satellite in Vergennes, Mackay added, "allows [me] to focus on the western part of the state." The location brings her closer to the audiences of Chittenden County, while keeping her linked to "the constituency I'm already dialed in with." And, she noted, "I'd like to be a little more connected to New York."
She hopes a presence nearer to the Burlington area will also help draw more visitors, newcomers and old friends to the Rochester venue. "Wherever you're going, you're dropping crumbs to where you've come from," Mackay mused.
Caleb kenna
"Can't Lose Shoes Collection" by Rick Skogsberg
Two new hires and two new members of the board of Mackay's nonprofit, BigTown Projects, have bolstered the gallery's growth spurt. Margi Rogal of Hancock recently joined the board and has begun handling gallery communications. Bud Venturini of Rochester joined Mackay as an assistant in March.
The new gallery's inaugural exhibition is "The Baker's Dozen," featuring select works by 13 of Mackay's core artists. Press materials announce that the show is dedicated to 90-year-old collage artist Varujan Boghosian, who will attend the opening. Two-dimensional works in the exhibit include collages by Boghosian and Marcus Ratliff, abstract paintings by Nancy H. Taplin and Ben Frank Moss, photographs by Virginia Beahan and Peter Moriarty, and an extinction-themed print by cartoonist Edward Koren. The show's three-dimensional offerings include an abstract wall-hung work by Marcy Hermansader and sculpture by John Udvardy and the late Hugh Townley.
Mackay intends "The Baker's Dozen" to serve as a sort of tribute to the artists with whom she's already worked, she said, and to her gallery's history. Coincidentally or not, the total of 13 artists almost matches the 12 years Mackay has run BigTown. She fondly recalls initial encounters with artists such as Taplin and Townley, and how the creative networks in and around Rochester embraced her.
"So much grace happened around the [Rochester] space," she said. "Can I anticipate that kind of synergy [in Vergennes]?"
Caleb kenna
"Duet"
Some local artists may be disappointed to find that Mackay is not generally quick to sign new talent. "It's difficult to take people on liberally," she said. "They have to fit."
Mackay does, however, acknowledge her own altruistic streak. "I really care about Main Street — about what happens when art shows up on Main Street," she said.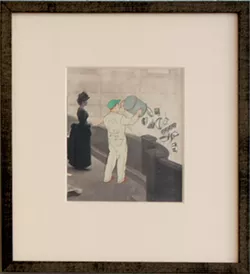 In that vein, she's currently considering holding a series of educational events or preparing content to address ways in which new and emerging artists can position themselves within larger art markets.
For art lovers in and beyond the Champlain Valley, BigTown's expansion to Addison County is cause for celebration. Another venue will benefit from Mackay's keen curatorial eye and her personal graciousness.
"[I feel] poised now," she said, "to take the whole thing to the next level."
*Correction, May 5, 2017: An earlier version of this story misstated the year that Anni Mackay founded BigTown Gallery. The gallery was founded in 2003, and moved to its present Rochester location in 2005.