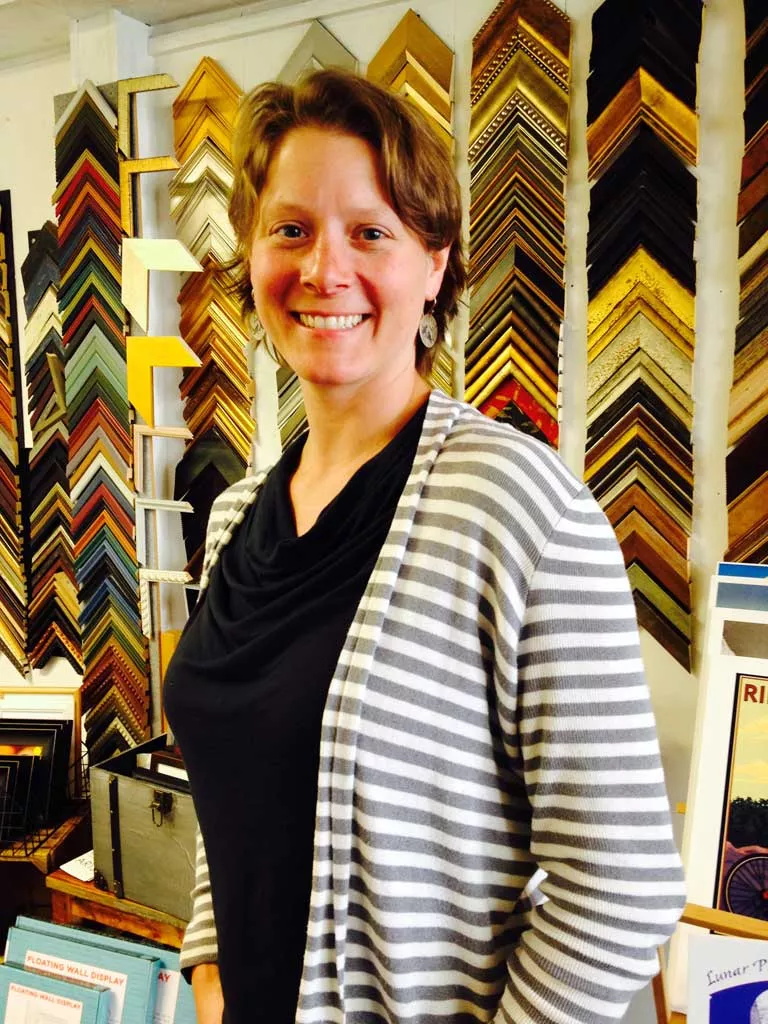 courtesy of Pamela Polston
Whitney Aldrich
Axel's Frame Shop & Gallery has been a mainstay in downtown Waterbury for more than 30 years. For its first three decades, the storefront at 5 Stowe Street offered exactly what its name promised: In the back was a frame shop where customers could choose from two types of glass and an assortment of frames; at the front was a modest gallery space where the owner showed his own artwork. That owner was Axel Stohlberg.
Last year, Stohlberg retired and moved to Maine. But the shop bearing his name is still there — with a new owner. Last spring, Stohlberg sold his business to Whitney Aldrich, 37, a longtime Waterbury resident who had harbored dreams of opening a fine arts gallery in town.
"I've been involved with area artists' events like Art in the Alley or the Waterbury Arts Festival," says Aldrich, a sculptor and graphic designer. "I've always been around all these area artists and hearing them say, 'We need a place in Waterbury to show our art.'"
A recent visit to the new Axel's reveals that Aldrich has kept its basic structure in place: frame shop in the back, gallery in the front. She's making the most of the space's appealing tall windows and pressed-tin ceiling in the front while gradually repairing things in the back, where the ceiling had gone a bit patchy. Aldrich says she's keeping the low-cost custom framing, close customer relationships and local artwork displays for which the store had become known. As for "Axel's," she decided the name recognition was a boon for both business and community reasons.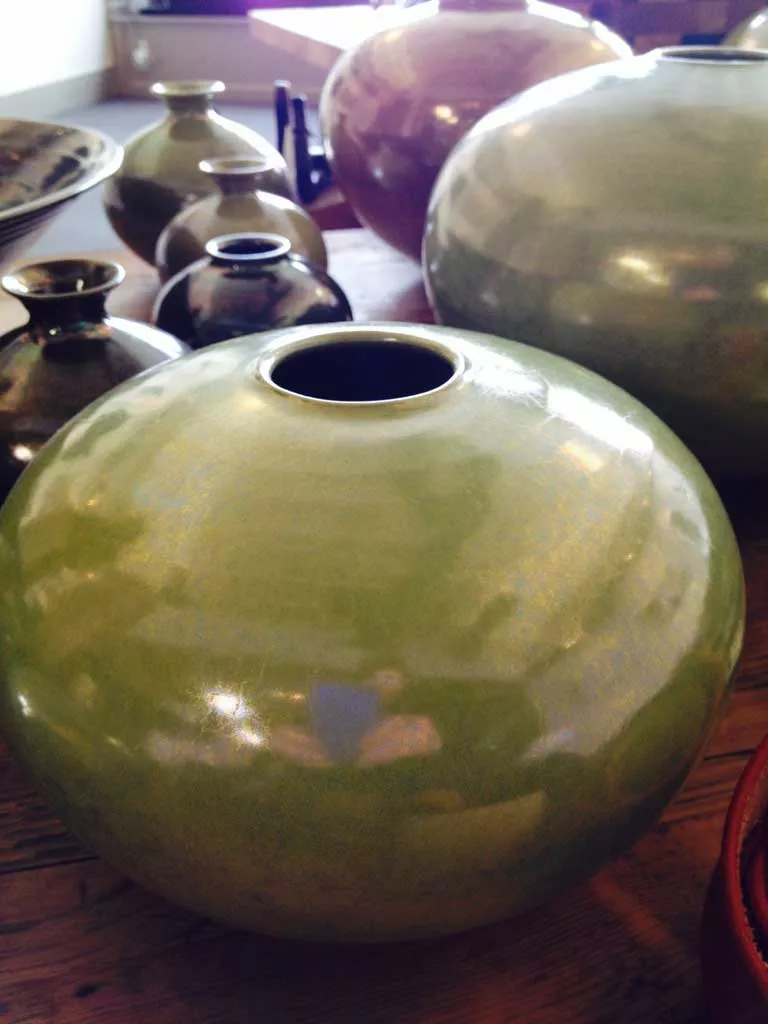 Pottery by Jean Meinhardt
"People are so comfortable with this place and familiar with [the fact] that there was a frame shop here," Aldrich says. "Axel really was a character in town. People knew who he was. I felt like there was a legacy here."
Yet for all her respect for her predecessor, Aldrich is already ushering in changes and improvements.
The gallery, which Aldrich calls her "real love," has significantly expanded. Since taking over nine months ago, she's brought in a variety of works by more than a dozen local artists. A current exhibit features steel sculptures and striking, large-scale black-on-white monoprints by Lynn Newcomb; abstract paintings by Carol Boucher; and black-and-white photographs by Bonnie Barnes. Aldrich keeps commissions low, at 35 percent. And she's been hosting events and receptions in the space.
"Each time the gallery changes, we have an open reception and we see over 70 people, which I think is huge for this town," Aldrich says. "A lot of times about half the people are returns. People are coming back to meet the artists, to see the new work."
She has also expanded her retail offerings, with small, functional items from local woodworkers, potters and jewelry makers.
"I feel that there's a real bridge there," Aldrich says. "People can identify with things that are at a smaller price point, things they can hold, use, put a flower in, cut on ... that are still very artistic."
Aldrich came to own Axel's due to happy coincidence: At around the time Stohlberg was looking to sell, she was casting around Waterbury for an affordable space in which to start that fine arts gallery. Aldrich had never before owned a business, but says her years as a freelance graphic designer gave her "transferable" skills in client services. And she gets business advice from her husband, Wade Hodge, an engineer at Green Mountain Coffee Roasters.
courtesy of Pamela Polston
Monoprints and sculpture by Lynn Newcomb
After drawing up a rough business plan, Aldrich also sat down with a friend, Jeanne Kirby, then executive director of Revitalizing Waterbury. "We met for a glass of wine and I proposed this business plan to her, because I know she's a huge supporter of the arts as well," Aldrich recalls. "I needed to find a way to pay rent and have a small commission rate." During their meeting, Kirby asked her, "Did you know that Axel is retiring and selling his business?"
The very next day, Aldrich marched up to Stohlberg and presented her business plan to him. "It was exciting," she remembers. "Scary. But it was exciting. I knew that there were other people interested in the space for different reasons, so it was important for me to let him know where my passion lies. And I think that's what really struck a chord with him — that I'm really doing it to support the arts."
Stohlberg had just one stipulation: Aldrich would have to learn how to frame.
"It was a commitment I had to make with the space," she admits with a laugh. But as a longtime artist herself, she found the process of framing appealing. "Figuring things out technically — how to hang them, how to keep them from falling apart — is something that's fun for me," Aldrich says.
Before leaving for Maine, Stohlberg trained his successor, apprentice-style, for 30 days. After taking the reins, Aldrich expanded the shop's offerings to include framing options that "weren't in Axel's quiver of tools." She attended framing workshops and researched modern framing and conservation techniques, aiming to offer her customers a broader range of choices.
"I'm still transforming," Aldrich says. "But I know that [the people] coming in have been pleasantly surprised by how different the gallery is and by the caliber of work they're seeing, the difference and the change of things. Really, I'm getting a lot of good feedback."