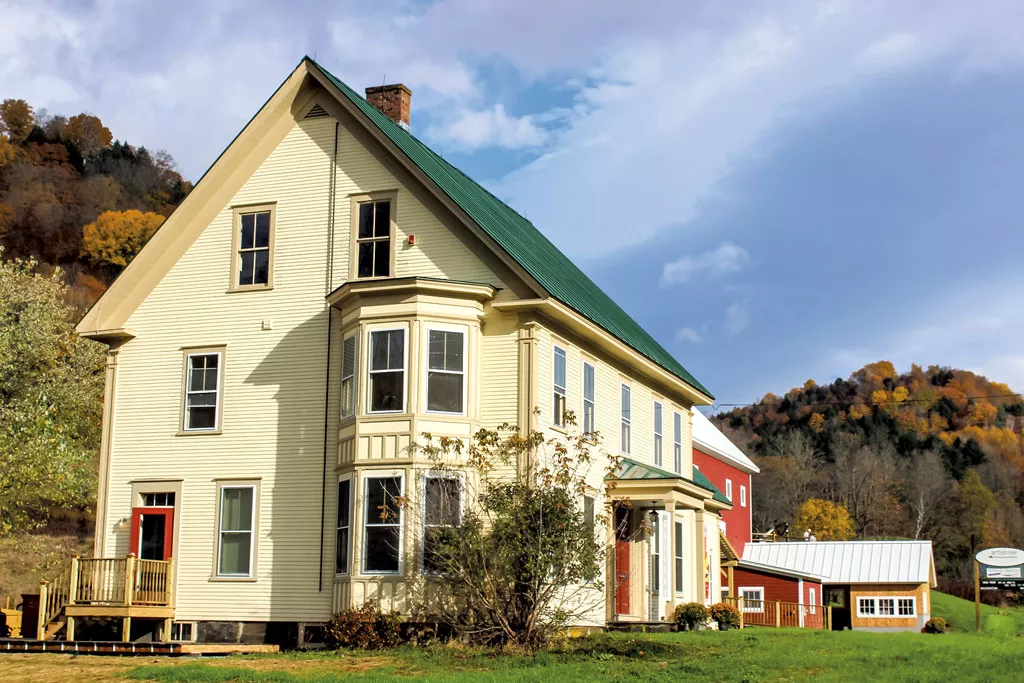 Courtesy Of Emmy Walden Fox Photography
ArtisTree Community Arts Center & Gallery
After four years in the Mount Tom Building in Woodstock, ArtisTree Community Arts Center & Gallery has moved to new digs just two miles up the road in South Pomfret. The distance is short, but its impact is great, maybe even transformative.
When Kathleen Dolan, founder and executive director of ArtisTree Community Arts, brought on Adrian Tans to direct a new art gallery in 2010, neither of them knew quite what to expect. ArtisTree had already been operating for seven years as a center for classes in art, music and the expressive arts for all ages and abilities.
"The gallery is meant to be in the same spirit — more of a community gallery than a commercial gallery," Dolan says now. Balancing that mission with the desire to exhibit fine art works would present a challenge. So would the space: The 900-square-foot gallery was a warren of small rooms and low ceilings.
Courtesy Of Emmy Walden Fox Photography
Reception at the "Local Color" exhibit
Over the four years following Tans' arrival, ArtisTree Gallery emerged as a local mecca for artists and those wanting to see and enjoy art. Tans has explored work both high and low, treating all art with respect, and has created meaningful, engaging exhibitions that have a wide appeal. He has a particular facility for turning a mélange of artwork into one cohesive exhibition. Tans' curatorial eye zeros in on the right piece for a focal point in one room; in the next, he might organize a masterful salon-style selection of paintings.
Well planned and executed, the shows represented what's at the heart of ArtisTree Community Arts Center: the community. What's more, they were a success. Opening receptions were packed, with tiny red "sold" dots abounding.
There was just one problem: After a few years, the gallery outgrew its space, and so did ArtisTree Community Arts. "There aren't a lot of buildings that could suit our needs," Dolan says.
Courtesy Of Emmy Walden Fox Photography
Concert in the Arts Center barn
So when architect George Turner of River Town Design showed Dolan the old Talbot farmhouse and three-story barn in South Pomfret, "It all seemed to come together: the barn, the hillside, the house. And we do a lot that connects with nature," Dolan says. "The pastoral scene seemed like the right context." After 18 months of construction, the privately funded $3 million renovation was completed this fall.
The new location is easy to get to, parking is plentiful, and the converted historic barn and farmhouse are enticing. Everything about the place says, "Welcome." Workshops and classes take place in the barn; the center also offers a small performance space and studios for movement, painting, drawing, pottery and fabric arts.
ArtisTree Gallery is located in the farmhouse, which has largely retained its original exterior. Inside, beautiful details such as crown molding, a fireplace and wood flooring remain, while added improvements help the interior work as an exhibition space. A handicap-accessible entryway, bathroom and wider hallway make the new gallery easier to navigate.
The old gallery was in a house, and the new space retains that homey feel, with updates. "The space is more open, and the ceilings are much higher," Tans says. "And it has a kind of elegance."
The new gallery isn't much larger than its predecessor at around 1100 square feet, yet the higher ceilings, window-panel coverings and freestanding walls give it almost three times the amount of wall space for exhibitions. The multitude of windows was appropriate for a house but excessive for a gallery, so removable panels were created to cover the windows when necessary, and retain the building's exterior character. A more open floor plan also provides a better environment for viewing the work.
"People can feel really invested in a community arts space," Tans says. "We have annual exhibitions which people look forward to." The fall show, "Local Color," and its spring counterpart, "Mud," are broadly themed to attract work from myriad artists in different mediums.
Another perennial favorite is the small-works show, perfect for holiday gift giving. Well-known artists such as Charlet Davenport, William B. ("Wimby") Hoyt, Margaret Lampe Kannenstine and Gaal Shepherd are just as likely to be on exhibit as high-quality works by new, lesser-known artists. The annual book-arts show, in conjunction with Woodstock's Bookstock festival, brings in nationally recognized jurors while inviting submissions from any artist within the geographic region, aspiring or professional.
The gallery makes a big investment in young audiences, too, presenting shows such as "Primary Colors" for second and fourth graders. For "Cosmic Scales," sixth graders spend months photographing their environment on microscopic, macroscopic and astronomic scales, then writing about it.
Four falls ago, ArtisTree Gallery held its inaugural show, "Local Color." This fall, on October 10, ArtisTree Gallery launched the inaugural show of the same title in its new exhibit space, the fifth annual exhibit of area artists' works "influenced and inspired by life lived within the landscape." The exhibit not only bookends ArtisTree Gallery's first four years but encapsulates what the gallery brings to its new neighborhood: local color.
ArtisTree Community Arts Center & Gallery, 2095 Pomfret Road, South Pomfret, 457-3500. "Local Color," on view through November 15. artistreevt.org