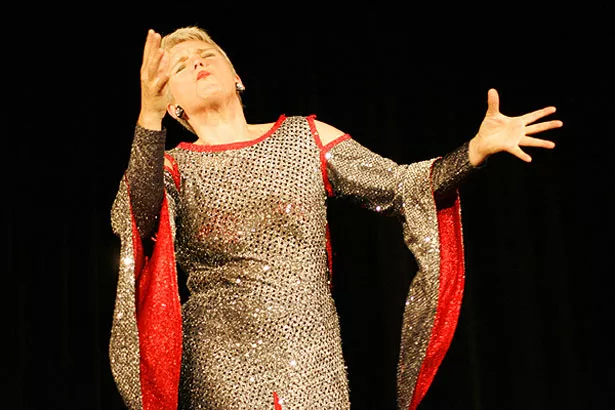 It was 2001 the last time Janice Perry performed Holy Sh*t! Stories from Heaven and Hell in Burlington. Six years and several international Fulbright scholarships later, the Vermont native is reprising her one-woman show - December 15 at the FlynnSpace - along with "other work, old and new," she says. For Perry, a.k.a. "Gal," the evening will be something of a retrospective, representing 25 years of globetrotting gigs. For local fans, it will be a rare opportunity to take in her panty-wetting humor.
Perry's unique talents - a zany, physical brand of stand-up satire, hilarious costumes and unhinged singing - have taken her a long way from her Barre roots. She may be the only Vermont performer to conduct the bulk of her career on other continents - Perry can count Gal pals in England, Germany, Austria, the Netherlands, Switzerland, Denmark and South Africa, as well as in the U.S. The BBC raved about her: "one of the world's most-respected performance artists." A newspaper in Cologne gushed: "a master at the peak of perfection." Not surprisingly, Perry considers one "accolade" at the University of Southern Utah among her favorites: She recalls, "Someone called me the Devil and ran screaming from the room."
Though her work has been adapted to print, radio and television, the frequency of Perry's stage performances in Europe has actually declined over the years - the once-rich store of funding for the arts has dwindled since the Berlin Wall came down and "everyone in Eastern Europe moved to Germany," she explains. "All the money has been sucked away, providing infrastructure, social services, etc." In classic Gal style, she deadpans, "I think, gee, you want to take money from me and give it to people who need houses?"
Happily, Perry discovered another talent, and thus another way to pay the bills: teaching. She developed a workshop in autobiography-based performance that has earned her visiting professorships and artist residencies at high schools, universities and festivals in the U.S., Europe and South Africa. One of her workshops is titled "Sex! Gender! Race! Reading and Writing Identity Performance."
Perry also has received five Fulbright awards - "two kinds," she clarifies. As a Senior Specialist, "You're on their roster for five years, and can be invited to work at universities and other cultural institutions for up to six weeks at a time," she explains. "I was one of their first, so I got to do it three times." A four-month gig as "Scholar in Performance" followed.
Throughout this time Perry has been developing new work, which "is changing a lot," she says. Though the FlynnSpace show will mostly represent her "normal" work - normal being a relative term - she's now "using video, doing installations, making sculpture, all kinds of crazy stuff," she adds. A current work-in-progress is titled "Mourning Derrida," described on her website as "a video 'dialogue' with the father of Deconstructionist philosophy." Heady as that sounds, it's sure to involve belly laughs.
Perry spends part of each year at her rural retreat in Ferrisburgh, a 19th-century house that she bought for $3000 in 1974. She's been back in Vermont for about a month now, readjusting to Eastern Standard Time and another generation of mice. In a 2001 interview Perry told Seven Days, "Nature has complete access to my house," and that wasn't quite a joke. The little rodents still have the run of the place, and no wonder: She's just a visiting artist.