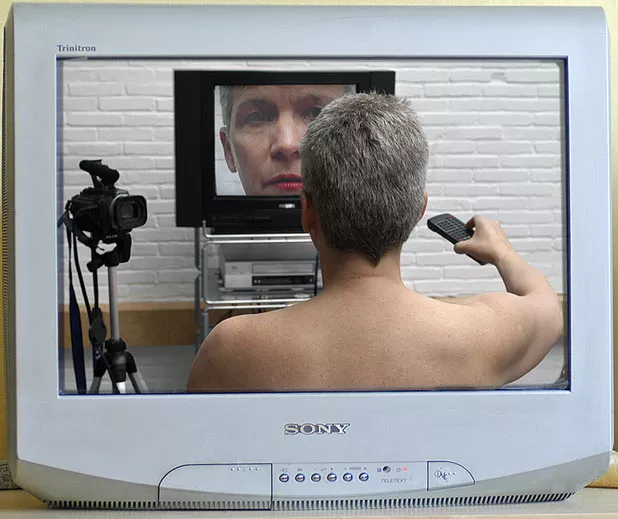 Janice Perry is an original. Who else has the balls to walk around on stage with a giant fake penis strapped to her abdomen, the guts to make fun of Jesse Helms and Joan of Arc, and the intellectual mettle to take on Jacques Derrida?
Perry, aka Gal, is a Vermont-based performance artist known for her running commentaries on sacrilege, sexism and censorship. Over the course of her 25-year career, she's taken her comedic routines to audiences in the U.S., Germany, England, South Africa and the Netherlands. After years of traveling abroad, Perry is back in Vermont in a big way, and a new work she's bringing to the Fleming Museum on Friday is unlike anything she's done before. She's dropped her signature rapid-fire comedic monologues and picked up a penchant for philosophy. And not just any philosophy, or philosopher: Perry has fallen in love with Derrida.
It seems an unlikely prospect. Straight-talking native Vermonter goes for aged genteel Frenchman whose circumlocutions have baffled students of philosophy for a generation. But these things happen. For Perry, the crystallizing moment came in 2004, when she heard Derrida speak in Germany. Later, she saw a film about his life, and suddenly she got it. "It" being deconstructionist thought, the idea that you can take something — anything, really — break it down into its constituent parts, analyze its contradictions and put it back together. Et voilà!
Then Derrida died. Bereft, Perry decided to mourn the great philosopher by pretending to be him. She imitated his movements as she recalled them from the documentary about his life; she read a little Foucault; she walked around in her pajamas. For three days. Just like Derrida.
"I looked at catalogues as Derrida, I washed dishes as Derrida," Perry writes. "I took naps as Derrida. I was being Derrida … Because I was still alive, still performing Derrida — and he was not. In a way I was, in fact, even more Derrida than Derrida himself."
Perry didn't tell anyone about her fixation until several years later, when it dawned on her that her private performance could be recreated. This time, though, when she set about pretending to be the philosopher, she brought a videographer along to record it.
The upshot is "Being Derrida," an installation that consists of a "deconstructed" 6-minute film portrait of the man; Perry's 45-minute, humorous and direct explanation of her own creative process as she made the film; and an audience-participation segment in which viewers interact with the installation by imitating Derrida's movements in their turn. "We are all there, in the same moment, together, being Derrida," Perry writes.
The film consists of footage of the philosopher shown in large format while Perry mirrors his gestures in a much smaller format. The effect is like watching synchronized swimming: It's unnerving to see the exact replication of an individual's unique mannerisms and movements, because it makes you question the very nature of identity. That question, as it turns out, is central to deconstruction. Sometimes simulation takes on more meaning than the original, as Perry puts it, quoting her main man.
"Being Derrida" is a semifinalist in the Smithsonian Portrait Gallery's 2009 portrait competition. If the installation is chosen in the next round, it will appear in a yearlong exhibition at the gallery that opens in October.
At Perry's performance/installation at the Fleming this week, Burlington Mayor Bob Kiss will declare Saturday SWAN Day — Support Women Artists Now — as part of an international effort to recognize the contribution women make to the arts. Kiss plans to dedicate the proclamation to Perry, she says.
It's a fitting tribute to a Burlington-born woman who has the chutzpah to take on the world, one performance at a time. And who, despite her uncanny ability to copy Derrida, appears to have that authenticity question all wrapped up.