Katie Jickling
Connie Wille
On August 8, 2016, Sable LaBounty showed up at Champlain Valley Physicians Hospital in Plattsburgh, N.Y., ready to get clean.
Six years before, she'd been prescribed painkillers for back surgery. What started as four pills a day skyrocketed to 30. When doctors would no longer fill her prescription, the 25-year-old said she took to the streets, consuming "whatever was in front of me" to relieve her craving.
Her life had deteriorated by the time she sought help: She was suicidal, her relationship with her fiancé had started to fall apart, and her family was growing increasingly concerned. But when LaBounty arrived at the hospital, a doctor informed her she'd have to find her own detox services and long-term rehab treatment.
Over the next three days, she contacted 30 facilities across New York, Vermont and New Hampshire, waking up at 6 a.m. to be the first caller. Every one of them was full.
"When you're in that moment and wanting to get help, and being rejected, you become hopeless," said LaBounty, a resident of Peru, N.Y.
Detoxing is the first step in recovery for opioid users, who go through intense withdrawal symptoms after giving up drugs. But finding a place to dry out can be difficult in the North Country: Across 13 counties between Lake Champlain and Lake Ontario, and from Saratoga Springs to the Canadian border, there's only one detox facility: a seven-bed operation in the town of Gouverneur — 122 miles west of Plattsburgh.
Detox facilities are "that first line that gets people in there" said Sue Martin, who started advocating for better treatment options in the North Country in 2014, when her son decided to seek treatment for his opioid addiction. "If you get the three days of detox, it gives you a fighting chance at treatment." Many inpatient programs also require that addicts first go to detox, she pointed out. In some cases, there's also an insurance catch-22. New York State health insurance will only pay for inpatient rehab treatment if the user has already gone through withdrawal.
The dearth of detox facilities has left a conspicuous gap in the region's treatment options. St. Joseph's Addiction Treatment & Recovery Centers operates six outpatient clinics in Franklin and Essex counties, plus a 67-bed inpatient facility in Saranac Lake, under the direction of CEO and president Bob Russ.
Plattsburgh has three outpatient care facilities, including the Champlain Valley Family Center, according to executive director Connie Wille — but no detox.
It's been "a huge missing link," Wille said.
The situation is slowly improving as a result of advocacy by Wille, Russ and Martin. Wille plans to open an 18-bed facility for detox and inpatient services this October in Schuyler Falls, 11 miles south of Plattsburgh. Another 10-bed detox and outpatient clinic, run by St. Joe's, is on track for Saranac Lake in early 2019.
"This is going to triple the number of beds available in the North Country," said Martin, who splits her time between Plattsburgh and Saratoga Springs. "It's huge; it's fabulous."
Unfortunately, she predicted, "they're going to fill up."
Courtesy Of Sable Labounty
Sable LaBounty
Martin's son had been addicted for nine years when he finally agreed to get help. He was turned away from a hospital three times, she said: once as a result of insurance issues; twice because doctors said he wasn't sick enough to stay.
He started getting treatment the next year — after he was arrested for stealing to support his habit and got a court order for treatment, according to Martin.
He later relapsed and overdosed twice. Each time, the hospital discharged him within hours, Martin said. Her son is now in recovery.
The experience spurred Martin to action. Last year, she started a petition asking the state to require detox services in every hospital. More than 5,000 people signed it, and last December, members of the New York State Office of Alcoholism and Substance Abuse Services agreed to meet with Martin and other advocates.
In March, and in response to Martin's request, the state sent a letter to every hospital, notifying them that they can provide detox care without a separate state certification.
Nonetheless, Martin said she still regularly fields calls from patients who want to stay in the hospital to get treatment but are being turned away. Earlier this year, for example, she counseled a patient on how to refuse and appeal the hospital's discharge and get a patient advocate.
It worked: The hospital admitted the patient, who three days later was transferred from detox to inpatient treatment, according to Martin.
Now Martin wants New York officials to mandate that hospitals accept detox patients. "We're still fighting one doctor, one patient, one hospital at a time," she said of the phone calls for help. "It's exhausting."
Hospitals will accept patients who meet criteria for the most severe withdrawal, said Kent Hall, vice president and chief medical officer at Champlain Valley Physicians Hospital and Alice Hyde Medical Center in Malone, N.Y. — both of which are part of the University of Vermont Medical Center network. Those in less serious withdrawal fall through the cracks: They aren't sick enough for a hospital bed, though their detox pain makes it likely that they'll relapse.
According to Hall, the detox facilities shouldn't be seen as an easy solution to a complex problem. He noted that when possible, the hospital refers patients to other treatment programs.
"There are a number of components, or modules, to caring for people who are in the throes of substance-use disorder. Detox is one of those," he said. "It's not a stand-alone."
It's certainly cheaper. A hospital stay is costly, upwards of $1,000 a day. The new Schuyler Falls facility, meanwhile, will charge patients about $150 a day, according to Wille.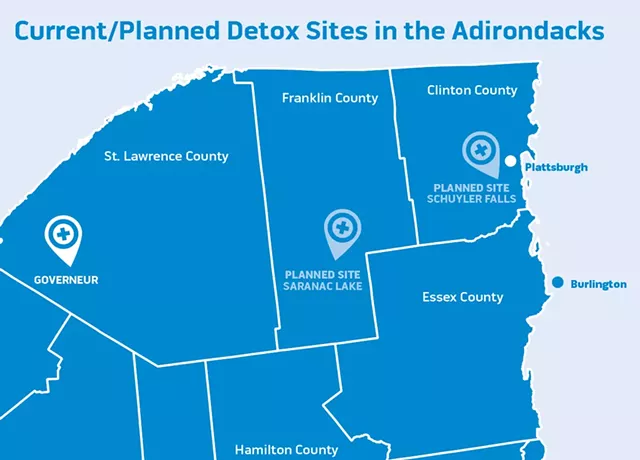 While advocates and providers alike agree that the new facilities will help fill a need, New York still has a long way to go, said John Coppola, executive director of the New York Association of Alcoholism and Substance Abuse Providers, which represents doctors and treatment facilities across the state.
The state is just now adopting the hub-and-spoke system that Vermont has embraced for years, he pointed out, adding: "There hasn't been any cause for optimism that we expect the number of overdose deaths to start leveling off or going down."
Since 2010, opiate overdose deaths in New York have increased more than 220 percent, from 1,760 in 2010 to 3,894 in 2016 — the most recent figures available.
Other stats also show that the crisis is worsening. In Clinton, Essex and Franklin counties, the number of people admitted to state-certified treatment programs has risen from 806 in 2013 to 909 in 2017, according to data from the Rockefeller Institute of Government.
So far this year, the Alliance for Positive Health has collected more than 37,000 syringes through its exchanges in Plattsburgh and Ticonderoga, 75 percent more than the group collected all of last year, said regional director Diana Aguglia.
More people in six North Country counties are also being revived with the overdose-reversing drug Narcan: The number went from 74 in 2016 to 86 in 2017.
The need is particularly acute in the Adirondacks, where public transportation is nearly nonexistent and the sparsely populated towns are too small to financially support hospital services. Hamilton County, for instance, has no hospital and averages fewer than six people per square mile, according to the county's director of community services, Bob Kleppang.
Kleppang and more than half a dozen providers said they worried that those seeking treatment often couldn't make it to their appointments because of snowstorms or a ride that fell through.
Despite severe challenges, LaBounty's story took a positive turn.
When she stopped using drugs on August 27, 2016, withdrawal was so painful that her fiancé had to carry her up the stairs to use the bathroom. "I laid in bed for hours begging for it to stop," she said.
LaBounty toughed it out. She eventually got into an inpatient facility six hours away, though her state health insurance refused to pay for it. So she tried outpatient at Clinton County Mental Health and Addiction Services, attending counseling and appointments daily for six months.
Two years later, LaBounty is clean and has a job as a peer navigator at the same organization.
She said it would have been ideal to avoid the pain of detox but now sees it as a necessary part of her recovery. "Everything happens for a reason," she said. LaBounty hopes the addition of new detox beds in the area will help ease the process for others.
"More availability will always help," she said. "If there is that opening, it's going to save someone's life. It's never going to hurt to have more options around here."