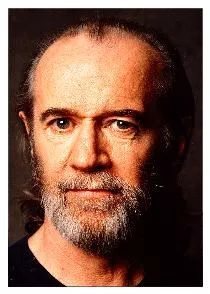 Voltaire once said, "If you can't dance, you fuck a lot of waitresses." Granted, I'm no expert on 18th-century French philosophy. But it's pretty safe to say that George Carlin was playing fast and loose with his literary references when he wrote his 1983 bathroom reader, Sometimes a Little Brain Damage Can Help. The message was right on the money, though: There are rewards for those who watch from the sidelines. And for nearly half a century, Carlin has been an observer of all the weird and wacky shit we humans say and do to one other. Whether he's dissecting the English language, serving up his musings on the human condition or just talking about his dog taking a crap, Carlin has produced a body of work whose timelessness and humor few comics can match.
Carlin has released 24 albums, 12 HBO specials and 11 feature films, won six CableACE awards, earned five Emmy nominations, won three Grammys, and authored three books. He has also been court-martialed three times, suffered three heart attacks and one hernia, and suckered nine Supreme Court justices into pronouncing the seven dirty words you can't say on TV. Not bad for someone who turns 67 in May and still performs 90 concerts a year.
Part of Carlin's success, besides his voraciously creative mind, is his refusal to do topical humor. Don't expect to hear him riff on Howard Dean's scream or Janet Jackson's breast. His stand-up routines that made milk shoot out of your nose when you were 12 are as funny today as they were back then. And your kids can laugh at Carlin's 1972 album, Class Clown, even if they can't tell George McGovern from John Erlichman.
Seven Days spoke with Carlin by phone from his hotel room at the MGM Grand in Las Vegas, where he was in the midst of an eight-week engagement. The year 2004 is looking to be another banner one for the comic. His 11th film, Kevin Smith's Jersey Girl, comes out on March 26; it's his biggest acting role to date. Carlin's third book, When Will Jesus Bring the Pork Chops? is due in bookstores this fall.
It's worth noting that Carlin makes his own phone calls -- no fast-talking agent type rings you to say, "Please hold a moment for Mr. Carlin." And contrary to his occasional rants about cell phones, he does own one himself. What's more, for a comedian whose satirical tirades seem to become more angry and misanthropic each year, he comes off as one hell of a nice guy.
To paraphrase the caveat on Carlin's website, "Warning: This article contains real human language." So if you're easily perturbed by the f-word or irreverent references to the Almighty, you might want to read something else. Or as Carlin might suggest, "Lighten the fuck up!"
Seven Days: So, George, do you still enjoy being as famous as you are, or has it become a pain in the ass?
George Carlin: No, I love it! I always wanted to be a famous, well-known celebrity who people recognize. I always like to lay it on real thick. But I wanted it on my terms, which is the way I got it.
7D: As someone who grew up Catholic, what do you think of all the revelations about pedophile priests?
GC: What's wrong with these fucking kids, they don't know how to handle a pedophile? You kick him in the nuts! You say, "Father, I don't do that shit." Then you go tell five different adults, and one of them is going to believe you. And you don't take that shit… I've always talked about how fucked up religion is, you know. But I love reading about it because it shows who they really are, these religious charlatans of all religions, this bill of goods they're selling. They say they're cleaning it up. They act like a bunch of lawyers.
7D: Any chance you'll go see Mel Gibson's new movie, The Passion of the Christ?
GC: Well, I'd kind of like to see it just to see all the brutality. I kind of like violence. The thing that people forget about that, they blame the Jews but you know what it was, it was businessmen and government. Those are the two groups that always fuck things up in the world and always will and they got control of everything, and they're the ones who killed him.
7D: Which member of the Bush administration scares you the most?
GC: None of them scares me. They're doing what they're supposed to. They're playing out their role. That's what happens in America, because people are stupid. The American people are basically stupid and they let the owners of the country do whatever they want. We've lost the skill of assassination in this country. You don't find any assassinations anymore. I don't see any of that. India is ahead of us on Ghandis. We've only got two Kennedys, they've got three Ghandis.
Americans don't give a shit. They've all been bought off by cell phones and Jet Skis and sneakers with lights in them. So you can't expect anything of these people. I always say, the American people deserve everything they get, and they usually get everything they deserve. And these people in charge now are just the personification of the worst part of the American character. That's who they are. Americans are not very bright… As a group, IQ-wise they're very low, and their answer to that is to just lower the standards so their kids can pass the tests. "The kids can't pass? Let's lower the test standards." That'll be great 30 years from now.
So, I enjoy standing back and watching as this country circles the drain, and the circles get smaller and faster all the time. And these guys in the Bush administration are just perfect for that. I mean, they've really pushed those circles faster. I like to sit back, detached from all this, and I root for fun, for entertainment. America is a freak show. When you're born in this country, you're given a ticket to the freak show. I say, enjoy it! Don't be trying to change the freaks. Some folks try to do that, and that's fine. Environmentalists and lawyers for the ACLU and these activists and picketers, they think they're going to change the freaks. The freaks aren't about to change. If it makes you feel good, do it, but it ain't gonna change. Nothing will change. They own the country. They do what they want. Period.
7D: In your 1999 HBO special, you talked about terrorism and bombs on airplanes as just another form of entertainment. After 9/11, did you tone any of that down, or was it just a vindication of what you've been saying all along about the human race circling the drain?
GC: Well, if I was doing that in 1999…then that had nothing to do with the material I was doing two years later, 'cause my stuff changes every two years. Every two and a half years I have a brand new hour or so.
7D: But would you still say those things today?
GC: Oh, yeah! I wish I'd been saying them at the time. I like bothering people. I like pushing their buttons. I like finding out what disturbs them and doing it. That's my fun.
7D: Are there topics that you used to talk about that you wouldn't touch anymore?
GC: No. Oh, no! The point of doing this kind of thing…is to provoke people to examine themselves. Not in a serious way, but in a way of saying, "Look how fucked up you people are! Look what you've done to yourselves." I like pointing out how poorly we're doing and letting people consider that. Because most people are walking around in…a kind of fog, where they believe certain things that make them comfortable and that's it, and they get…their three-wheel vehicle for off-road, all-terrain whatever the fuck it is. And they're happy and they're getting their material goods, and if they can't get a job this year, well, they'll get a job next year. And they cut off my unemployment, well, that's the way it goes. And they blame the politicians. And the politicians have nothing to do with it, you know. It's the people that vote for them.
7D: So, you make fun of people who try to do something, but you really don't think anyone should do anything about it.
GC: Well, I think people should do what they want. If doing something about it makes them happy, that's fine. But I don't think it works. That's my point. I think it's futile. The nice thing is, we have people who do all these other things. I can sit back with a good conscience and say, fuck it! I don't belong to this. Because I know there are other people who take it seriously and they go out and they print up posters and they put up little things on telephone poles and shit, and that's fine for them. But I have my fun trying to be a realist and a skeptic. I just think that they're just bullshitting us and they've been bullshitting us for a long time and I think most people don't want to admit it to themselves.
7D: I don't suppose you vote, do you?
GC: No. Not since '72. And that's because I was doing a lot of drugs then. Once I stopped doing drugs, I stopped voting. Because they're both delusions. They both induce delusional thinking.
7D: We were talking about your list of seven words you can't say on TV. What are the most incendiary things that you can't say on TV today?
GC: God sucks. Fuck God. God is a motherfucker. Boy, that's a taboo. God, and children! Ahhh! I love when I bore into them on their fucking kids, their fat kids who can't pass a fucking test and who are babied and pampered and driven around to soccer practice and they put on all this fucking weight. That's one of the big taboos these days. The words bother people at a level that they've gotten used to be bothered at. But when you cross new kinds of boundaries with them and then you really question things that they hold sacred, that's what I enjoy. I like looking for where they've drawn the line, and deliberately crossing it.
7D: Do you do different routines in different cities?
GC: No. I develop a show purposely that builds over about two, two and a half years, and then we tape it ourselves and license it to HBO, and then that becomes a product, something that I can put on my shelf. It's something tangible and I can say, look, I did that. I can make a DVD, I can make a VHS, whatever. And that's my work, and that's what I turn out… I don't like to change things. There's no way I could. I don't have a repertoire of safer stuff. I'm in it, like it or not. And if I'm in some conservative place and I'm in the middle of talking about the first enema or something, and I'm getting a little bit of silence, what am I gonna do, start talking about Ricky Nelson? I can't do it.
7D: How's your ticker these days? Are you still in good health?
GC: Yeah, I get my heart attack about every nine years and it keeps me on my toes. And I get an angioplasty when I need it, but I haven't had one of them in I don't know how long… I just got lucky to be getting sick at a time when a lot of shit was coming down the medical pipeline, pills and procedures and stuff that helped. And I'm looking forward to a few more miraculous things.
7D: Like Viagra?
GC: I don't need that. God! That would just bother the shit out of me. I'd rather take an hour and a half to get a hard-on myself than put a pill in my mouth for it.
7D: George, what's the best thing going on in your life these days?
GC: Sally Wade, my sweet baby doll, the woman of my life. We met six years ago. My wife died about a year before that and I wasn't thinking about what was happening next, and Sally happened along and we just have so much in common and we treat the world the same way. She's a writer and she's funny and a smart lady and a good-looking one. A little younger than me, but not embarrassingly so, you know? We have a lot of fun. That's the big thing.
7D: Did you two get married?
GC: No, we're not going to let a piece of paper fuck up a good relationship.
7D: Were you really court-martialed three times in the Air Force?
GC: Oh, yeah. And I got lucky because I never served any time. …The first one was for falling asleep on guard duty. Second one was disobeying a lawful order. And the third one… was disrespecting a noncommissioned officer, some shit like that.
7D: If you were asked by the U.S. military to entertain the troops, would you do it?
GC: Oh, no. Then you look like everybody else. If I wanted to do that, I'd volunteer for it. It's artifice. You know what I say about the soldiers? It's a volunteer army. They join. You strap on a gun, you go to someone else's fucking country with a gun and bullets on, then what the fuck do you expect except people to shoot at you? Let 'em come see me if they like. I'll do a free show here, as long as they're not in uniform.
7D: Any idea what you'd want written on your gravestone?
GC: "He was just here a minute ago." Or, "He was not a schmuck." That'd be nice.