Matthew Thorsen
Dead Cakes
When David Porter drowned in Hartford, Conn., in 1678, five out of seven of the expenses listed on the funeral bill were booze. Each barrel of wine, liquor and cider purchased for his grand send-off cost more than the coffin itself, according to Bertram Puckle's 1926 treatise on the subject of Funeral Customs.
Such was the early New England funeral. Nathaniel Hawthorne described the role of spirits memorably in his historical sketch "Main-Street": "Many a cask of ale and cider is on tap, and many a draught of spiced wine and aquavita has been quaffed." Indeed, he claims, funerals were the only occasions "where jollity was sanctioned by universal practice": "New England must have been a dismal abode for the man of pleasure, when the only boon-companion was Death!"
Of course, the funeral bacchanal goes much further back in history outside our own corner of the world. The ancient Greeks' perideipnom was a feast "hosted" by the deceased. In modern times, those Greeks' descendants bury a body and then celebrate the soul with a traditional meal called makaria, named for an ancient almond gruel.
Even when a culture doesn't pig out in memory of a lost friend, most mark the occasion with a special food. Vermont food historian Jeff Roberts recently asked a group of students in his University of Gastronomic Sciences class in Italy what they ate when someone died. A Turkish student spoke of munching on halva in memory of the dead. In India, families roll rice balls and feed them to crows to celebrate the deceased. A student from Sicily described preparing marzipan fruits to honor the loved one, who will never again eat an earthly apple or strawberry.
While some cultures feast, others prefer that mourners undergo privation so they can preview an end to the pleasures of this mortal coil. In China, mourners eschew meat. Jewish tradition prescribes spartan foods for the dark days of sitting shiva.
Regardless of culture, we're all terminal. Before our eating comes to an end, though, why not sample all the traditions? We've combed through them to provide a handful of funereal recipes, along with their stories.
Esau's Lentil Stew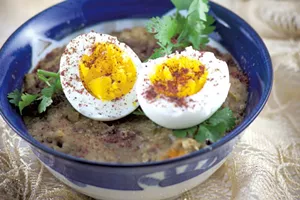 Matthew Thorsen
Esau's Lentil Stew
Casual Bible scholars will likely remember the story from Genesis: After a hard day of work in the fields, Esau sold Jacob his birthright for a taste of the bread and lentil stew his brother had prepared to mark the death of their father, Isaac. Not really worth giving up your inheritance for, right?
That red lentil stew is still typical of the simple, round-shaped foods served as a Jewish meal of condolence. Mourners' food isn't intended to be rich. Circular fare such as lentils, eggs and bagels represents the cycle of birth and death, a philosophy also reflected in the Tuscan tradition of mourning with soup made from chickpeas.
I adapted this stew from several interpretations of what Jacob might have cooked in the era of Genesis. The barley gives it a pleasant chew, a bit like the ham in pea soup.
In 2000, molecular archaeologists at the University of Pennsylvania revealed that a similar stew was eaten at King Midas' Phrygian funeral feast. Add fennel to this recipe to approximate his meal, and serve it with lamb for a feast fit for a pre-Christian king.
3 carrots
3 stalks celery
1 large garlic clove, chopped
2 tablespoons cumin
1 tablespoon coriander
1 teaspoon paprika
1 tablespoon sumac (plus more for garnish)
2 cups dry red lentils
1/4 cup pearl barley
48 ounces (1.5 quarts) vegetable stock
1/4 cup parsley, chopped
1/4 cup cilantro, chopped (plus more for garnish)
Juice of half a lemon
Clean carrots and celery; no need to peel or deleaf them. This is an ancient recipe, after all. Just chop them to your preferred thickness.
Over medium heat, sauté garlic. After a minute or two, add carrots and celery. When they've brightened in color, add cumin, coriander, paprika and sumac. Toast until aromatic. Throw in lentils and barley, then cover with vegetable stock. Add herbs, reserving some for garnish.
Lower heat to just below medium, then cover. Cook, stirring occasionally, until the stew has thickened, about an hour and a half. Remove the stew from the heat, add the lemon juice to brighten it up, and garnish it with a shower of sumac and cilantro. Serve with an egg to further celebrate the never-ending life cycle.
Funeral Potatoes
Matthew Thorsen
Funeral Potatoes
Modern America doesn't have many strong culinary traditions, but don't tell that to members of the Church of Jesus Christ of Latter-day Saints. Cheesy potatoes became a staple of Mormon funerals in the Mountain States only in the past century. Yet in that time, they've become so central to the Mormon cultural experience that a book published in 2004 called The Essential Mormon Cookbook was subtitled Green Jell-O, Funeral Potatoes and Other Secret Combinations.
Why are funeral potatoes so important? Casserole dishes have been a mourning staple since ancient Greek times (funeral moussaka, anyone?). Though the Mormon dish could theoretically be made from scratch, its beauty lies in the fact that its few simple ingredients all come out of a bag, tub or box. Just multiply the ingredients to feed a church group's worth of mourners. For an easy meal, it's common to serve the spuds with another no-effort option: ham steak.
1 package frozen shredded hash browns (about 30 ounces)
1 cup sour cream (I used Greek yogurt because I was having shooting pains in my left arm just looking at the recipe.)
1 2-cup package of shredded cheddar cheese
1 sleeve Ritz crackers, crushed into crumbs
Heat oven to 375 degrees F. In a large bowl, combine hash browns, sour cream and cheddar. Once the ingredients are well mixed, spread in a large baking dish. Cover thoroughly with crackers, then bake. The casserole will be done when it's aromatic and bubbling, in about 45 minutes.
Dead Cakes
Matthew Thorsen
Dead Cakes
We've all left a wedding or birthday party with a favor to take home. Until the end of the Victorian era, most New England funeral guests also got favors — cookies called "funeral biscuits."
In colonial days, the cookies were carved with the initials of the deceased. As the tradition matured, they were stamped with typical funerary designs such as death's heads, angels and hourglasses.
The tradition appears to have been so common that no one ever bothered to record a dedicated funeral biscuit recipe. A day among the stacks of cookbooks in the University of Vermont Libraries' Special Collections Department turned up no mourning recipes, aside from a raisin-stuffed Amish funeral pie.
The closest funeral-biscuit approximation I found appeared in the 1917 Mrs. Norton's Cook-book: Selecting, Cooking, and Serving for the Home Table. Mrs. Norton offers a recipe for Pennsylvania Dutch doed-koecks, or "dead cakes," that requires 14 pounds of flour, six pounds sugar and two teaspoons of pearl ash.
I didn't even try to rustle up pearl ash. I had read in multiple sources that the funeral cookies were most commonly shortbread flavored with caraway. Below is a lazy baker's version, adapted from Martha Stewart.
1 cup Irish butter, room temperature
2 1/2 cups all-purpose flour, plus extra for dusting
1/2 cup sugar, plus 1 tablespoon
1 teaspoon caraway seeds
Heat oven to 325 degrees F. Using a pastry blender or your hands, combine butter and flour, little by little. This is a lot of flour, so don't worry about taking it too slow. Once it's all incorporated, blend in the sugar and caraway. On a flour-dusted surface, roll dough out to about a quarter-inch thickness. Use cookie cutters or a knife to achieve the desired shape to pay tribute to your loved one. Bake for about 25 minutes.
Dead Men's Bones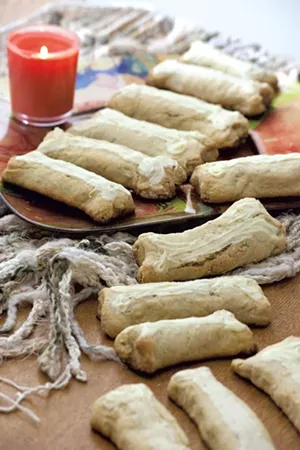 Matthew Thorsen
Dead Men's Bones
Why did I fly to the tiny island of Malta last November? To eat l-għadam tal-mejtin, of course.
Long story short, I had become obsessed with the idea of the All Souls' Day cookie with a name that translates as "dead men's bones." Think of it as Malta's version of a Dia de los Muertos treat. But they're so damn good, they're available all over the country throughout November — hence their watered-down second name, "November bones."
During Malta's stint as part of the British Empire from 1814 to 1964, the island's cuisine lost some of its Libyan and Tunisian spice. Many versions of the għadam that I tried were simply almond-flavored. Despite Malta's proximity to Sicily, this isn't an adaptation of the simple (and notoriously hard on the jaw) Italian ossi dei morti, either.
Finally I found skeletal perfection at the central bus station in the capital city of Valletta, at a vendor simply labeled "Millennium Kiosk." The chewy cookie sang with anise, clove and a penetrating dose of cardamom. It was the fusion of the not-quite-European, not-quite-Arab country in a single bite.
The "bones" are spookily anatomically correct. To make them, the baker stuffs the exterior sugar cookie dough with almond-flour "marrow." In the 122-square-mile island filled with far more than its share of ancient burial grounds, early Christian catacombs and opulent churches decorated in skull motifs, this bone pastry is a defining treat.
Still, I couldn't find a single authentic English-language recipe. What follows is my own version, culled and interpreted from a few Maltese-language recipes for the cookie. I don't know about you, but I'll be making them well beyond November.
For the bone:
300 grams butter
575 grams all-purpose flour, plus extra for dusting
170 grams sugar
2 egg yolks
1 teaspoon baking powder
1 teaspoon vanilla extract
a dash of lemon zest
3/4 bar of white chocolate
For the marrow:
400 grams almond flour
300 grams sugar
1 teaspoon vanilla extract
1 tablespoon anisette
1 teaspoon cardamom
1/2 teaspoon powdered clove
2 egg whites
Set oven to 350 degrees F. For the bone, combine room-temperature butter and flour. Break eggs, reserving the whites for later. Add sugar and yolks to the dough. If it doesn't hold together, add a bit of water until it can form a ball. Add baking powder, vanilla and lemon zest.
In a separate bowl, combine almond flour with all marrow ingredients except egg whites. Once the combination is well mixed, add egg whites to hold it together.
Roll out bone dough into a rectangle about six inches across. In the middle, place marrow dough, rolled into a cylinder to fill the bone dough from end to end. Wrap both sides of bone dough around marrow dough. Roll noodle-like, until the dough is an inch or two thick.
Cut dough to your size preference, then form into bone shapes. Bake for 20 to 30 minutes, until spice scents bloom and the cookies are golden. Let cool.
When cookies are cooled, melt white chocolate. With a small brush, paint bone shapes on each cookie. Sprinkle with more cardamom if you wish.
The original print version of this article was headlined "Last Supper"