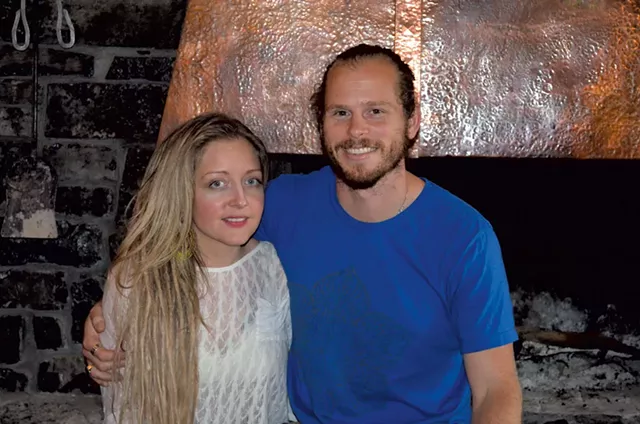 Alicia Freese
Krysta and David Mihaljevich
A group of people involved in a "liberation movement" led by an eccentric South African man wants to establish a money-free community on the mountain in Bolton. Residents of the tiny slope-side town are trying to figure out how to react.
Behind the plan is a young couple, Krysta and David Mihaljevich. She describes herself as a medical intuitive — meaning she can use her intuition to find the source of someone's ailment — and a psychic reader; he identifies as a Reiki master and shamanic healer. Earlier this year, they opened the Lotus Lodge Inn, a wellness center on the Bolton Valley Access Road.
In June, the couple began a more ambitious endeavor. They launched an online fundraiser seeking $500,000 to buy property to start an "Ubuntu" community in Bolton.
Ubuntu communities are the brainchild of Michael Tellinger, a South African man who describes himself as an "author, scientist and ... a real-life Indiana Jones." (Ubuntu is a Bantu term that roughly translates to "humanity toward others.")
Tellinger says he's trying to pioneer a "postcapitalist social structure" without money or any form of trade, in which people share all resources. He calls this "contributionism." His 2013 book UBUNTU Contributionism: A Blueprint for Human Prosperity describes how to create communities based on this concept. Community members write the rules, and a council of elders offers guidance.
Tellinger has espoused some highly peculiar theories.
In 2007, he published another book, Slave Species of the Gods. It makes the case that an extraterrestrial tribe created the human race to serve as slaves mining gold for them. A prolific user of YouTube, he claims in videos to have personally uncovered massive corporate fraud.
Tellinger has also started an Ubuntu political party in South Africa. By his own count, candidates mustered a minuscule 2,700 votes countrywide in municipal elections this August; he said the real goal is to bring media attention to the movement.
The Mihaljeviches encountered Tellinger and his Ubuntu Liberation Movement on the spiritually inclined website Gaia, where he has a video series. As they sat in the softly lit lobby of the Lotus Lodge on August 17, the couple spoke earnestly about why Tellinger's contributionism philosophy clicked with them. Krysta said she's long felt that "the current structure isn't working." As an example of its failure, she cited the concentration of wealth among a small number of families.
Krysta, 32, is spritely, with waist-length blond hair and ring-laden fingers; David, also 32, has a reddish beard and wore a lotus flower T-shirt and Carhartts. The lodge offers the couple's health services and those of an ayurvedic master who lives on the premises, providing ancient Indian healing treatments. The couple, who used to run a bed-and-breakfast in Sedona, Ariz., also cook organic meals for guests.
After learning of Ubuntu, Krysta emailed Tellinger, told him about Bolton and offered to "hold space" for an Ubuntu community. He responded within 20 minutes, enthusiastic about the idea.
The blueprint for setting up Ubuntu communities is uncharacteristically pragmatic, relying on the very thing the movement seeks to eradicate: money.
"It kind of takes money to be free from money," Krysta said, noting that she and David plan to use revenue from their inn, in addition to fundraising. "Our intention is to give all of our profits back to the [Ubuntu] community and start purchasing more property here to house more people who are in the same mind-set."
The only requirement for joining the Ubuntu community will be a commitment to work at least three hours each week on a community project, she explained. Until they can produce their own energy, food and other resources, people will probably keep their day jobs.
Tellinger provided a YouTube video for the fundraising page in which he urged Ubuntu acolytes to contribute to the purchase: "We have an unbelievable opportunity to acquire a piece of land — and virtually a whole town, if one looks at it from that perspective — that could become, in essence, the first Ubuntu village or Ubuntu community in the USA that operates on the principles of contributionism. Bolton Valley, Vt., is the venue, and we need $500,000 to purchase the rest of the land to make this a reality."
The video, posted on the fundraising page, caught the attention of Bolton residents, who were taken aback by his suggestion that the entire town could be "acquired."
Asked about his statement, Krysta said Tellinger had gone off script and said they have no intention of somehow buying all of Bolton.
Another cause for concern among residents: Originally, the online fundraiser stated that the goal was to buy Bolton Valley Resort. The reference was recently removed.
The resort, which offers downhill skiing from a 3,150-foot summit and a large network of Nordic and backcountry trails, changed hands five times in quick succession before Doug Nedde and Larry Williams took it over in 2007.
It is the lifeblood of Bolton, providing a solid property-tax base, employment and backyard recreational opportunities for the town's 1,200 residents. The value of the businesses and condos on the mountain are closely tied to the resort's success.
"We've been improving our financial profitability every year," Nedde reported, except for last year's season, plagued by a lack of snow. But since at least 2010, he and Williams have wanted to sell it. Both men are experienced real estate professionals, but, according to Nedde, ski operations fall outside their respective "core businesses."
In an interview last week, Krysta and David downplayed the possibility that they might buy the resort, which includes a 200-room hotel. "If we did come up with the money we needed, there's a chance that we might collectively purchase the resort as Ubuntu," Krysta said, noting that it could provide a significant source of revenue to support the community. But, she emphasized, they have no agreement with the owners and are also looking at land elsewhere on the mountain.
In a separate interview, Nedde echoed Krysta. "They know we're open to selling the resort," he said. But, "I can tell you we don't have a purchase and sales agreement with them." Nedde leases the Lotus Lodge building to the couple, and he noted that they do have an option to purchase that building. "I think they have done a tremendous job of building a great business," he added.
As for the resort, Nedde said, "We continue to try to find an established ski resort operator that is interested in buying Bolton Valley."
Bolton residents are keenly interested in the fate of the resort — and the mountain it sits on. They've notified their town officials, who are so far refraining from publicly weighing in on the Ubuntu proposal.
"We haven't had a chance as a board to really discuss it, and we haven't read anything formal from Ubuntu or Lotus Lodge," said selectboard vice chair Josh Arneson, who is also vice president of sales and marketing for Bolton Valley Resort.
Selectboard chair Jen Dudley-Gaillard said, "I have not heard which parcel they are hoping to purchase and doubt that the whole of Bolton Valley Resort would be for sale for only $500,000."
Despite skepticism, people are signaling that they'd like more information.
"My personal opinion is that there should be some community outreach and some involvement with the town, and there hasn't been," said Stephen Diglio, who is chair of the town's Development Review Board.
Krysta said they were caught off guard by the publicity — several news outlets recently learned of the couple's plans — and felt unprepared to go public with what was still a conceptual plan. She pledged to be transparent and noted that she and David are getting ready to send a letter explaining their plans to Bolton residents.
In the meantime, fellow Ubuntu followers around the country are contacting them with offers to assist, according to Krysta. A permaculture expert from New York City has offered his services, she said. After he heard about the endeavor, Pete Schwan, who has been the managing partner of a South Boston real estate firm called Bode Well, decided to move to Bolton to be a part of it. He bought a condo with David and Krysta, and arrives in two weeks. Disenchanted with what he calls a "debt slavery system," he said, he's been following Tellinger for about five years.
According to the fundraising page, they've raised only $15,000 from 145 supporters — just 3 percent of their goal — but Krysta said that contributions outside the online platform have brought the total closer to $250,000. Schwan said he plans to contribute proceeds from the sale of an investment property he co-owns in Boston.
It's unclear how much support this budding group of free-spirited anticapitalists will have. Tellinger claims to have amassed "millions" of followers who've started affiliates in 200 countries. On the Ubuntu website, which allows followers to connect with each other, it appears that roughly 6,000 people have registered. Twenty-seven people have joined an online Vermont group.
The U.S. affiliate began in earnest just earlier this year, according to its national coordinator, Starr MacKinnon. The San Diego resident said they don't yet have a way to track total membership, but a team of 40 people is starting to plan for communities in the states, working on everything from public relations to renewable energy systems. In monthly webinar planning sessions, the team has been exploring future Ubuntu community sites in several states, including Washington, Florida and New Mexico.
MacKinnon and Krysta said that other communities have been established elsewhere in the world; Seven Days was unable to confirm this. There's a YouTube video of Tellinger giving viewers a tour of a small compound in South Africa, which he describes as a partially constructed Ubuntu community center for hosting backpackers. He has also posted videos previewing what he calls community projects ­— for instance, revitalizing an abandoned fish farm — but it's unclear whether they've come to fruition.
In the United States, MacKinnon said, the Vermont opportunity has garnered the most interest: "We've been very focused on Bolton Valley." And Tellinger is bringing more attention to the cause: He's announced that he's coming to the Lotus Lodge September 30 through October 2 to hold a community "meet and greet" and a workshop.
For her part, Krysta is confident their Ubuntu community will succeed. "We're following our own inner truth," she said.