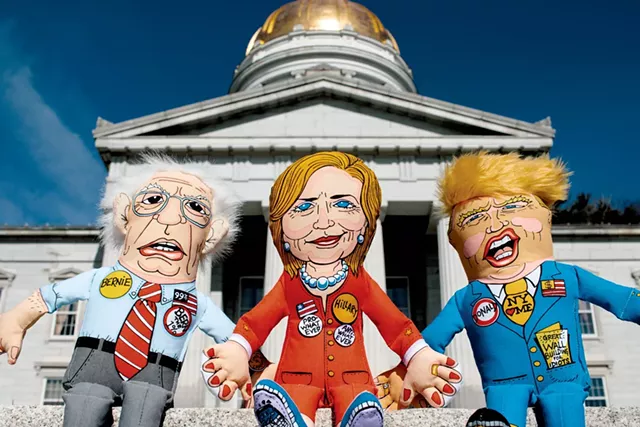 Fuzzu presidential-parody toys on the steps of the Vermont capitol building
If you've ever longed to tear into Donald Trump — or Sen. Bernie Sanders or Hillary Clinton, for that matter — you now have a chance. Or at least your cat or dog does, and you get to watch. Brand-new Waterbury-based company Fuzzu for Pets & You has come out with presidential parody pet toys in the likenesses of all three candidates (sorry, Ted Cruz and John Kasich, you just didn't make the cut).
The canvas-covered, fiber-filled toys, collaboratively designed by Sarah-Lee Terrat and Anne Lika, come in three sizes: nine, 17 and 27 inches (cat, dog and jumbo). The first two are ostensibly for chewing, the last for humans to cuddle, pose strategically or, say, carry around in public to show support. You could even tote all three just to confuse people. Whatever you choose to do with them, the toys are conversation starters — and likely to attract four-legged creatures.
Currently, Terrat, Lika and her husband, John Lika, are working to attract human donors to their Kickstarter campaign to launch Fuzzu (pronounced fuz-zoo). Their campaign video begins with a close-up of a white longhair cat clutching the Donald in ecstasy (because catnip). The designers explain that the toys were born of illustrations sketched and colorized by hand — "something that's fairly rare today," Anne Lika says.
In an interview with Seven Days, she and Terrat note that the two have had a lengthy working relationship, share a sense of humor and are so close they finish each other's sentences.
Both have significant design credentials, too. For some 13 years, the Likas operated a pet toy company called Fat Cat, building it from a basement screen-printing project into a successful enterprise with 19 employees before selling it in 2007. (Fat Cat produced a George W. Bush toy during his presidency.) Terrat, the proprietor of YeloDog Design and a designer for Fat Cat, has created numerous illustrations and murals for clients in Vermont and beyond. For a dozen years in the 1980s and '90s, she was the environmental designer for Ben & Jerry's, designing scoop shops worldwide as well as the graphics in the Waterbury factory. One of her more recent commissions was a mural for the new state office complex in Waterbury.
Terrat and the Likas intend Fuzzu to be a "boutique shop," they say, and will design what pleases them. "We don't want it to be Fat Cat 2, and I don't want 19 employees," Anne Lika says. But after taking a break from pet toys, she missed the business. "We love the humor around our toys," she adds, noting that other pet toys "don't get edgy."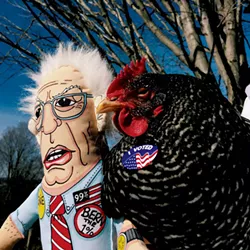 Edna the chicken with Bernie
"We have a lot of ideas," hints Terrat. Such as? "We can't really say," chimes in Lika. "Though we've thought about getting into children's toys."
For now, though, Fuzzu's presidential parody series stands out as a spot of fun in a world, and a campaign season, that sorely needs it. Lika says the company already has preorders, some obtained through former sales reps for Fat Cat, and the Likas' longtime Chinese manufacturer is ready to roll. That company, Lika notes, "really gets it" in terms of quality and even the jokes. "They're perfectionists," she says approvingly. "We can just put all our attention into the design."
Certainly the facial features of the toy candidates are spot-on, and each also sports a name tag and other telling details:
Hillary, clad in a red pantsuit and pearls, wears buttons reading "Pro-whatever" and "Anti-whatever." A smiley face paired with an on-off switch is painted on her back.
Bernie wears a button that reads, "Bern the 1%" and an American flag with "99%" in place of the stars. His watch says, "Time 4 Change." On his back, a red button is surrounded by the words "Push to activate the revolution." But the best part is the candidate's corona of white plush hair.
Donald's hair is a swoosh of blond plush, his mouth is stuck in sourpuss position, and a pamphlet protruding from his front pocket offers instruction in "Great Wall Building for Idiots." His bold yellow tie proclaims, "NY (Hearts) Me." On Donald's back? "Push to inflate head."
The toys' details may betray the political views of their makers just a teensy bit, but it was important to them "to be kind enough, not mean or snarky," says Terrat. "We want to sell the Donald to people who love him or hate him."