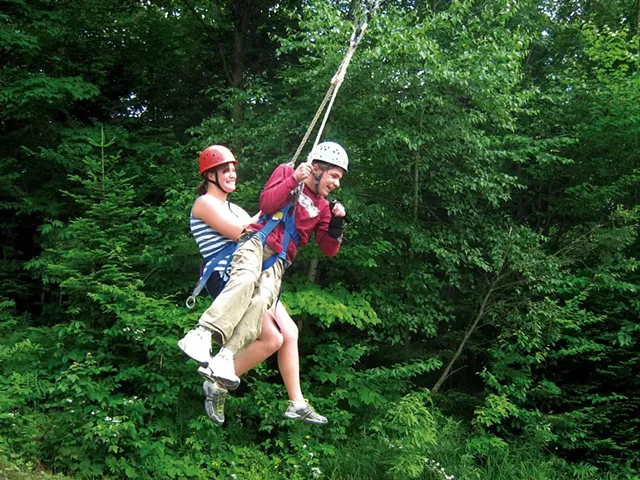 COURTESY OF DEBBIE LAMDEN
Former Partners in Adventure staff member Sarah and camper Chris swing together at Bolton Adventure Center
Thirty-one years ago, Debbie Lamden's priorities underwent a seismic shift when her son, Ari, was born 16 weeks early, weighing just 1.5 pounds. Lamden, who lives in Charlotte, put her career as an artist and owner of a home furnishing shop on the back burner in order to care for Ari, whose premature birth caused him to have cerebral palsy.
Ari came home from the hospital weighing just over 4 pounds. He was on oxygen and had a feeding tube. "All I could focus on from then on was how to provide life to my son," Lamden said.
When Ari was in preschool, Lamden began working for the Vermont Parent Information Center — now part of Vermont Family Network — a group that advocates for and supports families with members who have special needs.
As her son grew, Lamden looked for social and recreational enrichment opportunities for him in the summertime. Several camps said they would be able to accommodate Ari, who uses a walker to get around and sign language to communicate. But when he tried them, Lamden found that because the programs weren't specifically designed to serve kids with disabilities, he ended up getting left out of activities.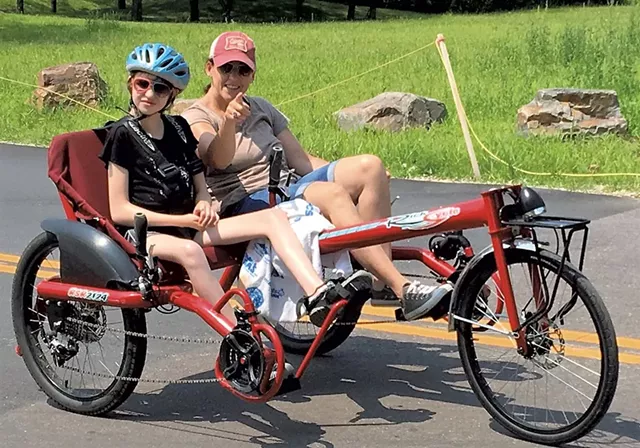 COURTESY OF DEBBIE LAMDEN
Hannah and Shelly on a recumbent bike
"When kids are younger, they play side by side," said Lamden. "But as they get older, they're running here five seconds after they're there." Ari wasn't able to keep up.
Through Vermont Parent Information Center, Lamden surveyed fellow parents of children with special needs. Many said that they, too, wanted recreational opportunities for their kids in which all activities were accessible. So Lamden convened 20 Chittenden County organizations — from parks and recreation departments to Shelburne Farms to Vermont Adaptive Ski & Sports — to start a dialogue about how to make that happen.
The organizations were all enthusiastic, and in 1999, when Ari was 11, Lamden launched the first iteration of Partners in Adventure with the help of another parent of a child with special needs, Sue Minter (not the former gubernatorial candidate). The two-week pilot program, based in an open pavilion along the Burlington waterfront, offered swimming, boating, tae kwon do, horseback riding, fencing and more activities to 35 campers, ages 11 to 22. It was a success, said Lamden, and she has been running — and growing — Partners in Adventure ever since.
COURTESY OF DEBBIE LAMDEN
Boating at the Community Sailing Center with Vermont Adaptive Ski & Sports
The camp now runs for eight weeks every summer and serves around 150 campers who have come from as far as Tennessee, Florida and California. The program uses space in local churches and schools, and campers travel to different locations for swimming, sailing, horseback riding, archery, biking, rock climbing and more. Incorporated as a nonprofit in 2003, it is open to kids ages 7 and up. Because participants never age out, some campers are in their 30s and 40s.
Adaptive equipment — like bendable plastic foils for fencing, a sailboat that allows a person to move the rudder by leaning left or right, and tandem bicycles in which one person provides the pedal power — make activities accessible. Staff members also use outside-the-box thinking to accommodate campers' individual needs. This might look like tapping a tennis ball to the rhythm of a nursery rhyme on the racquet of a camper who is blind and has severe cerebral palsy, or using a sensory sand table as an alternative to an art project for a child with autism who has sensory integration issues, explained Lamden.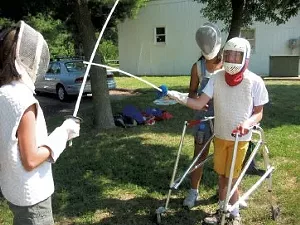 COURTESY OF DEBBIE LAMDEN
Lamden's son Ari fences
Campers attend with a variety of helpers — including parents, one-on-one aides and nurses. Camp staffers are primarily educators who have experience working with kids with special needs; all are trained to work with people with autism. High school students, ages 16 to 18, provide volunteer support. Tuition is $540 per two-week session, with limited scholarships available. Some kids have an Individualized Education Program, or IEP, specifying that they receive support services year-round. In these cases, tuition to Partners in Adventure and the one-on-one aides that accompany the campers are partially funded by the camper's school.
The program isn't just for those with special needs. All young people, including siblings, are welcome to attend camp.
For the past four years, Shelly Waterman of Burlington has sent her now-17-year-old daughter, Hannah — who has a neurological disorder called Rett syndrome and a seizure disorder called Lennox-Gastaut syndrome — to Partners in Adventure, along with Hannah's younger sister, Hadley, who does not have special needs.
COURTESY OF DEBBIE LAMDEN
Ben tries on a firefighter's hat
Before finding Partners, Waterman said she was frustrated that there weren't any fun, social activities Hannah and Hadley could do together. "They deserve the same opportunity as any other siblings," said Waterman.
When Hannah first attended camp at age 13, Waterman served as one of her two caregivers and Hadley came, too. "For me as a mom ... and my daughters as siblings, to be able to have something in common ... made such an impact on our lives," she said. A highlight of camp for Hannah has been horseback riding. For Waterman, it was seeing her girls glide together through the air on a tandem zip line at the now-closed Northern Lights Rock and Ice in Essex Junction. "I cried," said Waterman.
She appreciates the fact that Partners in Adventure is "not a quote, unquote camp for kids with special needs. It's a camp for everyone."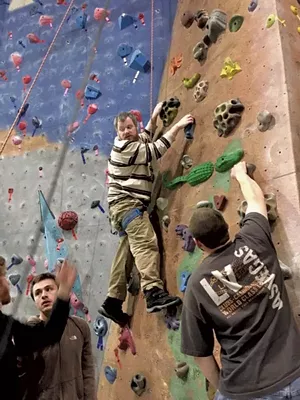 COURTESY OF DEBBIE LAMDEN
Colin climbs at Petra Cliffs
This inclusive spirit is modeled in the way staff members view campers' achievements. "There is no winning or losing, no degrees of success," said Lamden. "We consider everything successful ... I think that has really encouraged the self-esteem building that happens at Partners in Adventure."
After around six years of running the summer program, Lamden began creating opportunities for campers and their families to stay connected during the school year. Now, an additional 350 young people and family members participate in year-round events at various locations in Chittenden County, including a winter camp during February break that has offered ice fishing, skiing, sled hockey and snowshoeing. Fitness Fridays, from 5 to 7 p.m. every week, provide opportunities for swimming, yoga and gym games at different venues. Families gather to go apple picking, tackle corn mazes and walk around the mall, followed by dinner out. There are socials with a DJ and dancing and trips to the movies and bowling alley.
Eva Seyller, 23, has autism and developmental delays. The Essex woman has been attending Partners in Adventure since she was about 11 years old.
Seyller tends to be shy and hesitant in social situations, said her mom, Anna Seyller, but when she goes to a Partners outing, she's always greeted by multiple people immediately, "and within a minute she's doing the activity and laughing and giggling."
COURTESY OF DEBBIE LAMDEN
Tandem biking
Fitness Fridays and monthly Saturday events are still a big part of Eva's social calendar. She has made friends over the years, and so has her mom. "It's just a totally nonjudgmental group," Anna said. "For me, I think I get exactly as much benefit as she does."
Lamden recalled a few memorable experiences in the 20 years she's been running Partners in Adventure. One 16-year-old camper from Burlington who used a wheelchair had spent most of her summers watching television and had never been in the lake, Lamden recalled. At camp, she got the chance to sit in a beach wheelchair and dip her toes in Lake Champlain. "She was just squealing with happiness as her feet got wet," said Lamden.
Then there was the time when Erin, a nonverbal camper with quadriplegia — severely impaired movement in her arms, legs and torso — went zip lining. With her wheelchair securely tethered to the zip line cable, Lamden asked her to signal with her eyes if she was sure she wanted to take the ride.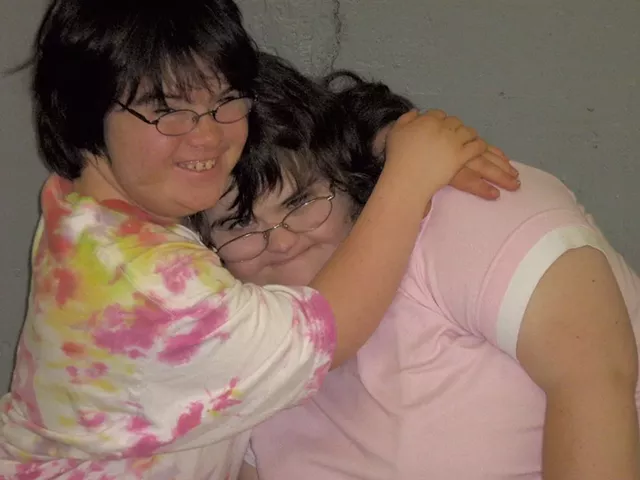 COURTESY OF DEBBIE LAMDEN
Campers Emily and Faith
"Her eyes slowly climbed up to my eyes and then went down... I asked her to do it one more time, and she did... There was this little smile on her face," said Lamden.
After the ride, Lamden asked Erin if she wanted to do it a second time, and she, once again, raised her eyes. Said Lamden: "It was one of the most wonderful moments of my life."