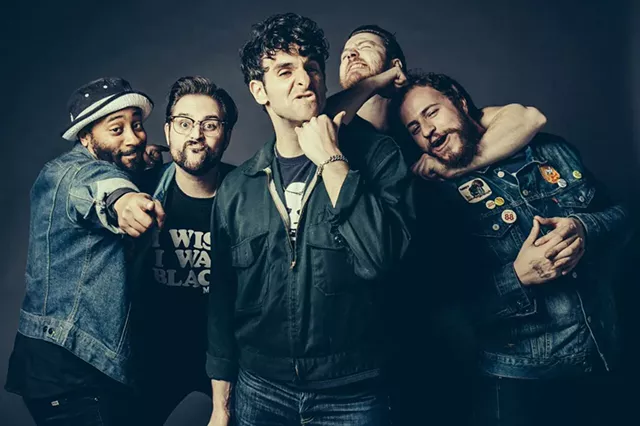 Here are some stats about the sixth annual Waking Windows indie music and arts festival, which runs from Friday, May 6, through Sunday, May 8, in various locations around Winooski.
It features 152 bands, 43 DJs and nine comedians performing at 13 venues over three days and nights in the Onion City.
It has one rotary.
It has one karaoke night.
Of the 24 headliners at this year's fest, 10 are either all-women bands or fronted by women.
Swale drummer Jeremy Frederick will be the busiest musician at WW6. He's playing with six bands.
At least one member of Burlington's Rough Francis will play every day of the festival. In addition to the full band's show on Saturday, bassist Steven Hazen Williams' reconstituted band, My First Days on Junk, play Sunday. On Friday, assorted members of RF play with Los Saicos tribute Asperos Saicos and Last World.
Those are all mildly interesting things to know, right? If nothing else, these tidbits might give you some idea of the scope and scale of Waking Windows, which in six short years has grown to be one of Vermont's marquee music festivals. (See this week's Soundbites column for more on that.) Honestly, though, the preceding info is useful but a little dry. With so many artists performing at WW6, there must be something more exciting, or at least funny, we could find out. Indeed, there is.
Seven Days recently put out a call soliciting random fun facts from artists and organizers involved with WW6. Responses ran the gamut from strange and subtle personal tics to odd celebrity run-ins and, um, porn.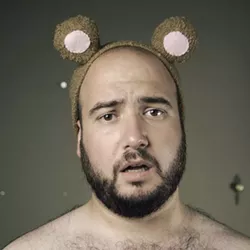 New England-based songwriter Peter Squires recently recorded two songs for an upcoming seven-inch with producer Steve Albini. He also wears an Electrical Audio union suit "all day long."
Paper Castles front man and WW cofounder Paddy Reagan's first concert was Vanilla Ice and MC Hammer.
WW cofounder Nick Mavodones can dock a 65-foot ferryboat.
WW cofounder Ali Fogel is a closet fan of "The Real Housewives" series on Bravo. If she had her own tagline, she says it would be "Lives in Vermont but still sassy."
WW cofounder Matt Rogers is presently the booking agent for World Café Live. He believes he is the son of Clarence Clemons. (He's not.)
WW cofounder Brian Nagle (aka DJ Disco Phantom) went to all of his high school proms dressed in a ruffled, powder-blue tuxedo à la the film Dumb and Dumber.
Nagle also once dubbed Burlington expat songwriter Maryse Smith "the Kendrick Lamar of folk."
These are some of the (mostly) self-designated genres at WW6: snack rock, crime rock, electric desert folklore, New Age punk, indie sock rock, spooky secret mystery, fudge rock, healing crystal pig punk, zazz, punctual punk, nerdcore, drip hop, ratchet jazz, bubblegum twee pop, New Age rage, schizodrift, nomadic disco punk, ephemeral folk, baroque pop, flower goth, lazegaze, ugly pop, Kendrick Lamar folk, pastoral electronic and foxy folk.
Philly rockers Low Cut Connie have one very high-profile fan: President Barack Obama. The First Fan included the band's single "Boozophilia" on a summer playlist he recently compiled on Spotify.
Comedian and "The Daily Show With Trevor Noah" writer Chris Rose, who hosts WW6's "Late Night Basement" comedy show on Saturday, was once on a soccer team with John Oliver and Mike Myers. He says they were "pretty good."
Burlington expat NYIKO hurt his knees in a break-dancing accident in his youth. They still crack when he walks. Also, he can't whistle.
Vermont songwriter Francesca Blanchard has a tiny lisp, which, she says, "No one notices until I point it out." You're welcome, Francesca.
Joe Shepard, the lead singer of Burlington's Shepard's Pie, won a GayVN Award in 2008 for Best Nonsexual Performance for his part in Lucas Entertainment's The Intern. We're just gonna let that sink in for a minute...
Another Shepard's Pie bit: Band member Lily Sickles was once featured in Glamour magazine's "Dos and Don'ts" style section. She was a "Don't."
Local comedian Annie Russell, who hosts the "Cringe! A Night of Humiliation" comedy showcase on Sunday, was once an eyebrow model for a tweezer infomercial. She was the "before" model.
While touring with his band Belizbeha in 1997, Kyle Thompson — aka DJ Fattie B — and some of his band members challenged sax great Maceo Parker and his crew to a game of pickup basketball. Belizbeha got schooled.
Local DJ and Cumbancha employee Drew Brinckerhoff once played "Asteroids" with Jack White. He also once saw Bono in a Speedo on Miami Beach. If you see him, ask him about Hank Williams Jr.'s testicles. Or maybe don't.
Dan Cahill — aka DJ Brunch — won fourth place in the national junior shuffleboard competition in 1992.
Invisible Homes front man Sean Witters holds a doctorate in literature and teaches at the University of Vermont. So, IH bassist Pat Ormiston schedules band rehearsals in his calendar as "doctor's appointments."
Burlington rockers Apartment 3 use a made-up word among members: "cheesiotalio" (pronounced cheesy-o-tally-o). It can be used as a term of endearment or to nonsensically describe pretty much anything. If you see an Apartment 3 boy on the street, shout "cheesiotalio" at him, and he will respond with "cheesiotalio" with similar gusto.