Ever since the legendary Barcade opened its original location in Brooklyn in 2004, many members of Generation X have dreamed of owning their own adult arcades.
But 36-year-old neuroradiologist Joshua Nickerson is far from typical. Traveling the country, he often found himself at adult arcades such as Ground Kontrol Classic Arcade in Portland, Ore., and Recess Arcade Bar in Austin, Tex. — where he saw the model was working. And the passionate, lifelong gamer with a day job at Fletcher Allen Health Care wanted in.
Nickerson and partner Thom Dodge opened Tilt Classic Arcade and Ale House in South Burlington, adjacent to Palace 9 Cinemas, on July 1. Dodge, a restaurateur most recently of Hinesburgh Public House, explains that the pair wasn't satisfied with serving drinks with a side of pinball. "The biggest difference is that none of the other [bar arcades] serve food of any note," he says.
Tilt breaks that pattern. Dodge and chef Thom Corrado have crafted one of Vermont's most accessible gastropub menus. And, while the food is designed to appeal to nonfoodie gamers and late-night restaurant-industry crowd alike, the ingredients are almost universally local, organic and GMO-free.
How do they strike that balance? Dodge says he prices most items higher than chain restaurants do, but on par with or more cheaply than most nearby locavore spots. "Occasionally we get someone who says the prices are too high, but they're probably people who eat in different locations than farm-to-table locations," he says.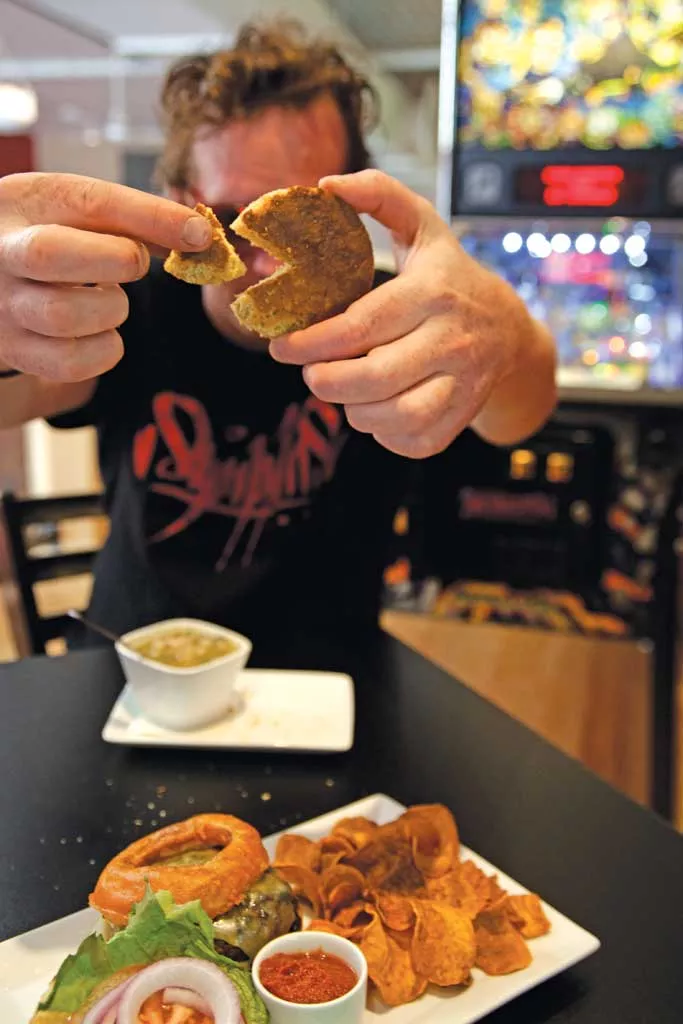 Dodge admits that he expressed himself less diplomatically recently when a party complained about the size of the hard-to-source GMO-free wings. "I told them, 'When they [chickens] eat and live and give their lives for us, that's what they look like,'" he says. When the diners persisted in finding the wings too small, Dodge told them, in good humor, "All right. We'll go to the hormone factory."
Of course, Dodge won't be looking to source from factory farms anytime soon, any more than Nickerson would quit his day job at the hospital for Tilt. "My joke to [Dodge] when we started was 'The best place to have me is there [at Fletcher Allen], for me to be making money for this stuff,'" Nickerson says. "I'm not going to change careers — I went to 30 years of school for this!"
Tilt's visually rich story can't be told in words alone. Welcome to an anatomy of Vermont's unique new business model.
The Game Master
Arcade culture was in its prime in the 1980s and early '90s, and Tilt's selection of arcade cabinets reflects that era. The establishment's newest game is 1994 driving game Cruis'n USA. Pinball selections range from 1979's partly wooden Gorgar to new Stern Pinball games with themes such as Tron, AC/DC and Metallica.
Essentially, Dodge and Nickerson are running a hands-on museum, populated by technical relics that need to be kept in working order. Even newer pinball games can prove problematic. "South Park's got a lot of moving parts," says Dodge of the 1998 machine. "Kenny likes to swallow the balls and not give them back."
Enter Jake Blend, a software engineer with a passion for fixing games. One of the business' first Facebook fans, Blend regularly comes in before opening hours to repair or upgrade the outmoded technology, replace power packs and LCD screens, and fix sticky buttons. Dodge, too, has learned some basics such as changing oil packs and replacing motherboards.
Occasionally those repairs need to happen during service. On one recent night, the Street Fighter II machine was down. On another, Blend could be seen fiddling with the inside of the Lord of the Rings pinball machine, its complex guts of wires splayed almost indecently, while customers pushed past him to play The Addams Family pinball machine.
Burger Time
When Nickerson trademarked the name Tilt three years ago, his vision for the business' food was limited to mozzarella sticks and chicken wings. But he knew that he needed an experienced restaurateur to lead him. Fortunately, one of his colleagues was Dodge's wife, who introduced the two.
The result is a menu that includes mozzarella sticks and chicken wings but reflects a creative take on those pub staples. For the fried-cheese treat, Maplebrook Fine Cheese mozzarella is blended with cheddar and served in pinball shapes. The wings come from Pennsylvania GMO-free supplier Murray's Chicken, the only company Dodge could find to supply the chicken in such bulk. They're best bathed in tangy espresso-Bourbon barbecue sauce.
"I don't really cook anymore," says Dodge. "It's all [chef Thomas Corrado] taking my ideas and putting them into a practical application." Corrado is a Hinesburgh Public House and Guild Tavern veteran who also happens to be a Middlebury geography grad — and a vegan.
Corrado says much of Tilt's bill of fare consists of dishes he wishes he saw on more pub menus. Vegan plates include a balanced chile verde sweetened with Citizen Cider and paired with a crumbly round of cornbread cut in a Pac-Man shape. It's one of three items on the menu that the chef can eat, the others being a veggie tostada and hummus infused with Fiddlehead Brewing IPA.
Among nonvegan options, Corrado says he'd like to add more entrées, such as the moules frites he recently introduced. But the breakout item among diners is, predictably, the burger.
Tilt's signature burger is made with Vermont Family Farm beef and topped with aioli, 1-year-old Shelburne Farms cheddar and a single onion ring. ("The one ring," Nickerson says, pointing out the reference to The Lord of the Rings.) Vermont Family Farm also provides the pork for a patty that's paired with 5 Knives Vermont Smoke and Cure bacon and a blue-on-blue combo of funky Bayley Hazen Blue cheese and sweet blueberry-shallot jam.
The Game of the Week is Corrado's chance to get more adventurous. The menu recently featured a Duck Hunt sloppy joe, and this week, there's an alpaca burger made with a patty from Perkinsville's Cas-Cad-Nac Farm. "I would love to serve goat, too," he says.
When the main meal is done, diners can get an uncommon sweet finish. Tilt serves scoops from Island Homemade Ice Cream floating in Rookie's Root Beer, Rookie's Ginger Beer, Citizen Cider and oatmeal or chocolate stout.
Tapper
Craft food is one thing, but Tilt's 24-tap line is attracting a fan base of its own. Blackboards posted behind the bar give equal attention to the revolving drink and game lists.
Recently, Tilt's tap list has leaned on brews from local luminaries such as Lost Nation Brewing, Zero Gravity Craft Brewery and Rock Art Brewery. But the selection is far from dogmatically local, with cult favorites such as Dogfish Head Craft Brewed Ales, Sixpoint Brewery and Peak Organic Brewing.
Cans aren't restricted to hipster beers, either. It's not uncommon to see a Pabst Blue Ribbon or Bud Light resting in one of the games' cup holders while someone tries their hand at Bad Dudes.
The cocktail list allows Nickerson to let loose with his admittedly dorky taste for naming items after games. The Golden Axelrod, named for the newly arrived 1989 Sega game Golden Axe, consists of orange juice mixed with Green Mountain Distillers vodka and garnished with a curved grin of bacon. The Hadoken, made with Rookie's Ginger Beer and habanero-infused vodka, burns just like the fiery "surge fist" move in the Street Fighter series.
Most nights find more women than men sitting at Tilt's bar — many of them, Dodge says, enjoying a drink and a nice, quiet dinner while their husbands hit the cabinets. "It's like adult babysitting," he says of the arcade. No wonder drinks account for 65 percent of the business' revenue so far.
Tech Romancer
Tilt's late-night food and drink options, available until 2 a.m. on weekends, have quickly attracted a restaurant-industry crowd. Dodge says he's working on an industry night, and is negotiating with cab companies to bring downtown Burlingtonians to and from Tilt so they can enjoy the drinks and games safely.
Ultimately, Tilt is about wholesome fun — for proof, just look at the pair of ladies challenging each other to a game of Mortal Kombat, the fortysomething rediscovering the joys of Robotron or the parents introducing their kids to a relic from their childhoods. And, yes, that Robotron player is 49-year-old Dodge, who currently holds the record on Tilt's machine.
Nickerson and Dodge agree that the greatest part of seeing their idea come to fruition is watching customers' faces light up as they scan the two-story room, laden with pieces of their pasts. "It's primal happiness — for us, too. For me, too," says Dodge. "I get butterflies when I come in here almost every day. It's exciting."
The original print version of this article was headlined "For the Love of the Game"