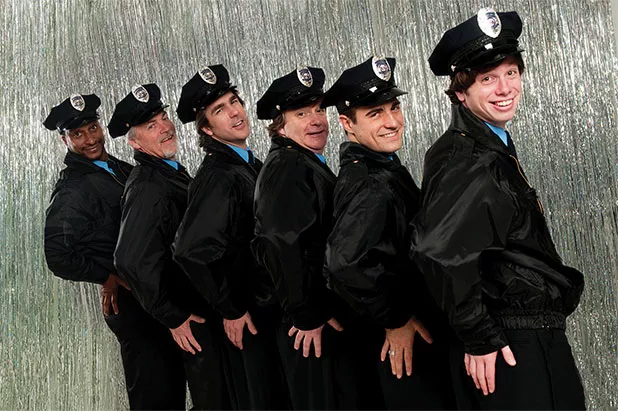 Lyric Theatre has earned a reputation over the past 35 years for serving up family-friendly entertainment. The company's new show, a raunchy romp about male nudity and shifting gender roles, should prove no exception.
The Full Monty tells the tuneful and timely story of six men who have been laid off from a steelworks in Buffalo, N.Y. (The original steel town in the 1997 movie was Sheffield, England.) Depressed and bored, they decide to try to make money by staging a strip show modeled on a Chippendales performance their wives and girlfriends eagerly paid $50 to attend. But these blue-collar beer guzzlers are more clunky than hunky. How are they going to entice an audience?
Well, the Chippendales dancers left their G-strings on, so this bashful but desperate troupe promises to go one less: the full Monty.
Lyric producer Erin Evarts knows the show's risqué content may make some potential ticket buyers hesitant. But she's confident its feisty theme and funny, affecting plot will appeal to even the most traditional tastes. "Anyone who gives it a chance will appreciate the show's values," Evarts assures. "These guys are doing all they can to save their homes and their families."
Certain staging "precautions" have been taken, as well, notes Steve Kendall, who plays the part of the pot-bellied Dave Bukatinski. For example, Lyric's version drops fewer of the f-bombs that peppered the Stowe Theatre Guild production of Monty this summer.
But most of the actors are still a bit nervous about showing off what they've got on the Flynn MainStage for 1400 pairs of ogling eyes.
"Put me on a podium to give a speech before a crowd of 10,000, and I'm fine," says Kyle Dodson, director of Champlain College's Center for Service & Civic Engagement. "But ask me to do something like this in front of a crowd of even five, and I'm like, Oh, my God…"
Dodson, cast in the role of Noah "Horse" Simmons (a "big black man"), describes any kind of acting as his "area of least comfort." He does have prior stage experience, however, having played Dodo the Clown in a sixth-grade pantomime.
Tim Maynes, an English teacher at Vergennes Union High School, confesses to having been "really anxious" before stepping on stage in Stowe in the role of the geeky Malcolm, which he's reprising at the Flynn. "I changed a lot through that experience," Maynes says. "It made me more comfortable with my body."
Kendall, a Morrisville banker who also appeared in Stowe's Monty, says the actors draw inspiration from parallels between the characters' situation and their own. In each case, amateurs are trying to muster the courage to take off their clothes in front of a howling audience. By the time the musical reaches its rousing final number, "Let It Go," the actors, like the men they play, are empowered to go all the way.
"I had a guy call me in my office after seeing the Stowe production," recalls Kendall, who played the flabby Bukatinski there as well. "He said, 'You're my hero and a hero to every middle-aged guy who's not exactly buff.'"
The six men are also summoning strength from one another. "Relationships are the reason I do community theater," says Kendall, whose parents performed with Lyric as well. "I wouldn't have met most of these guys if it weren't for this show."
They don't have much in common, workwise. In addition to a college administrator, a banker and a high school teacher, the core male cast includes a restaurant manager (Matt Parisi), a biologist-drummer (Roy Cutler) and the production manager of Precision Switch Design in Stowe (Erik Freeman).
And they're certainly not doing it for the money. None of the 20 performers or the eight members of the artistic team or the dozens of crew workers are being paid for a time commitment that can exceed 200 hours. "It's adequate compensation to tell a good story and to be part of a great group of people in a high-intensity situation," Cutler says.
He and the other five men, interviewed following a four-hour Sunday rehearsal at the New England Ballet Conservatory on Shelburne Road, said they drew closer through an early October gathering at Freeman's home in Stowe. "It started off almost as a caricature of a hard-core macho bonding thing," Dodson recalls. "We were playing pool and poker and drinking beer."
Soon, though, the scene shifted. "We actually spent most of the evening talking about our kids and our relationships," Cutler adds. "We were sharing our feelings."