James Buck
Richard Watts and Cory Dawson (left) with members of UVM's Community News Service
Ray Small wasn't expecting to get rich when he moved to Vermont to buy and run the Hardwick Gazette in 2017. But he did like the idea of working with reporters, handing out story assignments and righting the kind of small-town wrongs that can be corrected by the media spotlight.
Five years later, Small's team of freelance writers has dissolved, leaving him with one correspondent who is paid $40 per story to cover Hardwick and Wolcott. Unwilling to pay another correspondent, Small has turned to college students and community volunteers to serve as his news writers.
While their work doesn't always hew to standard journalism practices — his volunteers sometimes report on events they themselves are involved in — Small said he knows that people in town appreciate the newspaper.
"They come up and tell me it's providing a public service," he said.
The Gazette exemplifies the fight for survival faced by community newspapers across Vermont and the country. In the last two decades, the advertising that pays a newspaper's bills has shifted to social media and elsewhere online. Between 2005 and 2020, the U.S. lost one-fourth — 2,100 — of its newspapers. During roughly the same time, the number of reporters and editors employed by newspapers dropped from 71,000 to 35,000, according to a 2020 report on local news from the University of North Carolina at Chapel Hill.
Unable to afford paid reporters, community weeklies such as the Gazette struggle to cover the news at all or rely on volunteers with no training in how to do the job.
Enter the University of Vermont. Building on a 3-year-old journalism program for undergraduates, in February the school launched a series of free online classes for anyone interested in learning how to write for local newspapers.
Participants who follow through and volunteer at a local media outlet can get free coaching and editing help from the experienced editors employed by the UVM program.
"The biggest need is covering local government and the important things happening at the local level that help citizens be informed," Richard Watts, the program's director, said. "Right now, we rely on Front Porch Forum for that, but that really tends to be: Whoever has an opinion submits it."
Watts, a senior lecturer and director of UVM's Center for Research on Vermont, started the school's undergraduate reporting and documentary storytelling program in 2019. It has grown quickly into a de facto journalism school with the companion purpose of bolstering local news reporting in Vermont. With a team of professional editors to guide them, students are deployed to selectboard and school board meetings for about a dozen local newspapers, including the Hardwick Gazette, the Barton Chronicle and the Shelburne News. The program, known as the Community News Service and which is expected to have 40 students this semester, also produces an online newspaper devoted to Winooski news.
Watts got the idea for the new, open-to-all online class when Lori Augustyniak, the publisher of the Cabot Chronicle, asked him about training opportunities. Neither she nor the paper's editor had had any journalism experience before starting the monthly.
Augustyniak tried to register for the UVM class, but it filled up too quickly. She said she'd like more guidance about the ethics of covering news in a small town where reporters can end up writing stories about people they know.
"How do you cover your neighbors in an issue that might be a little contentious?" she asked. "As a newspaper publisher, I want to make sure our reporters would be able to handle that."
You don't need a formal degree in journalism to work in the business, according to Cory Dawson, who teaches the class — only curiosity, a sharp eye for detail and a sense of fairness.
There's clearly an interest. A few hours after registration opened for the first class, News Fundamentals + Intro, all 20 slots were filled with teachers, librarians and volunteer journalists. Another two dozen or so people were on a waiting list for the next six weekly sessions, which will include instruction on such basics as interviewing techniques, how to write a news story, working a beat and journalism ethics.
In his first class, on February 1, Dawson explained to the Zoom participants that community newspapers can keep local municipalities connected and accountable. Indeed, many of the students told Dawson they hoped to write for local newspapers because they felt existing news outlets weren't covering the stories they wanted to see, including the workings of local government.
A reporter's job, he told them, involves more than sitting through and summarizing selectboard meetings and sporting events. Selecting what's newsworthy requires judgment, institutional memory and a genuine desire to understand the inner workings of a place.
Among other questions, he addressed the issue of what to do when a source asks to review or edit a story.
"I admit that I have asked this," one of the students responded.
While it's fine to make sure a fact is correct, Dawson replied, it's not OK to check in to see whether the source likes the story. The reporter's first responsibility is to the reader, he explained.
"This is a matter of fairness, a matter of integrity. It [would give] the source who is requesting this a lot of unfair influence over the piece," he said. "Your motive is to make sure the story is clear and informative, not to placate anybody."
Digging is often necessary to find out what is going on behind the press releases and official announcements that flow out of government offices, he continued. Dawson explained that many of the tools are free, including Google's advanced search features, which allow the user to narrow a query into a specific domain, such as vermont.gov. He walked his students through the process of finding newspaper articles published before the internet on websites such as newspapers.com and Barrons.com. He also detailed LexisNexis, a subscriber-only research site used in many newsrooms and available free of charge at some public libraries.
The most critical of these tools, Dawson said, is the public records request any individual can make to state or federal offices for an array of documents, including texts, emails, notes and calendars.
"They inevitably land more information than ... expected," Dawson said. He went on to cover some practices for successful interviewing, including how to discuss what "off the record" means with a member of the public.
It was all useful info for Ken Signorello, an unpaid reporter for the Essex ReTorter, a monthly print newsletter that started up three months after the Essex Reporter newspaper went online-only in April 2020.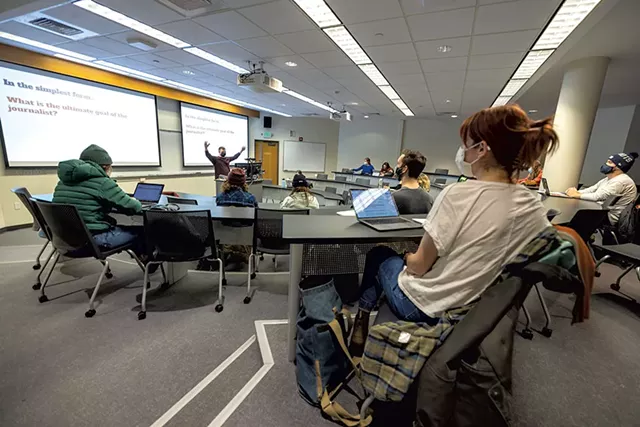 James Buck
Cory Dawson teaching UVM students
Signorello and the ReTorter's editor, Irene Wrenner, were prompted to start the publication after years of involvement in the local dispute around merging the town and village of Essex Junction. Wrenner, a former chair of the Essex Selectboard, is well known in town as a longtime, vocal opponent of the merger, which was rejected by voters last year. She's paying out of her own pocket to have 2,000 copies of the four-page paper printed and dropped off on doorsteps.
The paper covers selectboard races and other local news, as well as a new effort to completely separate the village of Essex Junction from the town.
Wrenner said the time she spent on the selectboard helps her to explain what's going on more clearly. Signorello, too, is a well-known opponent of the merger. But the two claim that they can write about the news objectively, despite their involvement in it.
"I cover it from this perspective of: Darn it, we have to have the fourth estate holding people's feet to the fire, because the average well-meaning resident who comes to the meeting is overwhelmed by the tsunami of information and the intimidating environment that is set in the boardroom," Wrenner said. "The whole setting is not user-friendly." She's on the waiting list for Dawson's course.
Most community newspapers aim to be objective. Dawson detailed how professional reporters are prohibited from having any financial or other interest in the topics they cover; if the connection is unavoidable, the paper publishes a disclosure.
The Essex ReTorter is not the only local media outlet in Vermont with such conflicts. Thetford's weekly online Sidenote is run by a former selectboard member and staffed by a current member.
While Watts supports the idea of volunteers contributing stories to newspapers, he warned against having public officials write those stories.
"Journalists should not be personally involved in the story that they are covering," he said in an interview. "If you're on the selectboard, you should not be reporting about the selectboard."
But editors who employ volunteers don't always have that luxury.
"The trouble is, who the heck is going to become a reporter?" Signorello asked, acknowledging that it might be difficult for a reader who knows him well to believe he can view the town-village discussion objectively.
He also knows that most newspapers can't afford to pay a living wage: "There's only us. There's nobody else willing to do the job."
The News Fundamentals course, which Dawson plans to repeat in early spring, is there to educate people who want to learn more about journalism and provide professional guidance to those already doing the work.
"If you are doing community journalism like this, a solid foundation can really get people off on the right foot," Dawson said.
But can it save a paper such as the 133-year-old Hardwick Gazette? In 2010, the paper was robust enough to cover the biggest embezzlement case in Vermont history, when employee Joyce Bellavance stole $1.67 million from the Hardwick Electric Department. Ten years later, in spring 2020, the Gazette discontinued its print edition; late last year, its historic downtown building went on the market.
When Small published a call for volunteer correspondents, about a dozen people from neighboring towns signed up, and he met with them in January to go over some newswriting tips. The volunteers prefer to write about community events and don't want to cover selectboard and school board meetings, Small said, so he's given up on providing local government coverage of those outlying towns for the time being.
Small is relying on volunteers and student reporters this year as he applies for nonprofit status for the Gazette and looks for other ways to keep the paper going. Right now, he and his wife are subsidizing it, but they can't do that forever. Using volunteers might allow him to publish enough news to spark donations, he said.
"The idea sinks or swims on the proposition that people want to read about their town, and in order to have that continue, some of them are willing to write about their town," he said. "If that's not true, or not sufficiently true, then this and any number of other papers will close."