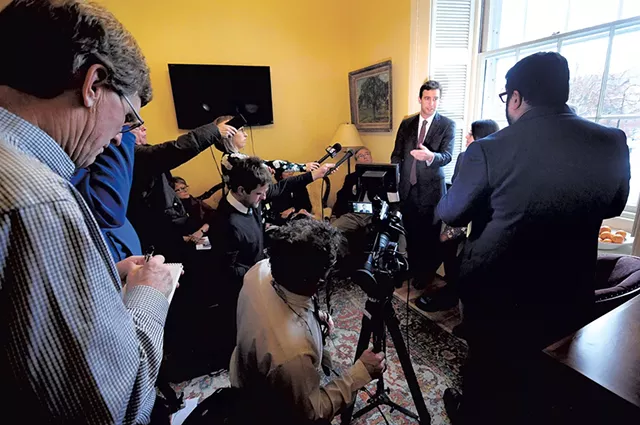 Stefan Hard
Tim Ashe speaking to reporters
In May 1999, then-congressman Bernie Sanders was on the hunt for a front-desk assistant in his Burlington office. His old pal, University of Vermont philosophy professor Richard Sugarman, recommended a favorite student who had just completed a thesis on the Czech playwright-turned-president Václav Havel.
Twenty-two-year-old history and English major Timothy Ashe was game. "I had no job prospects at the time," he recalled.
A few days later, just before graduation, Sanders' outreach director, Phil Fiermonte, called Ashe without warning and told him to show up for an interview with the congressman in 30 minutes.
"I protested that, in fact, I had no appropriate interview clothes and I hadn't shaved," Ashe said. "Phil said, 'Don't worry. All he cares about is that you get here on time.' And so I literally threw on a pair of Dickies and a T-shirt and ran to Church Street."
Chris Pearson, then a young Sanders staffer, still remembers Ashe's entrance.
"In walks this, shall we say, scruffy-looking guy," Pearson said. "He had just sort of rolled out of bed."
Despite his bedraggled appearance, Ashe evidently impressed Sanders during the 20-minute interview.
"My recollection was, we both just said, 'Oh, yeah. He's a sharp guy. He'll do well,'" Fiermonte said. "There was no question."
Last month, nearly 18 years later, Fiermonte sat in the gallery of the Vermont Senate as its members unanimously elected Ashe president pro tempore, empowering him to lead the institution and set its policy agenda. In the eight years since he entered the Senate as its first Democratic/Progressive hybrid, he had won over even his most skeptical colleagues as a whip-smart policy wonk with considerable political savvy.
Now 40, Ashe retains the air of a scruffy, cocky twentysomething. He can be "sarcastic and cynical and cheeky," as Sen. Michael Sirotkin (D-Chittenden) put it while nominating him for the position. But Ashe's studied nonchalance masks a seriousness of purpose — and intense ambition: He's widely seen as a future contender for governor or Congress.
As Fiermonte watched the proceedings that day, he was surrounded by Sanderistas made good: Pearson, now a newly elected state senator, stood near another former staffer, Sen. Anthony Pollina (P/D-Washington), as both swore their oaths of office. On a window seat across the room sat fellow Sanders acolytes Doug Hoffer and David Zuckerman, who would be sworn in as state auditor and lieutenant governor.
"Having been involved in the small-p progressive movement for decades, it's very gratifying to see," Fiermonte said of the quiet revolution. "We've made a lot of progress."
When the new pro tem took the dais, he quickly made clear how a Progressive city councilor from Burlington had taken over a chamber long controlled by aging centrist Democrats. One by one, he flattered, praised and roasted his colleagues — noting that the body included a Vietnam veteran, trucking company owner, ordained minister and, pausing for effect, a "nonprofit administrator who hails from the perhaps unfortunate birthplace for a politician of Thief River Falls."
Grinning at Sen. Jeanette White (D-Windham) as the chamber erupted in laughter, Ashe said, "It happens to be the senior senator from Windham."
The speech wasn't all jokes. Invoking the late socialist writer Michael Harrington, Ashe sounded a conspicuously leftist call for an activist government ready to fight for what he characterized as "the other Vermont" — or, those facing economic hardship.
"Put simply, there's no shortage of legislative work needed to improve the lives of Vermonters," he said. "And this will not and cannot be a thumb-twiddlers' club."
It was the sort of sentiment that Sanders himself might share, but expressed in a wholly different manner. Unlike his old boss — a combative, cantankerous outsider — Ashe has established himself as the ultimate insider.
He spent years cultivating the Senate's old guard — Sen. Dick Mazza (D-Grand Isle), Sen. Jane Kitchel (D-Caledonia) and Sen. Dick Sears (D-Bennington) among them. And when the pro tem's office opened up last April, he immediately emerged as their favorite.
"He made it his business to develop strategic alliances," said Sen. Claire Ayer (D-Addison), who ran against Ashe for pro tem. "It wasn't anything smarmy or dishonest. It was just deliberate and effective."
Ashe's detractors tend to question his loyalties: Is he a true-blue liberal or a power-grabbing accommodationist? Is he still a Sanderista, or has he become a mini-Mazza?
For now, at least, Ashe can afford to be a little bit of both. As he wrapped up his opening speech, he seemed to have the entire Senate — Progressives, Democrats and Republicans alike — wrapped around his little finger.
"It left me feeling as if we were all part of one family and not divided in our respective roles," Sen. Joe Benning (R-Caledonia) gushed.
But leading the ideologically diverse Vermont Senate will be considerably more difficult than delivering an effective speech. No longer just one of 30, Ashe will have to build consensus, tame egos, secure legislative victories and negotiate effectively with a new and popular Republican governor, Phil Scott. As Scott himself noted, presiding over the Senate for the last time as lieutenant governor, it won't be easy.
Standing together at the podium, Scott told Ashe, "You might want to stay up here for a little bit longer, because this might be the last time they clap for you collectively."
New Regime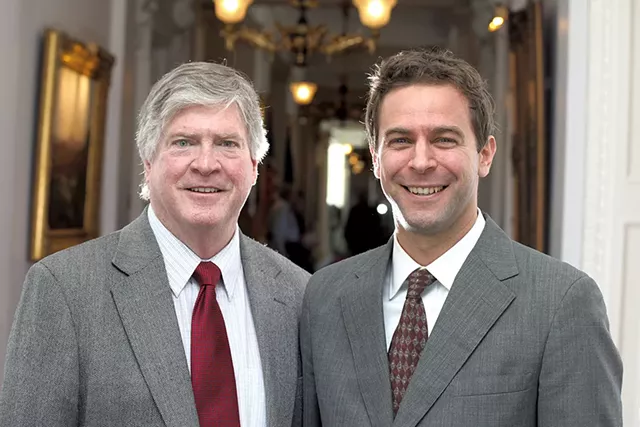 Matthew Thorsen
John Campbell and Tim Ashe
The next Tuesday, Ashe strolled into his new Statehouse office and greeted a pack of reporters and photographers gathered for the first of what Ashe promised would be weekly briefings for the news media.
It was a departure for the office of pro tem, whose last occupant, Democrat John Campbell, assiduously avoided the press. Then again, much of Ashe's approach appears to be a departure from the Campbell era.
During his six years as pro tem, the Quechee Democrat showed little interest in managing the 30-member Senate — and even less in steering it toward a coherent policy agenda. The resulting leadership void empowered committee chairs — including Ashe, who spent four years running the tax-writing Senate Finance Committee — but it also sowed discord and confusion.
When he ran for pro tem, Ashe promised to change that by bringing "consistency, predictability and good communication" to the body. He also pledged to bring the Senate to the people.
"I want every committee to get out of the building a bit," he told the reporters in his cramped office, explaining that each panel would hold field hearings around the state. "I think it's actually refreshing and reminds people that a lot of ideas come from outside the building — not just inside the building."
Seated to Ashe's right was his newly hired chief of staff, Peter Sterling. Unlike his predecessors — typically young political operatives with limited experience — the 48-year-old Montpelier resident has spent two decades in Vermont advocating for progressive causes. The former Sanders campaign manager said he was willing to leave a more lucrative job as a health care reform lobbyist because he viewed the new pro tem as "just so serious about policy."
"There are other leaders who care about that less — who enjoy politics more," Sterling said.
"He does his homework," Sears said of Ashe, with whom he's served on the Senate Judiciary Committee. "He's the kind of guy who sits down and reads the damn report."
Ashe's legislative interests are varied. He's worked with Sears on the Judiciary panel to enact privacy protections for individuals and reform the juvenile justice system. As chair of the finance committee, he has sought to rein in corporate tax breaks by requiring an explicit statutory purpose for each. And his efforts to make the tax code more progressive — by limiting deductions for the wealthy — nearly drew a gubernatorial veto in 2015.
That's led some critics to characterize Ashe as an unabashed tax-raiser.
"He's certainly been a point person involved with six-plus years of state budget growth," said Vermont Republican Party chair David Sunderland.
Kitchel, who chairs the Senate Appropriations Committee, disagrees, arguing that Ashe is more fiscally conservative than his reputation might suggest.
"He wants public dollars to be spent well and to be accountable," she said.
If there's one common theme to Ashe's work, it's a suspicion of influential institutions. He has questioned the University of Vermont Medical Center's rapid expansion and fought Green Mountain Power's merger with Central Vermont Public Service.
"My legislative career has been characterized by a strong view of progressive government and an interest in making sure we hold the largest, most powerful institutions accountable," he said. "Even when it's awkward and creates tension and you feel like you're out there kind of alone."
Now that he's pro tem, Ashe will have to decide what to put first: his agenda or those of his colleagues, many of whom are more conservative.
Asked at the press briefing whether he would throw his weight behind a bill mandating universal background checks for those purchasing firearms, Ashe paused for a moment and chose his words carefully.
"It is a division within the caucus, frankly, so at this point I think we're kind of taking stock," he said.
When a similar bill came before the five-member judiciary committee two years earlier, Ashe was one of just two members who supported universal background checks. That provision was stripped from the bill, and the committee went on to pass a watered-down version.
Ashe said his views hadn't changed on the matter, but neither had those of the three committee colleagues who opposed it last time. And he wasn't about to use his newfound power to change their minds.
"On this particular issue at this time, the answer is no," Ashe said. "I will not be using this office to tell members of the Senate that they're going to get a bill out of a committee if it doesn't have majority support."
'Kennedy Democrats'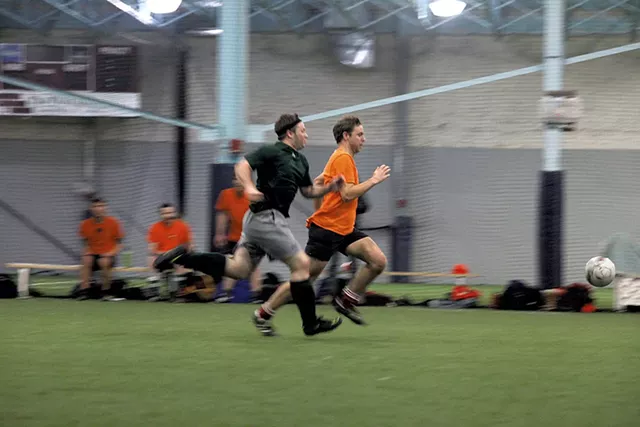 Matthew Thorsen
Tim Ashe (front) playing soccer last Thursday in Shelburne
Growing up in Holliston, Mass., halfway between Boston and Worcester, Ashe was far more interested in soccer than in politics. His parents were "Massachusetts Kennedy Democrats," according to Matt Ashe — one of three older brothers — and both parents were civil servants: his father a chief of probation at Framingham District Court, his mother a speech pathologist and language-arts teacher. Neither is particularly political, according to their sons.
"He's probably a debater because we were four boys at the dinner table, arguing about pretty much anything we could," Matt said of Tim.
Unlike his older brothers, who attended Catholic schools, Ashe graduated from public Holliston High School, where he served two years as class president. At UVM, he focused his studies on post-Soviet transitions in Eastern and Central Europe. Before taking the job in Sanders' office, he said, he expected to go into teaching or academia.
"He was one of the top students I ever had," said Sugarman, who has taught at UVM since 1970. "He doesn't flaunt his intellectual acumen, but he's a very, very bright, perceptive, engaged student of life and learning, and now politics."
After three years with Sanders, Ashe left Burlington to seek a master's in public administration at Harvard University's John F. Kennedy School of Government. Soon after he returned, in 2004, he won a seat on the Burlington City Council and took a job at the Champlain Valley Office of Economic Opportunity, where he advocated for residents of mobile homes.
"My entire adult working life has been working with people who don't have a lot of money and who are kind of left behind in our American economic system," he said.
Ashe spent eight years at Cathedral Square, a Burlington-based nonprofit that develops and manages affordable housing for the elderly. He left Cathedral Square two years ago, he said, when his legislative duties got in the way. Now, when the Statehouse is out of session, he teaches economics part time at Johnson State College and Community College of Vermont.
"I am actually calling it a bit of a sabbatical," he said, "as I think about what my next, longer-term occupation will be."
The self-described "jock" spends his free time watching Premier League soccer and playing on local club teams. Last Thursday, he ducked out of the Statehouse early to join his Lakeside Dachshunds at a playoff game in Shelburne.
After three terms on the city council, Ashe ran in 2008 for one of six seats representing Chittenden County in the Vermont Senate, defeating the seventh-place finisher by a narrow margin.
Though he had previously identified as a Progressive, Ashe sought the Senate seat as a Democrat and Progressive. He attributes the decision to his distaste with that year's gubernatorial race, during which Pollina, then a Progressive-leaning independent, and Democrat Gaye Symington split the left-of-center vote and handed the election to incumbent Republican Jim Douglas.
"I remember thinking to myself, This seems totally nuts that we have two people of high integrity who are essentially saying the same thing on every major policy," Ashe recalled. "And yet I'm watching all their enthusiastic supporters spend most of their time and energy going after each other."
Despite the D after his name, Ashe was greeted with caution when he showed up at the Statehouse.
"The chatter was, 'Here comes this raging Progressive liberal who's going to turn the entire Senate on its head.' There was a lot of fear and trepidation," said Gov. Scott, who was serving in the body at the time. "But I was pleasantly surprised. I just found him to be very inquisitive and bright and friendly and willing to listen."
Ashe's hybrid approach didn't work as well in the fall of 2011, when he made the last-minute decision to seek the Democratic and Progressive nods for mayor of Burlington. During a marathon, four-way Democratic caucus, which it seemed for a moment he'd won, Ashe tied airport commissioner and political novice Miro Weinberger for the party's nomination. In a runoff two weeks later, he fell to Weinberger 655-533.
The 35-year-old state senator was devastated by the loss, but he immediately backed Weinberger rather than proceed to the general election as a Prog.
"I was and am struck by how gracious Tim was after we finally had a result at that caucus," said Weinberger, who won the general election the next March and has served as mayor ever since.
Ashe attributes the loss in part to "the perception that I had been a hand-in-glove supporter" of the incumbent Progressive mayor, Bob Kiss, whose administration had misspent $17 million of taxpayer money propping up municipally owned Burlington Telecom. With the benefit of hindsight, Ashe claims the defeat was good for him.
"I think the kind of humility that comes with losing a race is actually a pretty powerful thing, which I hadn't experienced before," he said.
'Three-Dimensional Chess'
Matthew Thorsen
Tim Ashe
Ashe sat stone-faced last Tuesday in the Vermont House chamber as Gov. Scott delivered his first budget address. He clapped politely as the new governor called for more funding for early childhood education and the Vermont State Colleges System, but he kept his hands anchored to his lap when Scott unveiled the centerpiece of his budget: a radical restructuring of the state's education finance system.
The pro tem knew what was coming. Earlier that day, the governor had briefed him and other legislative leaders on the plan, which entailed freezing school district budgets, raising teachers' health insurance premiums and raiding the state's education fund to pay for the proposed pre-K and college spending.
"I'm asking you to remember: Vermonters need this," Scott told the Democratic legislators in the room. "Please don't instinctively lock up with resistance to change."
When the speech ended, Ashe summoned his top committee chairs to the pro tem's office to deliver a unified response. This, too, would have been unthinkable in the Campbell era, when each member of the leadership team would have gone his or her own way.
"Thanks for joining us in this intimate, salon-style room," Ashe said with a grin. "We'll be doing a literature reading after."
Ashe led with a conciliatory tone, telling reporters that the Senate had been seeking "as many areas of common ground with the administration as possible — particularly as they get their sea legs underneath them."
Then his education committee chair, Sen. Phil Baruth (D/P-Chittenden), went in for the kill.
"It was like being offered a gorgeous buffet lunch, but you know that in order to eat it, your kids are going to go with two meals in the day, rather than three," Baruth said.
Ashe seemed to agree, but he assured reporters that the Senate would "kick the tires on all these proposals."
The pro tem's measured response was typical. It was too early to know how Scott's plan would be received — by his caucus and the public — so he seemed to be playing it safe.
"He tends to keep his cards pretty close to the vest," said Ayer, echoing a common assessment of Ashe.
His allies see that guardedness as a strength.
"In order to be successful in the day-to-day grind of enacting good legislation, you can't always put your cards on the table," said lobbyist Vince Illuzzi, a Republican who served with and mentored Ashe when they served together in the Senate.
"He plays three-dimensional chess when other people in the building are playing checkers," said Sen. Kevin Mullin (R-Rutland), who served under Ashe on the finance committee.
But his inscrutability irritates his adversaries, who complain — almost always off the record — that Ashe is a meddler, more interested in playing games and winning them than getting policy right. He's known for keeping a legislative proposal in his back pocket and pulling it out at the last possible minute in end-of-session negotiations.
Hamilton Davis, a journalist and former legislator who follows health care policy closely, is one of the few doubters willing to put his name to the criticism. Calling Ashe "cagey," he questions what he sees as knee-jerk opposition to UVM Medical Center's growing dominance over the state's health care system.
Davis, for one, thinks the senator's reputation as a policy guru is overblown.
"I haven't heard a single word in tens, dozens of hours of listening to Ashe ... that tells me he grasps the essentials of how health care systems work," Davis said. "Not a single word."
Ashe does not take that, or any, criticism lightly.
"Ham Davis reminds me of Mr. Potter from It's a Wonderful Life," he countered. "He has mischaracterized the efforts of some members of the legislature in a self-serving attempt to go back in time and succeed at health care reform back when he was involved 20 years ago."
Ashe's antagonism is often directed at the corporate lobbyists who roam the Statehouse halls and are used to getting their way with legislators. During his time running the finance committee, Ashe was dismissive at best and, at worst, downright rude to them. He would refuse to meet with their clients and ignore them in the Statehouse halls. No doubt the perception of Ashe as a "snob," as one lobbyist put it, is exacerbated by his trademark eye roll and smirk.
"He has a little bit of a devilish side, but it's not mean or anything," Sen. Richard Westman (R-Lamoille) said in Ashe's defense.
"I think he thinks [lobbyists are] a corrupting influence, and he doesn't have time for them," said Ellis Mills Public Affairs lobbyist Kevin Ellis, who has spent more than 25 years in the profession. "And they're an unnecessary filter between the client and the legislators."
According to Ashe, there's a good reason for his standoffishness: "I have been very determined to make sure that issues don't catch on in a committee just because there's a lobbyist in the room being paid to promote it."
He continued: "It feels like they're coworkers, in the sense that you pass them in the halls 100 times a day, and most of them are very nice people. But they're not our coworkers, and they're not who we represent."
Nevertheless, since taking over as pro tem, Ashe has extended an olive branch to the lobbying set and the special interests they represent. In the two days before the session began, he arranged to meet with nearly 20 groups for 15 minutes at a time — including those that represent hospitals, state troopers and fuel dealers.
The "speed-dating" meetings were designed to brief Ashe on the groups' priorities, he said, but also to "kind of reset the relationship." Now that he's pro tem, he seemed to be saying, he couldn't just ignore those with business before the Senate.
"Look, I get that I'm in a different job now," he said.
'The Disclaimer'
File: Jeb Wallace-Brodeur
Tim Ashe greets outgoing Gov. Peter Shumlin
Near the end of his opening remarks to his colleagues last month, Ashe acknowledged the elephant in the room — or, as he put it, "the disclaimer."
He was referring to Seven Days publisher and coeditor Paula Routly, his longtime domestic partner and — full disclosure — this reporter's boss.
"I have a disclaimer to make," he said, riffing on the ubiquitous italicized text that announces their relationship at the end of Seven Days stories that mention him prominently. "I could not be here as a senator — I could not be here as your pro tem — without the support of Paula for the last 14 years."
The two began dating in 2002, shortly before Ashe left for the Kennedy School and two years before he would run for public office. As he climbed the political ladder, their relationship became more complicated — and public. Seven Days began running the disclaimer, and the two established a firewall, they claim, limiting the information they share with one another to avoid a conflict of interest.
"Our relationship is complicated by our respective obsessions with journalistic integrity and legislative confidence-keeping," Ashe said in the speech, adding that it "can be frustrating to live by this firewall."
Routly declined to speak to me on the record about her domestic partner, saying she would prefer written questions — an arrangement I declined. But in a March 2012 story for Seven Days, she described how she had recused herself from campaign coverage when Ashe ran for mayor.
"All of a sudden, Seven Days reporters were huddling without me," she wrote. "Nor was I welcome at home, where the Tim Ashe for Mayor campaign was strategizing several nights a week."
Following Ashe's elevation to pro tem last month, Routly again recused herself from the paper's political coverage — this time indefinitely — as part of a new Seven Days conflict-of-interest policy. (That policy prevented her from playing any editorial role in this story, including its initial assignment.)
Despite their efforts to remain on the up-and-up, doubters remain.
"I've heard jokes over the years about how I run Seven Days, and I kind of bristle at it," Ashe said. "I think it's kind of sexist for people to say that."
Others, including Sen. Alice Nitka (D-Windsor), think the paper's policy is "overboard" and actually advantages Ashe.
"It's basically free advertising for him," she argued. "When you're in this business, your name is what counts — and to see it on so many pages!"
Ashe may, in fact, be advantaged by his proximity to Seven Days staffers. He is an annual presence at the paper's holiday party, and the couple occasionally host reporters at their Lakeview Terrace home. When I got married last fall, I invited Routly — and Ashe as her plus-one. And when she threw him a 40th birthday party last December, Routly invited me and several other Seven Days staffers, though she discreetly reminded me that the pol-studded party was off the record.
Routly, for one, has argued that their relationship actually reduces Ashe's coverage.
"The irony: Tim probably gets less ink in this paper than he would if I didn't work here at all," she wrote in the 2012 piece. (Case in point: This is the first time Seven Days has profiled Ashe, despite his longtime role in Chittenden County politics.)
Years ago, according to Ashe, the late Seven Days political columnist Peter Freyne confirmed that suspicion.
"He said, 'Well, I can't put you in the column too much, because it'll look like I'm doing it because you're sleeping with my boss,'" Ashe recalled.
A 'Ridiculous' Question
In an interview last month on WCAX-TV, anchor Eva McKend asked Ashe what everyone in Montpelier has been wondering: "What are your political ambitions?"
Before she could finish her question, he flashed her a mock-exasperated look and said, "Oh, gosh."
"You ran for mayor. You're now president of the Senate," McKend continued. "Do you want to be governor?"
"You know what?" he began, exhaling dramatically while attempting to conceal a grin. "I'm not even — I mean, that's kind of a ridiculous question."
In fact, it is not.
Three of the last four Democratic pro tems — Doug Racine, Peter Welch and Peter Shumlin — used the post as a stepping-stone to higher office: lieutenant governor, congressman and governor, respectively. And the latest pro tem is every bit as ambitious as his predecessors.
Ashe would bring to a statewide race some clear advantages: his Senate soapbox, his Sanders association and his name recognition in Chittenden County — home to a plurality of Vermont's electorate. Though he barely won his first Senate race, he has topped the field in two of his last three elections.
But Ashe would also face some serious barriers, including a dearth of offices to seek. For the past decade, three men — Sen. Patrick Leahy (D-Vt.), Sanders and Welch — have occupied the state's three congressional seats, and none seems interested in retiring.
That's created a bottleneck for younger aspirants, including Zuckerman, Attorney General T.J. Donovan, former transportation secretary Sue Minter, former House speaker Shap Smith and Weinberger, to name a few. Surely all might take an interest in the next open seat.
"I wouldn't be surprised if [Ashe] was governor someday," said Sen. Dick McCormack (D-Windsor), who has served in the Senate on and off since 1989. "Or not! In my time here, I have seen so many people who have seemed inevitable. Sometimes it doesn't happen."
For all his chops inside the Statehouse, Ashe's outside game isn't as strong. Unlike Zuckerman, he hasn't spent years cultivating activists around the state. Unlike Donovan, he doesn't seem to get a charge out of glad-handing strangers. And unlike Sanders, he has yet to land on a simple, tidy narrative to sum up his political philosophy.
"He's very willing to question anything — including progressive dogma — and that rankles many people," said Pearson, the state senator and former Sanders staffer.
That was certainly the case during Shumlin's unsuccessful quest for single-payer health insurance. Though Ashe characterizes himself as a proponent of universal coverage, he became a leading skeptic of the governor's doomed efforts to finance it.
"I don't believe that just because you have that goal, you treat lightly the details of what is the management of a $6 billion sector of the economy," he explained. "I will never apologize for asking questions publicly to try to get it done right."
That attitude has won him at least one unexpected fan: Kirby conservative John McClaughry, a former Reagan adviser and founder of the Ethan Allen Institute.
"I think he's a guy who has an open mind and is not imprisoned by some kind of ideology," McClaughry said, comparing Ashe favorably to those who "whistle up the Bernie Sanders webpage to find out what they're for."
Ashe's address to the Senate after taking over as pro tem appeared to be an effort to rebrand himself — and to clarify what motivates his work. In the weeks since, he has returned repeatedly to the theme of fighting for "the other Vermont." It's a logical way to thematically bundle the challenges the Senate is facing, from poverty to mental health to substance abuse.
By the end of last week, Ashe seemed ready to show his cards. Scott's education overhaul was falling apart — and, with it, much of the rest of his budget proposal. Legislative analysts were questioning the administration's math, Democratic lawmakers were calling the plan "dead on arrival" and even Republicans were giving it a wide berth.
Scott was still holding out hope that his old friend, Ashe, wouldn't leave him hanging.
"He's always been willing to at least consider every proposal," the governor said.
That appeared to be wishful thinking.
"The budget proposal has a few serious problems, and they range from 'Is it possible?' to 'Is it desirable?' to 'Is it legal?'" Ashe said last Friday. "And on all three fronts, it's not a rosy picture."
If Scott can't come up with a plan B, he continued, "It does mean that we now have to develop, essentially, our own budget."
And that, he said, "is the kind of work I've always enjoyed."
Disclosures: Tim Ashe is the domestic partner of Seven Days publisher and coeditor Paula Routly. Hamilton Davis is the husband of Seven Days assistant editor Candace Page. Find our conflict-of-interest policy here: sevendaysvt.com/disclosure.