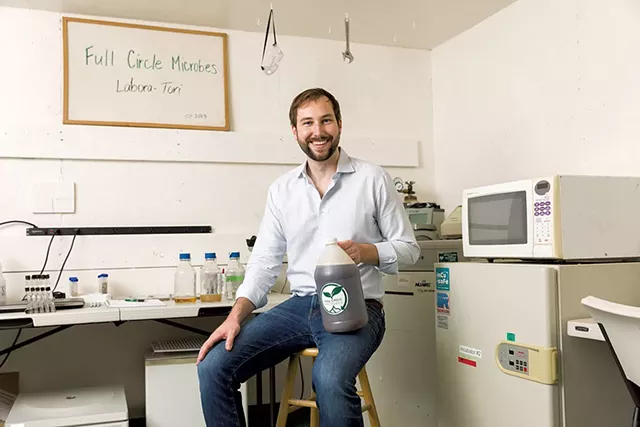 Oliver Parini
Charles Smith
September marks the start of hemp harvest season in New England, but this year Vermont's landscape has far fewer skunky-smelling fields. Many growers passed on planting the crop in the spring due to a combination of factors, including an oversupply of hemp from 2019, record low wholesale prices earlier this year, higher state registration fees and the COVID-19 pandemic. The Vermont Agency of Agriculture, Food and Markets reported just 1,540 acres registered for hemp production in 2020, down from more than 9,000 acres last year.
Facing tough market conditions, Vermont hemp farmers who stayed in the game are doing whatever they can to gain a competitive edge. But some have discovered an advantage that's been right under their noses all along: converting their discarded hemp waste into fertilizer.
In June 2019, Justin Decatur of Wintermute Cannabis Collective planted 10 acres of hemp on fields in Ryegate and South Hero. He treated some of his plants with a conventional, off-the-shelf fertilizer — the control group — while others were fed an experimental fertilizer made of hemp waste that had been inoculated, or seeded, with a laboratory-formulated blend of bacteria and fungi. A third set of plants was fed a combination of the two fertilizers.
"I wasn't expecting much," Decatur said, "but every plant we inoculated outperformed the control group. It was definitely surprising."
And lucrative. The hemp plants treated with the experimental microbial blend generated a 9 percent higher yield than the plants treated with only conventional fertilizer. And the plants that received both fertilizers had a 16 percent higher yield than the control group.
"We were very excited by that result," said Charles Smith, cofounder and CEO of Full Circle Microbes, a Hinesburg-based startup that developed the proprietary mix of microorganisms. Last year's pilot project at Wintermute confirmed what Smith and his team had long suspected: that discarded hemp by-products, which normally are a burden for farmers to get rid of, can be turned into a low-cost, high-yield fertilizer that's healthy for the farmer's wallet, the soil and the planet.
The 2019 pilot project also yielded Full Circle Microbes a different burst of green. In May, the company was awarded a $225,000 grant from the National Science Foundation to develop its next generation of microbial inoculant.
Smith, 30, began working on this technology almost three years ago. In October 2019 he founded Full Circle Microbes with his college friend Sam Ross, who has a background in environmental economics. As Smith explained, they set out to solve a problem associated with Vermont's burgeoning cannabis industry: How can farmers utilize their abundant piles of hemp waste in a fast, cheap and eco-friendly way?
On a typical Vermont hemp farm that raises the crop for the retail cannabidiol (CBD) market, 40 to 60 percent of the plant gets cast aside as an unused by-product, despite the fact that it is rich in nitrogen and other nutrients. In other types of hemp farming, such as hemp grain and seed production, as much as 90 percent of the plant is discarded.
Hemp waste can be composted like other agricultural waste. However, the plant's tough, fibrous nature — a characteristic that makes it desirable for manufacturing durable products such as paper, rope and cloth — also make it more difficult and time-consuming to compost. Hemp stalks contain lignin, a polymer that doesn't break down quickly on its own. As a consequence, hemp farmers often burn their waste piles or leave them to decompose naturally. That decomposition, which can take a year or more, releases methane and carbon dioxide, which contribute to global heating.
Smith and Ross worked with Dr. Victoria Holden, a microbiologist and Full Circle Microbe's vice president of research and development, to produce a blend of naturally occurring bacteria and fungi that digest the lignin molecules. When this microbial soup is applied to hemp residue, the material decomposes into a nutrient-rich fertilizer in as little as two to four weeks, depending upon weather conditions.
Smith explained how it works. The process can all take place on the farm, eliminating the time, labor and expense of transporting the waste off-site for processing. After the hemp has been harvested in the fall, the remaining stalks and leaves are fed into a wood chipper, which increases their surface area, speeds their decomposition and makes the finished product easier to handle as fertilizer.
Next, the chipped hemp biomass is inoculated with Full Circle Microbe's proprietary blend, then stored in sealed containers or covered with tarps. This step reduces the availability of oxygen and allows anaerobic fermentation to break down the lignin molecules.
Deborah Neher, a soil ecologist and professor in the Department of Plant and Soil Science at the University of Vermont, described this novel use of hemp waste as "a win-win for the farmer and the environment."
Neher, who is collaborating with Full Circle Microbes for research purposes only and has no financial stake in the company, explained via email that the microbial inoculant doesn't just speed decomposition. It also has disease-suppressive qualities that kill hemp pathogens while colonizing the soil with beneficial microbes. And, because the hemp residue can be used during the following year's planting season as plant food, Full Circle Microbes also can reduce the need for synthetic fertilizers by as much as 50 percent.
Though Full Circle Microbe's inoculant was formulated in a lab, all of its microorganisms are found naturally in Vermont soil, making the product safe and acceptable for use on certified organic hemp farms. As Neher put it, "I cannot think of any risks or downsides to the process."
The size of Full Circle Microbes' potential market in Vermont is difficult to measure, given that neither the Agency of Agriculture nor the Vermont Agency of Natural Resources tracks how much hemp waste is generated annually. Unless the cannabis plants are grown for Vermont's medical marijuana dispensaries or are processed using hazardous materials — some CBD production involves the use of ethanol, which must be removed afterward with a high-tech centrifuge — the state has no mandates on hemp waste disposal.
But Smith sees huge growth potential for Full Circle Microbes, due in part to the company's deliberate focus on the cannabis plant itself. While some of his competitors produce microbial inoculants used in general composting, he said, "We think there's a lot of value to be gained by focusing on one individual plant [species] at a time."
Based on Smith's own numbers, the potential return on investment to growers could be huge. Full Circle Microbes' inoculant, which is sold by the gallon, costs the farmer about $250 per acre, Smith noted, which in the pilot project yielded an additional 63 pounds of salable hemp per acre.
"Based on the current wholesale price for CBD flower," he said, "that translates to an additional $10,000 per acre for the growers."
Currently, Full Circle Microbes is working mostly with Vermont growers, but Smith has also been in discussions with hemp farmers in Maine, Colorado and California. The company's patent-pending technology also has potential uses in the adult-use and medicinal marijuana industries, where the return on investment would be even better than hemp because it sells for a higher price.
Nevertheless, Smith said that, for now, Full Circle Microbes is targeting primarily the CBD hemp market to avoid any legal snafus with the National Science Foundation over marijuana's federal status as an illegal drug.
Ultimately, he believes this technology can help reduce the environmental footprint of cannabis farming, regardless of why the plant is grown.
"We want this to be a huge benefit to farmers," Smith said, "and by presenting a really compelling business proposition, it makes it a lot easier for them to adopt these environmentally friendly practices."