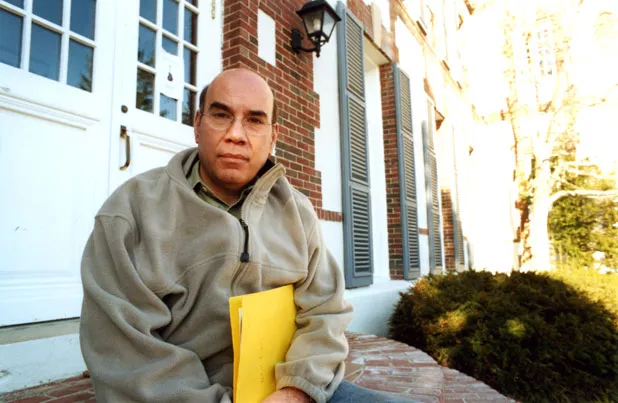 For the Frost 28, it will be a case of poetic justice. For the scholar, it's a chance to fill a gap in the educations of the youths who sacked Robert Frost's summer home.
"My instinct was that if the schools had taught these people about Frost," Jay Parini, a professor at Middlebury College, said, "this wouldn't have happened."
The author of an acclaimed biography on Vermont's first poet laureate, Parini will teach two court-ordered classes for the young men and women charged with vandalizing Homer Noble Farm in late December. The classes, scheduled for later this month and in early June, were the inspiration of Addison County State's Attorney John Quinn, who proposed it as a condition of the sentences handed down by District Court Judge Helen Toor.
"I thought that if these kids learned something about Robert Frost and his life they'd have more respect for Frost in the future," said Quinn, who had come to "treasure" some of Frost's poems as a student at Vergennes Union High School and St. Michael's College.
Ignorance was indeed a factor in the vandalism that occurred at Homer Noble Farm on the night of December 28, admits Jacob McDowell, a Middlebury Union High School senior who was charged with unlawful trespass and unlawful mischief. McDowell said he and the others involved didn't know Frost had summered at the farmhouse from 1939 to 1963.
"If classes at school had taught me more about our surroundings and Frost's role," he said, "I don't think things would have gotten to this point."
Twenty-eight people were charged in the wake of a drinking party that resulted in more than $10,000 in damages to the farmhouse. Antique furnishings and windows were smashed, artworks were destroyed; a few of the young drunkards even vomited and urinated on the floor and walls.
Quinn said that "for the most part," the vandals are "good kids." Even the party's organizer, Middlebury Union High student Andrew Ford, "didn't intend for all this to happen," Quinn said. "It just got out of hand." Ford's sentence - $3500 in restitution to the college and 100 hours of community service - was among the stiffest punishments handed down so far. One partygoer was sentenced to three days in jail.
Parini's own view of what happened at the Homer Noble Farm has shifted over time. At first, he thought the vandalism was an act of desecration directed at Frost. Later, he said, "I came to realize it was actually about a party, that these kids didn't know much of anything about Frost."
Pairini aims to rectify that through the classes, which are being organized by the Addison County Court Diversion and Community Justice Projects. "I've recently given talks on Frost in Chile, Morocco and the Middle East and was able to connect with people who may have only limited English," he said. "When I recite a little bit of Frost, the simple language resonates."
Parini plans to base the sessions on two Frost classics: "Stopping by Woods on a Snowy Evening" and "The Road Not Taken." He wants the vandals to understand how Frost "was able to speak as a common man, a farmer in Ripton, and in that voice relate all the important things to know in life."
Once class is dismissed, Parini said he will have "done what can be done" in the pursuit of justice in the case. As for the perpetrators, he added, "Where they take it will be their business."
McDowell, the vice president of Middlebury's teen center, has already completed 40 hours of community service. He has also borrowed a book of Frost poems from a local library. "I've really liked some of them," he said. "I'm coming to appreciate who he was."