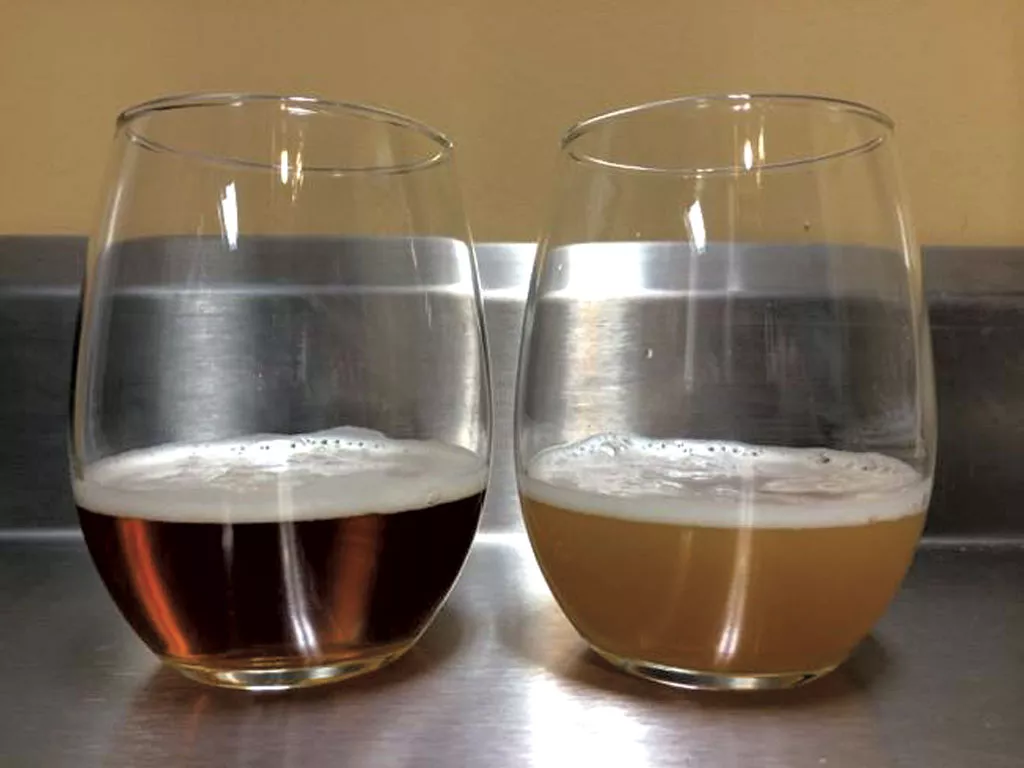 Courtesy Of Frost Beer Works
Beer has been flowing at Frost Beer Works at 171 Commerce Street in Hinesburg for a few weeks now. Last weekend, owner Garin Frost held a hush-hush pint night for friends, family and brewery drop-ins, but this Saturday, he says, he'll invite the public in for a taste.
Frost has been homebrewing for years on what he calls a "fairly substantial commercial pilot brewery" in his basement, but he says the idea of opening a brewery kept nagging at him. When he sold his Hinesburg business, Vermont Print and Mail, to nearby Minuteman Press, he held on to the real estate. "I always thought this would be a great place for a brewery," Frost says. As more and more businesses opened in town, the idea started to seem too prescient for him not to give it a shot.
In the past several months, Frost has installed a seven-barrel brewhouse in the space, along with eight fermenters and bright tanks, a bottling line and a tasting bar. More recently, he hired his first employee: brewer Mike Lieser, who joins the company as an alumnus of the master brewing program at the University of California, Davis, and stints at Colorado's Avery Brewing and Oskar Blues Brewery. Lieser will help with brewing and general operations, since Frost plans to keep his nine-to-five gig for the foreseeable future.
Frost says he'll self-distribute the beer, making it available at the brewery in growlers and kegs, and at retailers in 22-ounce bottles. Look for those bottles in stores in the next month or so.
Until then, those interested in sampling the new brew will have to schlep to the brewery, which is open all day on Saturdays and Sundays. This weekend, Frost plans to offer four beers, including a Cascade single-hop pale ale, an IPA and two double IPAs, each brewed differently using some combination of Citra, Simcoe and Cascade hops.
Of his initial lineup, the brewer says he initially planned to focus on German-style beers. "I didn't want to be pressured into brewing the kind of beers that I didn't drink," Frost explains. But then "I started to take a liking to IPAs," he says, "So I started making IPAs." For now, Frost says, he's deliberately limiting his palette to a few different hop varieties and malt profiles, exploring materials he's familiar with so he can ensure the results he seeks. "All of my ales are similar in terms of the grains and hops," he says.
Frost Beer Works will be open on Saturday and Sunday, March 21 and 22, from 10 a.m. to 8 p.m. For updates on the Saturday event, check the brewery's Facebook page.