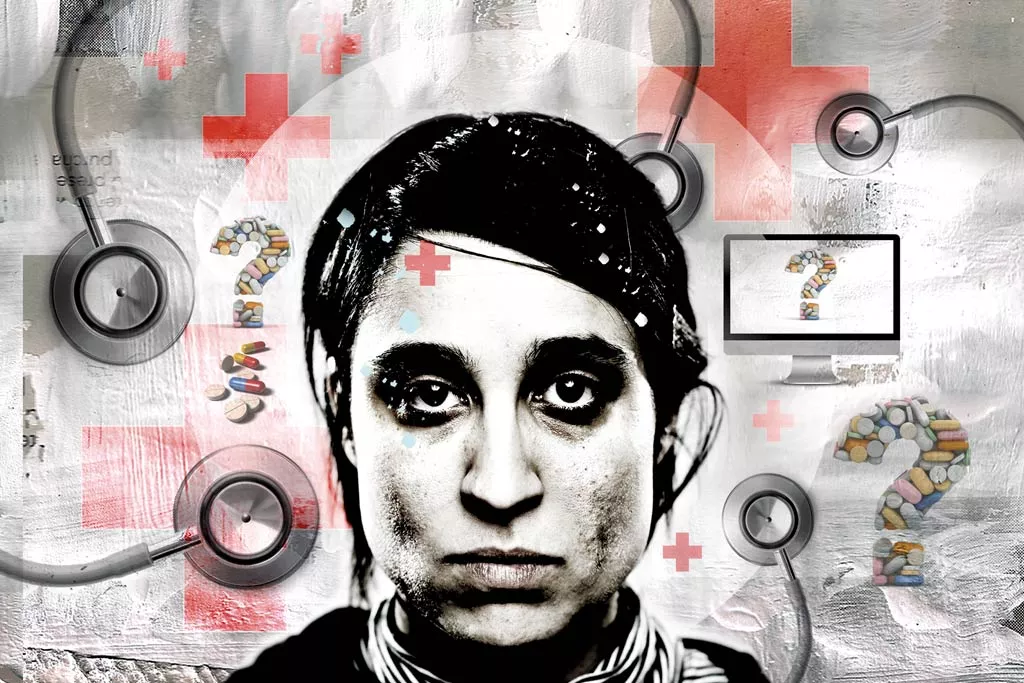 Nearly a year after Vermont Health Connect went live, the state's online insurance exchange still has a number of gaping operational holes into which plenty of Vermonters have fallen — even disappeared.
When Seven Days put out the call to readers for stories about their experiences with the exchange, we heard tales of endless phone calls, maddening hold music and conflicting answers from well-meaning but ultimately unhelpful customer-service representatives.
"I spoke to Diane, Amy, Leslie, Rebecca, Sharon, Josh, Lindsay," rattled off Sandra Hawkes, a part-time teacher in Essex. "I was calling every day." She's still trying to figure out why she's received a bill for a premium payment that her bank says was processed six weeks ago.
In Shelburne, one woman worked for weeks to obtain an insurance number after signing up for the system and paying her premium for months. She finally got it, but 10 days later she received an entirely different set of ID numbers.
"I am a huge supporter of the Affordable Care Act and what the state is trying to do," said Amber Roberts, a 29-year-old mother of one in Danville who waited weeks and weeks for her family's insurance cards to arrive, "but it just seems like everything went wrong."
Seven Days also heard from a small number of happy customers. Jennifer Williamson, a 39-year-old naturopathic physician in Burlington, said she had gone without health insurance prior to this year because it was just too expensive. Through the exchange, Williamson's family qualified for generous premium tax credits based on their income. They signed up in time for Williamson's husband to get coverage before a surgery related to his Crohn's disease. "It was super simple signing up for it," said Williamson. "I couldn't be happier."
Generally speaking, though, complaints vastly outnumbered reports of client satisfaction.
Broken Bones, Broken System
In January, East Dorset graphic designer and illustrator Dale Coykendall, 58, logged on to Vermont Health Connect to purchase health insurance for herself and her husband, Richard Farley. She chose the plan that most closely resembled her previous coverage under Blue Cross and Blue Shield of Vermont — or so she thought.
A bill never arrived; Coykendall chalked it up to what she'd heard in the news about glitches plaguing the website. Her husband reminded her to follow up on the bill, but Coykendall admits she "let it slip."
In March came a rude and scary awakening: A skiing accident landed her husband in the hospital for a week with a broken clavicle and ribs and a punctured lung. To her horror, Coykendall learned that Vermont Health Connect had no record of her insurance application from January. "I would just call them for days on end, and send emails," she recalls. She got a call back once — when she was out of the house. By April, it was a little easier to get someone on the phone, but not any easier to iron out her situation. Again and again she was told that she'd have insurance — as of April 1, which wouldn't cover her husband's hospital stay.
"I was just freaking out," said Coykendall. Her husband's hospital bills alone were $27,000. "I should have been on the phone from January [on]," she says. "I just didn't realize how messed up it was."
Intervention by Rep. Patti Komline accelerated Coykendall's case when the Dorset Republican got in touch with someone "higher up," Coykendall explains. Even so, the answer Coykendall continued to get was not the one she wanted: coverage as of April 1. She bounced around between several departments, landed on the phone with countless helpers and then miraculously, one morning, got a new answer: The hospital bills would be covered after all. She remembers asking the woman on the phone, "'Did you just wander in there and pick up the phone?' All of a sudden, it just changed." Coykendall still doesn't know what happened — or why.
She's able to pay her premiums online now, and as of early July had an insurance number to give to providers. But she's still warily waiting to see how the bills from March shake out.
"It's like any health insurance we've ever had," she says — except what is and isn't covered "is like this terrible mystery."
Zero for Three
It was a matter of pride for Kerry Comollo, 55, that she was able to offer health insurance to the employees at Vermont Kitchen Supply, the retail stores Comollo owns in Manchester and Brandon. But after attending a few seminars and then crunching the numbers, she realized they might get a better deal — get more health care coverage for less money — by going through Vermont Health Connect. Lower-wage workers typically qualify for subsidies by going that route; they don't when covered through an employer-sponsored health care plan.
Like her employees, Comollo went on Vermont Health Connect to choose an individual plan. She wasn't thrilled about the one she selected. Her premiums went up, and the copays and deductibles were more expensive than they had been, too. But she paid her premium — only to learn, when she filled a $188 prescription, that the pharmacy couldn't find a record of a valid insurance plan.
She started calling around — first to Vermont Health Connect, then to Blue Cross and Blue Shield of Vermont. She got different answers from both systems. "It's like watching people try to hang wallpaper without arms," says Comollo; the two systems just didn't seem to communicate. "It just takes 10 gazillion phone calls."
Her premiums had seemingly been applied twice to the months of March and April, but not for May and June. In trying to get to the bottom of the problem, she wound up with three different insurance cards with three different policy numbers. A few days ago, she got an email threatening cancellation because of "nonpayment," though she's still paying her premium every month.
"I have no idea if I have insurance right now," she says. "I have no clue." She said the employees at Vermont Health Connect have been polite and friendly, but ultimately Comollo has little faith in the system. She's been routinely told that if a provider or pharmacist can't pull up her insurance plan, she should pay out of pocket and submit her claims later "after this gets all cleared up," she says. "Well, I don't have a whole lot of faith about it getting all cleared up."
Queued Up
Kim Desjardins, 35, lives in Essex. Because neither Desjardin's job as a part-time art teacher nor her husband's work in retail offered benefits, the couple previously relied on the state's Catamount Health plan for insurance. Desjardins knew going in that her plan on the exchange would cost more money. Her premiums went up, and some of her Catamount benefits — including waived copays and medication costs under a chronic care management plan — disappeared.
Desjardins waited until almost the end of the open enrollment period to switch to the exchange, but she never considered going without insurance. She has a chronic mental health condition that requires a monthly prescription and weekly visits to her provider.
Her trouble started when Desjardins made a mistake while signing up online. "The jargon was too technical for me to understand," she says, and she missed the chance to sign up for the tax credits for which she and her husband qualified. "It was so easy to just click, and then it was like, 'Oops, you're screwed for three months.'"
When she called Vermont Health Connect to get the situation sorted out, she landed in the infamous queue of thousands seeking a "change of circumstance." Meanwhile, Desjardins still needed to see her doctor for weekly visits, but she didn't have any insurance information to provide. Her provider let her keep her appointments, but offered Desjardins this advice: "You're your own advocate. You can get lost in the shuffle. Make it one of your jobs to really make it happen."
It took three months, and countless phone calls, but Desjardins' situation is finally sorted out. Even so, she spent an hour on the phone recently trying to change her online password and to pay her premium — only to be told, in the end, to mail a check.
"Something isn't connecting," she says.
Looking Ahead
Roughly 7,000 Vermonters are in situations similar to the one described by Desjardins. They're waiting in a long "change of circumstance" queue of people who can't automatically update their health insurance plans online. That's down from more than 14,000 earlier this summer, but according to a report from the state's new contractor, IT company OptumInsight, an additional 4,000 Vermonters are also experiencing billing problems.
Earlier this month, the state decided to part ways with the Canadian contractor CGI, which did all of the initial work on the health exchange. The transition to OptumInsight will take place through September, by which point the state is estimating it will have paid nearly $70 million to CGI for a website that still isn't fully functional.
Meanwhile, there's a new deadline looming: Open enrollment for next year's health insurance plans begins on November 15. Optum's latest report to the state warns that Vermont Health Connect should have contingency plans in place to manually process renewals — in case the website is not yet fully functional.
The original print version of this article was headlined "Health Care on Hold: Tales from the Front Lines of Vermont's Online Exchange"