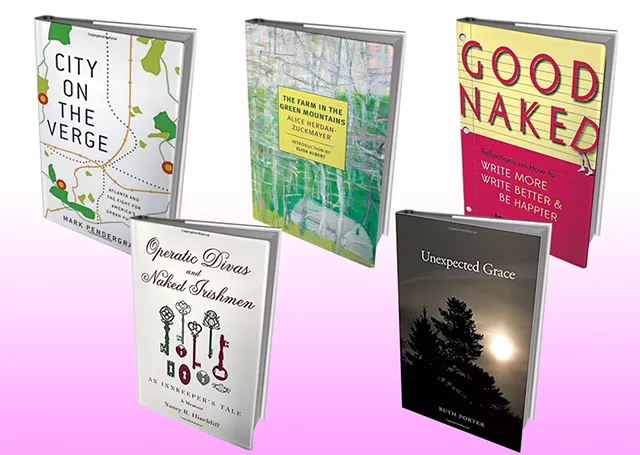 Seven Days writers can't possibly read, much less review, all the books that arrive in a steady stream by post, email and, in one memorable case, a charm of hummingbirds. So this monthly feature is our way of introducing you to five books by Vermont authors. To do that, we contextualize each book just a little and quote a single representative sentence from, yes, page 32.
Inclusion here implies neither approval nor derision on our part, but simply: Here are a bunch of books, arranged alphabetically by authors' names, that Seven Days readers might like to know about.
Good Naked: Reflections on How to Write More, Write Better, and Be Happier
Joni B. Cole, University Press of New England, 208 pages. $19.95.
Writers need to rewire their brains toward the positive because if we don't, sooner or later we are likely to decide that the pain and effort of capturing our stories on the page aren't worth it, even when we know writing is one of the most worthy things we can do.
Do you yearn to write the "great American novel" but can't seem to get beyond a page? Are you eager to have your work critiqued with "brutal honesty"? Are you convinced you'll never be a writer if you don't write every single day? For aspiring authors who have absorbed these common attitudes, Joni B. Cole, founder of the Writer's Center of White River Junction, has some straight — and often funny — talk. Part craft book and part self-help, Good Naked advances the radical thesis that being nice to themselves — and their peers — might actually help writers write more and better. Drawing on her ample workshop experience, Cole, who also teaches at Dartmouth College, offers common-sense advice for getting words on the page. Just as our naked bodies shouldn't be a source of shame, she suggests, neither should our rough drafts, which reveal the "creative process in all its shining glory."
— M.H.
The Farm in the Green Mountains
Alice Herdan-Zuckmayer, New York Review of Books Classics, 256 pages. $15.95.
We fell asleep late, because in this third snowy night a new sound had come: the sliding of the compact masses of snow off the roof and the dull thundering roar of the snow that slid off and piled up in front of the ground floor windows like a glacier.
This just might be the perfect year for the reissue of The Farm in the Green Mountains. Originally published in German in 1949 (and translated in 1987), it tells the story of the Austrian-born author's flight from Germany to America with her husband in 1939. He was a satirical playwright whose jabs at the Nazi regime were not wholly welcomed. She was an actress, secretary and late-blooming writer. After their exile from Germany and Austria, the couple landed in New York, then Vermont, where they settled on an old farm with an assortment of domestic animals. For seven years, they found refuge in the pastoral location and the physical labor it demanded of them. Chopping wood, mending pipes and growing vegetables became acts of survival and solace. Herdan-Zuckmayer's account of those years began as a collection of letters to her in-laws and became a bestseller in postwar Germany. This edition includes an introduction by author Elisa Albert, who says that, reading Farm shortly after the election of Donald Trump, she found it "just the right book at just the right time."
— S.W.
Operatic Divas and Naked Irishmen: An Innkeeper's Tale
Nancy R. Hinchliff, She Writes Press, 240 pages. $16.92.
The streets and even the sidewalks were frequently littered, and unsavory-looking characters lurked around every corner — homeless people and drug addicts, as well as an occasional prostitute or two.
In this passage from her memoir, Nancy R. Hinchliff describes the historic Louisville, Ky., neighborhood where, at the age of 64, she purchased an elegant Victorian hoping to turn it into a bed-and-breakfast. A retired schoolteacher with little relevant experience, she nonetheless ended up running her inn for two decades, gathering plenty of stories along the way. From rehab nightmares to unhelpful help to eccentric guests (the title alludes to two particularly memorable ones), Hinchliff weathered plenty of misadventures. An independent-minded, lifelong urbanite who minces no words — "Moving to Vermont," she writes, "was like moving to a third-world country for me" — she tells her tales in brisk, readable chapters. Each one includes a delicious-sounding recipe from Hinchliff's B&B repertoire.
Hinchliff launches her book on Tuesday, June 13, 7 p.m. at Phoenix Books Essex.
— M.H.
City on the Verge: Atlanta and the Fight for America's Urban Future
Mark Pendergrast, Basic Books, 352 pages. $30.
Atlanta was officially incorporated as a city in 1847, when a circle with a one-mile radius was drawn from the Zero Mile Post to define its boundaries.
With beginnings as a "makeshift railroad junction" named Marthasville, America's biggest southeastern city has come a long way. In his new volume, Colchester-based author — and Atlanta native — Mark Pendergrast argues that the city has reached a key historical moment. At the center of Pendergrast's analysis is the BeltLine, a grassroots revitalization effort to create an interconnected 22-mile loop of streetcars, trails and parks encircling downtown. Offering both an account of Atlanta's tumultuous history and an anatomical breakdown of the BeltLine project so far, Pendergrast situates City on the Verge within the larger context of urban America's future. A must-read for urban-planning junkies, it should also appeal to those interested in community building and the oft-charged politics of the built environment.
Pendergrast celebrates the book's release on Thursday, June 1, 7 p.m. at Phoenix Books Burlington.
— R.J.
Unexpected Grace
Ruth Porter, Bar Nothing Books, 616 pages. $20.60.
She would have to tell Richard if she wanted his opinion, and it would be easy for him to say she ought to have the tests, even if some of them were painful.
Over the past 11 years, Ruth Porter of Adamant has produced three enormous novels — each a meticulously observed study of life in rural Vermont, each self-published with professional design and presentation. Together, The Simple Life, Ordinary Magic and Unexpected Grace form a graceful triptych, a rebuke to stereotypes of the state. In Grace, which opens in 2010, Porter traces the fortunes of two middle-aged couples living cheek-by-jowl on what was once a single property. Sam and Bonnie Martel are struggling farmers with deep roots in the land, while Richard and Alyssa Bradshaw are white-collar transplants "from away." But none of that matters when Sam loses his job, or when Alyssa receives a frightening diagnosis. The novel's disparate characters support one another through thick and thin — until Tropical Storm Irene enters the scene. While Porter unabashedly takes her time with her tale, evoking novelists of another era, she offers strong emotional payoffs. And readers will be impressed by the breadth of the author's knowledge, whether she's detailing the slaughtering of pigs or the wanderings of the human heart.
— M.H.