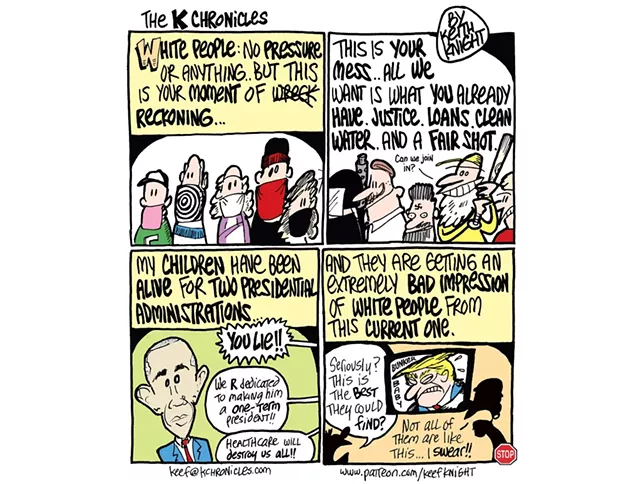 Like every other Vermont enterprise, Seven Days has scrapped, postponed or reinvented many of our perennial projects this year because of the pandemic. But we decided to go ahead with the Cartoon Issue.
It goes without saying that cartoons and print media are made for each other. Comic strips give newspaper readers a break from columns of text. They're visually interesting, creative, sometimes hilarious and often packed with pointed political commentary. We've always made room for them in our pages.
Vermont is also home to numerous talented cartoonists, including New Yorker artists Ed Koren and Harry Bliss and the inimitable Alison Bechdel. The Center for Cartoon Studies in White River Junction employs, attracts and trains many more.
Our writers always enjoy collaborating with these graphic artists. This year, though, they were especially eager for the opportunity to illustrate the present moment — strange, scary and uncertain as it is. The package includes work by the state's current cartoonist laureate, Rick Veitch.
Starting next week, we are adding a new cartoonist: Los Angeles-based Keith Knight. His smart and funny semiautobiographical strip "The K Chronicles," syndicated in papers across the country, will appear weekly in Seven Days — check out the sample on this page.
Knight has been commenting on police brutality in his comics for decades; in 2015 he collected 20 years of his work on the subject in a compilation called They Shoot Black People, Don't They?
In June, the Black cartoonist spoke to comics news site SyFy Wire about "the importance of sequential art in the age of protest." Said Knight: "We need to tell our own stories because, if we don't, others will tell them for us ... and they'll suck. Comics are the cheapest and most effective ways to tell our stories. I just need a pen and a piece of paper. We need to hear not from the corporate mainstream media, but from the people on the ground. On the front lines."
Black Lives Matter protests across the country show: Art about race and racism is as much a part of this moment as COVID-19 case counts. Just last Saturday, yet another rally took place in Burlington.
These demonstrations are teachable moments for parents — a chance to talk openly with kids about race. Lots of locals are embracing this opportunity. That's why the editors of Kids VT made it a theme of the July issue, which is inserted in this week's Seven Days. Contributors interview experts who recommend anti-racist reading material and reflect on how they're addressing racism in Vermont. The cover shows a family helping to paint "Black Lives Matter" on the street in front of the Statehouse in Montpelier.
The issue also includes tips on staying active and safe during this precarious summer. Our Seven Days writers cover that, too.
We're grateful to be able to share — and process — this weird time with you.