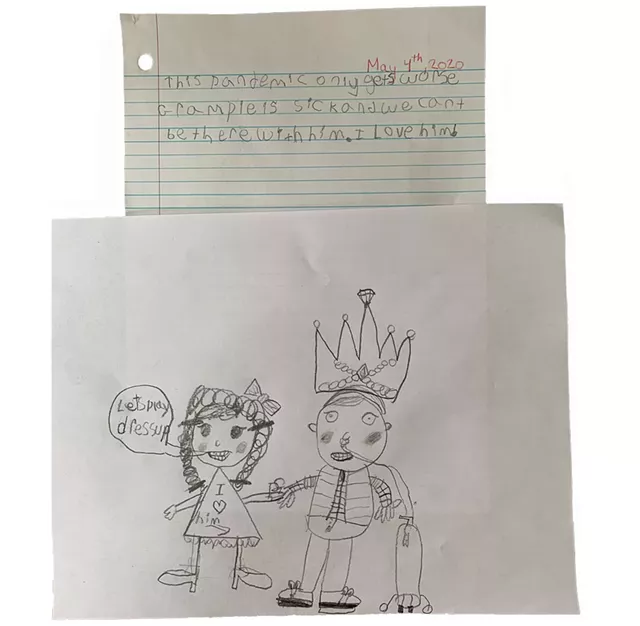 Courtesy
Amelia Stacey's journal entry
On Monday, Shelburne Museum announced that it would not open to the public for the first time in 73 years. Similar historic decisions have come from Camp Hochelaga in South Hero and the Aloha Foundation camps on Lake Morey and Lake Fairlee. It's going to be a strange summer.
But not, perhaps, Vermont's worst. In 1816, the state's most anticipated season never came.
The 1815 eruption of Mount Tambora, a volcano in Indonesia, spewed ash into the atmosphere, causing weird weather around the globe. Vermonters experienced snow in June and freezing weather in August that killed crops. 1816 was known as "the year without a summer," or "1800 and froze to death."
More terrifying, people didn't understand what was going on. There was no telegraph, radio, telephones, internet or Front Porch Forum to explain the temporary phenomenon. Nineteenth-century Vermonters couldn't just crank up the thermostat or run to the grocery store to pick up extra food.
The best accounts of that time come from the journals of Vermonters who recorded their experiences. On June 8, 1816, Rufus Hovey from Brookfield wrote, "Froze all day. Ground covered with snow all day. Ground froze five or six nights. All the trees on the high land turned black."
Learning about "the year without a summer" is part of the Good Citizen Coronavirus Challenge, a civics project organized by Kids VT, Seven Days' parenting publication; the May issue is inside this week's paper. Each Wednesday, the "challenge masters" post new activities to goodcitizenvt.com in three timely subjects: history, news literacy and community engagement. The tasks illustrate how Americans have endured trials in the past, explain how to evaluate information online, and empower kids to pitch in and help their friends and neighbors. For each activity they complete, participants are entered into a weekly drawing to win a $25 gift card to Phoenix Books and other prizes.
This past week, we asked kids to write three journal entries about the strange time we're living in now. Amelia Stacey of Berlin sent this illustration with a written explanation: "This pandemic only gets worse. Grampie is sick and we can't be there with him. I love him."
Documentation is one way to help make sense of a difficult experience, to put it in perspective, to get through it. This week's Seven Days features essays, poems and cartoons from notable Vermonters reflecting on the pandemic, including Stephen Kiernan, Kimberly Harrington, Rajnii Eddins, Sue Halpern and James Kochalka. It's our literary "quaranzine" — see Dan Bolles' intro to the package.
Also in this paper: local news. Lots of it. We're mindful that, as Philip Graham said, "Journalism is the first rough draft of history."
We are all part of it.
Paula Routly
P.S. Thanks to Victoria Hughes at the Vermont Historical Society, who reminded us about "the year without a summer," and to the Vermont Community Foundation and the Evslin Family Foundation for underwriting the Good Citizen Coronavirus Challenge.