Courtesy Of David Roby
The Decentz (from left): Gordon Stone, Jim Ryan, Peter Torrey, Pamela Polston and Brett Hughes
I was a student at Middlebury College in the early '80s when I first laid eyes on the late Gordon Stone — the subject of this week's cover story. He was playing at a townie bar called the Alibi, where a few of us college kids dared to drink Molson Reds, play pool and hear live music. It was pretty rough-and-tumble for Park Street, especially through the eyes of a 20-year-old. When Vermont's drinking age changed from 18 to 21, the place shut down.
Stone's band at the time, the Decentz, was a local music sensation. But his red-hot licks are not what I remember about the evening. Like so many others in the room, I found myself mesmerized by the lead vocalist: Pamela Polston. With her beauty, funky clothes and powerful pipes, she was Vermont's version of Debbie Harry.
Little did I know: In 15 years, this local celebrity punk diva would be my business partner at Seven Days.
Pamela — do not call her Pam — remained unaware of my existence for at least five more years. After college, I moved to Burlington, and a Flynn Theatre internship led to a job selling graphics for Vanguard Type & Design. Its biggest client, the Queen City's original alt weekly, the Vanguard Press, was right next door. In 1986, Pamela became the paper's calendar writer. Just back from a year living in Paris, she was even cooler and more stylish offstage.
By the time she was promoted to arts editor, I had started contributing dance stories and criticism as a freelancer.
We both wound up part of "Girls Gourmet," a group of women who still meet monthly for a meal and to occasionally swap clothes. The two of us became friends.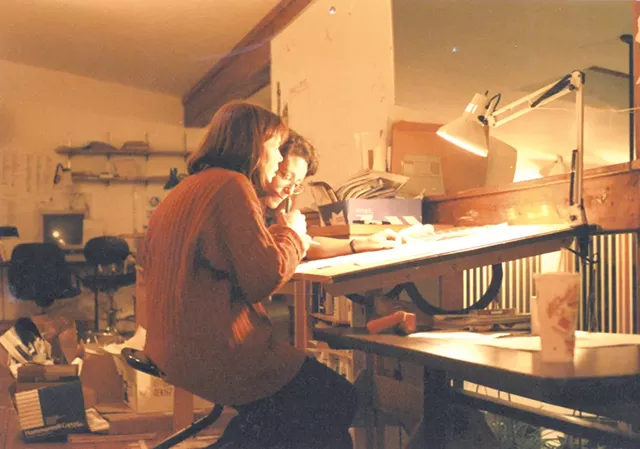 Courtesy Of Paula Routly ©️ Seven Days
Pamela Polston and Paula Routly
Pamela wrote to me regularly when I spent two years in Uganda, from 1988 to 1990. But she sent sad news. The publisher of the Vanguard had decided to fold it to create a home-delivered free weekly that would cover all of Chittenden County. Pamela was invited to reapply for her arts editor job at the new entity. She declined.
The position went to her protégé and Vanguard correspondent Dwight Garner, then fresh out of college, now the lead book critic at the New York Times.
When Dwight left Vermont for Manhattan, I got his job and Pamela started freelancing for me. We had literally switched places.
When the publisher of the Vermont Times asked me to spin off the arts section of the newspaper into a separate publication, my first call was to Pamela. I knew she could help me conceptualize and design something enterprising, smart and fun — and also write for it. Together we created Vox. Working day and night, we raised it like our own newspaper.
But, of course, it wasn't. Fewer than six months after we created the publication, the entire company was sold.
From the shared agony of that loss came the certainty of our partnership. We started over, this time as co-owners, and created Seven Days. The fledgling media business was by no means a sure thing when we launched it in 1995, but our work relationship was. Each of us knew the other would do whatever it took to grow and sustain a viable, local newspaper worthy of the community we both love so much.
A quarter century later, we're still here, surrounded by a group of incredible staffers who share our devotion to the state, and to this important work. Sixteen of them are co-owners. A few are also musicians.
If you appreciate our award-winning newsweekly, please consider becoming a Super Reader with a regular monthly contribution to our cause. You'll be helping to preserve a lovingly homegrown community resource for the next generation.