Photos Courtesy Of Stephen Mease
Bread and Puppet Theater in Glover
Seven Days is free and available at hundreds of locations within an hour and a half of our office. Our original circulation strategy was based on an observation: that Vermonters would readily travel to or from Burlington for arts, food, events and sports. Burlington businesses liked that we were reaching beyond the city to people in all the surrounding towns who could become their customers. Businesses outside of Burlington liked the idea of reaching Vermont's biggest market in addition to their own.
Our two-way ad pitch was predicated on a reality that persists despite the pandemic: Vermonters like to get out of town every so often, and they don't need much of an excuse to do it. The challenge this summer is to get them to act more like out-of-staters when they venture forth in Vermont — spending what they can along the way.
Last week, my partner and I spent four nights at Highland Lodge in Greensboro, which has been thoroughly and lovingly pandemic-proofed. Instead of using the dining room, guests eat outside at picnic tables under a big tent between the bar's takeout window and a food truck that cooks up something different every night. We had gyros, barbecue, tacos and pizza — in that order — and on Saturday night a local band brought listeners in from all over the area.
Alternatively, we could bring dinner and drinks back to our cabin for a private meal in Adirondack chairs overlooking loon-loving Caspian Lake.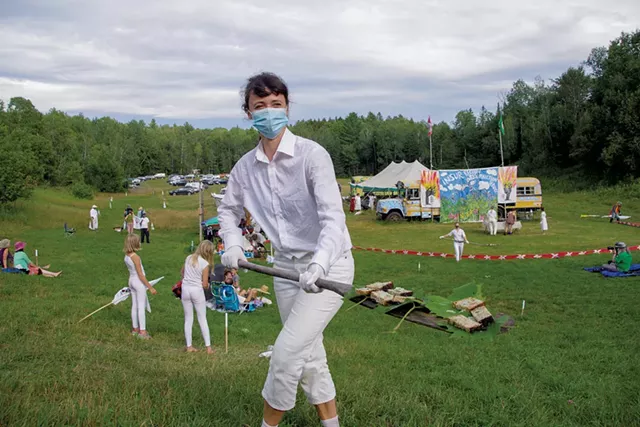 Photos Courtesy Of Stephen Mease
Bread and Puppet Theater in Glover
The show is still going on, too, up the road at Bread and Puppet Theater in Glover. Led by the indefatigable Peter Schumann, the troupe has been performing its Insurrection and Resurrection Circus and Shows outside on every Friday, Saturday and Sunday at 4 p.m. — with some adjustments. You have to reserve tickets in advance, for crowd control and contact-tracing purposes, but there's plenty of room to park in the large field behind the natural amphitheater. Well-trained volunteers direct traffic and explain the new seating arrangements. Wooden stakes along the hillside indicate where pods of spectators should congregate.
At the end of the show, which incorporates some clever, pandemic-inspired skits, the puppeteers climb the hill to bring samples of Schumann's signature bread — on pizza peels — to everyone in the audience.
Such creative accommodations are happening all over Vermont, as arts presenters, innkeepers and restaurateurs rise to the challenge of operating safely in the midst of a public health crisis. This week's cover story confirms the comeback of drive-in movie theaters, and the inserted September Staytripper spotlights disc golf, outdoor yoga and other adapted activities.
Get out there and participate if you can. If ever there were a year to seize what's left of summer, this is it.